Newark, California: Falun Gong Practitioners Join City Festival Parade
September 24, 2018 | By Minghui correspondent Wang Ying
(Minghui.org) Newark, California held a festival to celebrate the city's 63rd birthday on September 22. Falun Gong practitioners joined the parade with waist drum performances and an exercise demonstration. Festival organizers estimated that more than 100,000 spectators attended the annual event.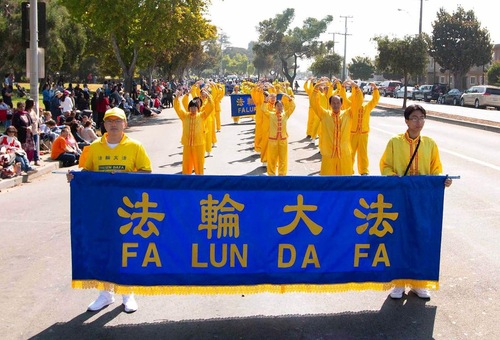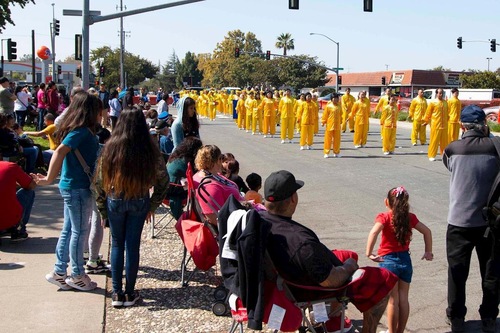 A few spectators gave the Falun Gong exercises a try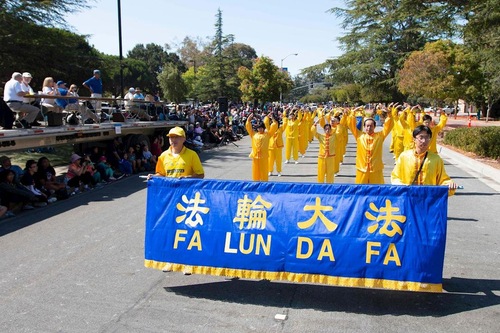 Falun Gong practitioners demonstrated the exercises in front of the main stage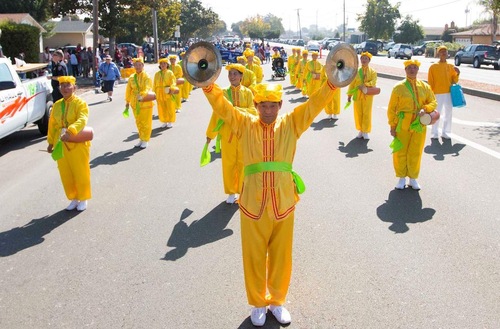 Waist drum performances from Falun Gong practitioners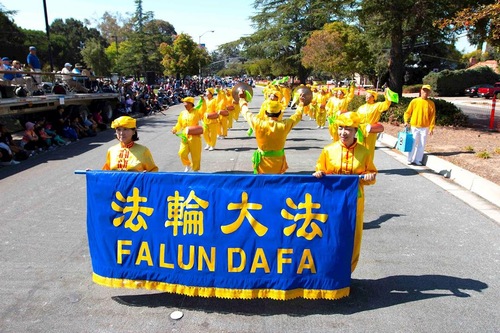 Eva was among the parade spectators. She tried out the Falun Gong exercises by following the movements: "I hope to become peaceful and tranquil, so I'm following them. I like it a lot!"
As the Falun Gong procession passed by the main stage, the organizers gave them a thumbs-up and introduced the group: "Falun Gong is a mind-body cultivation method adhering to the principles of Truthfulness-Compassion-Forbearance. It can help its practitioners relieve stress and increase wisdom. There are free exercise teaching classes at the Fremont library. You are all welcome to join!"
Jason said he liked the exercise movements, then asked a Falun Gong practitioner if they were doing Tai Chi. Upon learning about Falun Gong, he said, "I like Truthfulness-Compassion-Forbearance." He inquired for more information about the exercises and took a picture of the flyer.
Parade judge Betty Cole said, "Falun Gong is great! I really like them. I'm very happy that Falun Gong practitioners can join this parade."
Another judge, George Smith, said, "The Falun Gong group was spectacular. I especially liked the waist drum performance today. It's my favorite."
"Truthfulness-Compassion-Forbearance is great," he continued. "We need more Americans to follow these principles, especially young folks."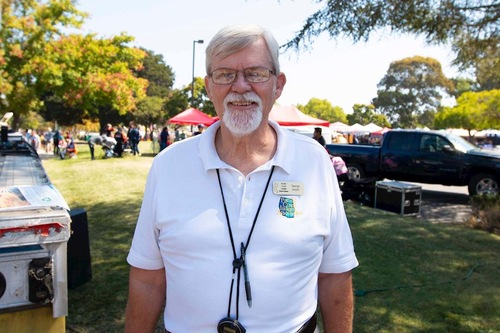 Parade judge George Smith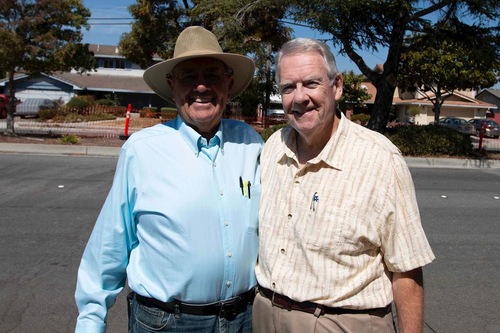 Parade judges Edward Moore (left) and David Smith (right)
Parade judge David Smith described the Falun Gong practitioners as "amazing." He was impressed that an 83-year-old was among the waist drum team and was able to walk the entire parade.
Judge Edward Moore said that the waist drum performance left him a deep impression.
Matthew, an event organizer, said, "Falun Gong practitioners' participation made the whole parade better. I'm really happy they could join and hope they'll come again next year."