Visitors to Dafa Booth in Hamburg, Germany: "Where Can I Learn the Exercises?"
September 24, 2018 | By a Falun Dafa practitioner in Hamburg, Germany
(Minghui.org) Falun Dafa practitioners in Hamburg participated in the annual Winterhude community festival on September 15 and 16 by demonstrating the Falun Dafa exercises and raising awareness of its persecution in China. Falun Dafa is also called Falun Gong.
Visitors to the Falun Dafa booth could also receive a paper with their name written in Chinese characters with a brush pen. While waiting for their names to be written, people read the fliers and talked to other practitioners.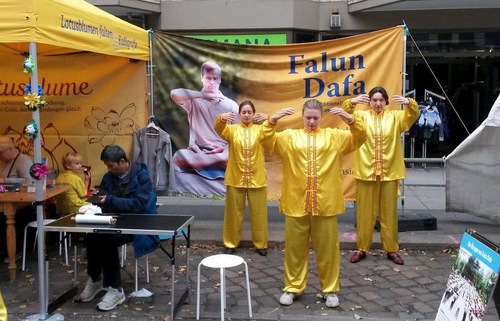 Falun Dafa exercise demonstration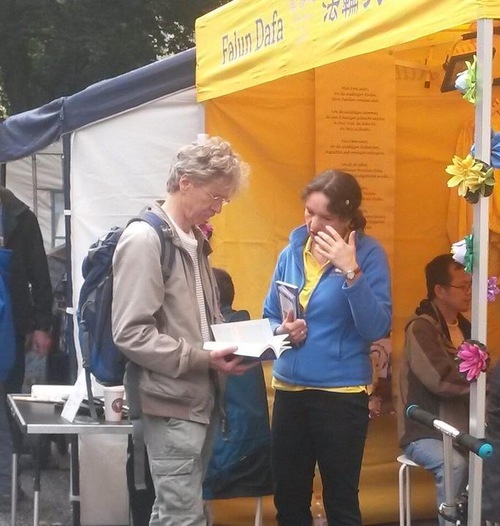 A visitor asked where to learn the exercises.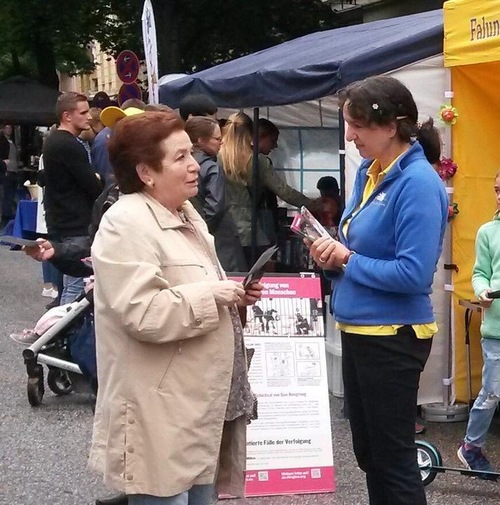 The most common question during the two-day event was "where can I learn the exercises?"
Two women stood by the booth to watch the exercise demonstration. After a while, they talked to a practitioner about Falun Dafa. One of them asked if there was an instruction class in Hamburg. They were surprised to hear that practitioners taught the exercises for free at the Botanic Garden every Sunday. They took some introductory materials and thanked the practitioner warmly.
A woman in her fifties asked if the exercises were for relieving stress. A practitioner told her it is a practice of the Buddha school. She asked more questions, learned about the persecution in China, and obtained information about the local exercise site and instruction sessions.
As practitioners around the world have participated in similar community events year after year, more local residents have come to know Falun Dafa. On the first day of the festival, an elderly couple from Canada came to the booth and told a practitioner, "We have seen Falun Gong outside the Chinese Embassy in Vancouver. Many people know the Chinese government is persecuting Falun Gong."