Seattle: Introducing Falun Gong at the Magnolia Summerfest
August 09, 2018 | By a Falun Gong practitioner in Seattle
(Minghui.org) Falun Gong practitioners in Seattle were invited to participate in the Magnolia Summerfest on August 4-5, 2018. Their beautiful float and waist-drum team fascinated spectators during the parade, and practitioners introduced the benefits of Falun Gong to the public at their booth. This annual event, including a parade, a street fair, and art and music performances, attracted both local residents and tourists to the beautiful outdoor activities.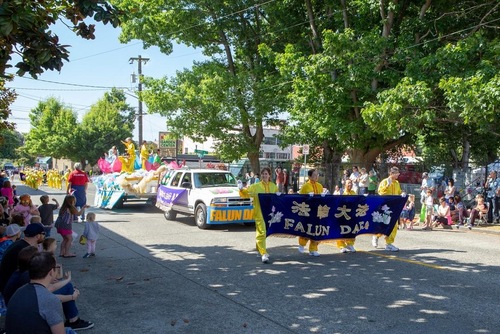 Falun Gong practitioners at Magnolia Summerfest Parade in Seattle
The Falun Gong procession included an elegant float and a waist-drum troupe. Practitioners demonstrated the Falun Gong exercises on the float, and the waist-drum team gave an exciting performance. Spectators cheered for them and warmly applauded. Many people could be heard saying, "Falun Gong is the best!" "I like everything about your parade entry!" "Best float in the world!"
When the Falun Gong group passed the central stage, a host introduced the contingent by saying, "Falun Dafa is also called Falun Gong. It's a practice of both mind and body with the core principles of Truthfulness, Compassion, and Tolerance. One hundred million people in more than 70 countries are practicing Falun Gong. Those dressed in traditional uniforms on the float are demonstrating the practice. Look at the waist-drum dance following the float! The Chinese celebrate the new year and harvests with waist drums."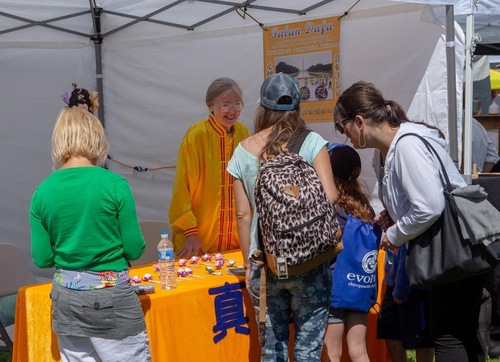 A practitioner introduces the benefits of Falun Gong at the booth.
The Falun Gong booth was a popular destination at the street fair. People came to ask for information and many signed a petition calling for an end to the persecution of Falun Gong in China.
One older lady was touched by facts of Falun Gong's peaceful resistance against the persecution. She signed the petition and said to the practitioner, "I don't usually sign anything, but I have to sign this one."
Mr. Matt Dubin, who was running for state representative, talked with Falun Gong practitioners and signed the petition in support of Falun Gong's work. He said he would like to do what he could to help Falun Gong practitioners if he got elected.
A lady who is originally from Poland took introduction materials for her son, who enjoys meditation. She had heard about the organ harvesting from living Falun Gong practitioners. She said she was a nurse and knew what would happen to organ donors, and said she felt that organ harvesting was unimaginable. A practitioner told her that the Chinese Communist Party (CCP) had imprisoned Falun Gong practitioners, tested their blood types, and used them as an organ bank for transplant surgeries. She knew as soon as she heard the word CCP that whoever didn't obey the CCP would face bleak consequences. She took a copy of each of the available materials and said she planned to learn more.
Two school girls were shocked to learn that innocent people in China had been persecuted, and that the government deprived people of their freedom. They said, "It makes us treasure our country more."
A business owner told a Falun Gong practitioner, "For a violent government, we have to stand firm and expose the truth!"