Keelung, Taiwan: "Falun Dafa Is Good" Float Lights Up the Night at Folk Art Festival
August 29, 2018 | By a Falun Dafa practitioner in Keelung, Taiwan
(Minghui.org) The Water Lantern Parade, the highlight of the month-long Zhongyuan/Ghost Festival in Keelung, was held the night of August 24, 2018. The annual parade, celebrating its 164th year, featured brightly lit floats, marching bands, and colorful lanterns.
Among the many beautiful floats, the "Falun Dafa Is Good" float, in the shape of a stately seagoing vessel, stood out for its craftsmanship and for being the largest float in the parade. The radiant float was a highlight of the parade.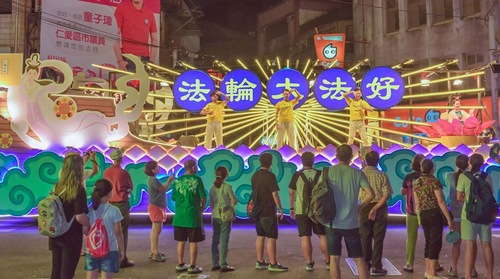 The "Falun Dafa Is Good" float, more than 3 meters wide and 13 meters long, was a highlight of the Zhongyuan Festival parade in Keelung.
As well as the float, the Falun Dafa contingent consisted of the Tian Guo Marching Band, practitioners dressed as celestial maidens distributing beautiful hand-made origami lotus flowers, and a waist drum troupe. Spectators took photos and videotaped the Dafa procession, waved, applauded and gave the thumbs-up as the Falun Dafa group passed by.
The Chinese Communist Party secretary of a university in mainland China, who was leading a delegation to visit Taiwan, saw the parade and was impressed by the Falun Dafa grand procession. He was particularly surprised to see several professors from the university they were visiting in the Falun Dafa procession.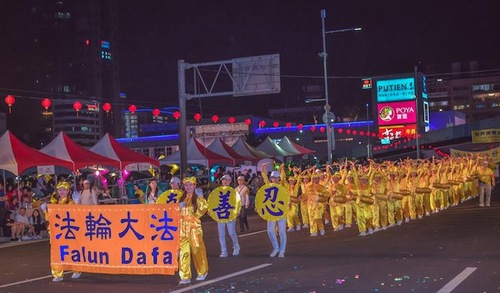 Falun Dafa practitioners' waist drummer on parade.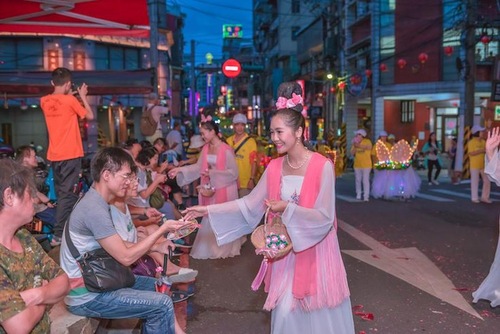 Dafa practitioners dressed as celestial maidens distributing origami lotus flowers along the parade route.