Germany: Introducing Falun Gong at Bremen Children's Day
August 20, 2018 | By a Falun Dafa practitioner in Bremen, Germany
(Minghui.org) The Falun Dafa Association of Bremen participated in the annual Children's Day event in Buerger Park on August 12, 2018. The Bremen Children's Day celebration is one of the largest children's events in Germany.
More than 50,000 children, parents and other visitors enjoyed a day of games, music, and performances, all geared for the enjoyment of young ones and their families.
Practitioners introduced the peaceful mind-body cultivation practice of Falun Dafa (also called Falun Gong) by demonstrating and teaching the Falun Gong exercises and showing children (and young at heart) how to make folded paper lotus flowers.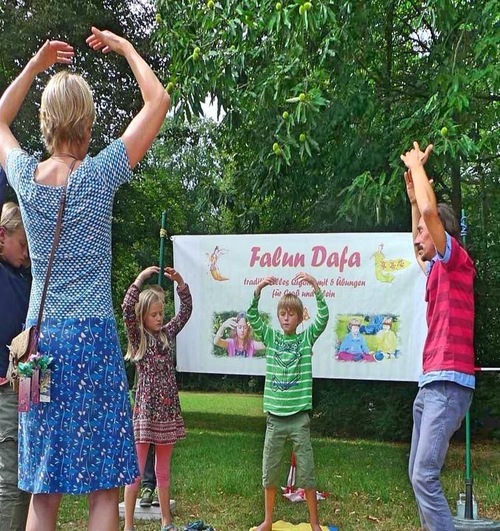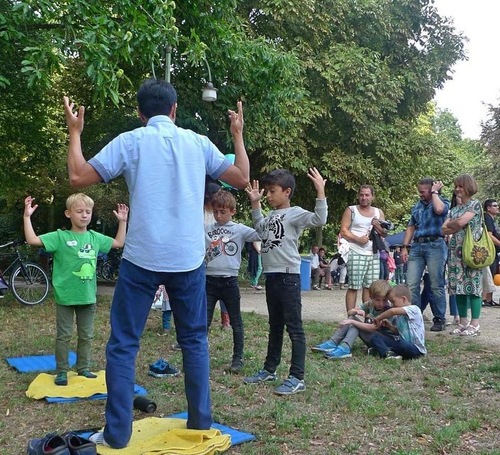 Learning Falun Dafa at the Bremen Children's Day event, August 12, 2018.
"The park was lively, but the children learning the exercises were very focused and quiet, even though it was their first time learning Falun Gong," noted Rosa, a local Falun Dafa practitioner.
She explained that practicing Falun Dafa and following Dafa's principles of Truthfulness-Compassion-Tolerance can improve the health of both mind and body, harmonize family relations, and nurture compassion and tolerance in day-to-day life – all very important characteristics for both children and adults.
Rosa said, "Children who learn these principles early in life will keep a distance from drugs and will not be susceptible to bad influences."
"For teenagers in grades 9 to 12, learning Falun Dafa can help them be more focused," added Rosa.
Two sisters stopped by the practitioners' booth and told a practitioner that they had a brother who practiced Falun Dafa and had improved a lot since taking up the practice. Having witnessed the power of Falun Dafa, they believe the practice is very beneficial. They said that they decided to learn the practice, too.
A retired man tried the exercises for 15 minutes and said that he felt relaxed and his hands felt warm. A leader from an organization for tinnitus patients came to the booth and asked if practitioners could introduce the practice to her group.