Summer Sundays in Paris: Raising Awareness about Falun Gong
August 18, 2018 | By Zhou Wenying, Minghui Correspondent in Paris
(Minghui.org) On summer Sunday afternoons, the Plaza of Liberties and Human Rights in Paris is a good place to see the local Falun Gong group. They gather to demonstrate the Falun Gong exercises and raise awareness about the persecution the peaceful spiritual practice faces in China.
Many tourists came to the plaza last Sunday, as usual. Fascinated to see the Falun Gong exercises, many took pictures and expressed their support of Falun Gong practitioners' work.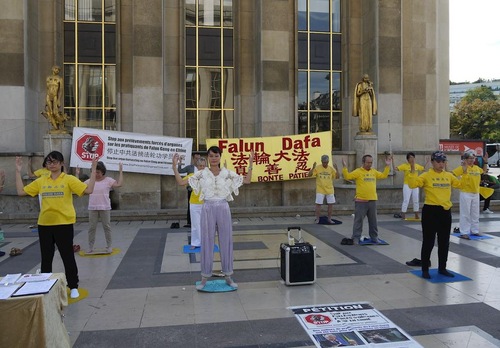 Falun Gong practitioners demonstrate exercises on Plaza of Liberties and Human Rights in Paris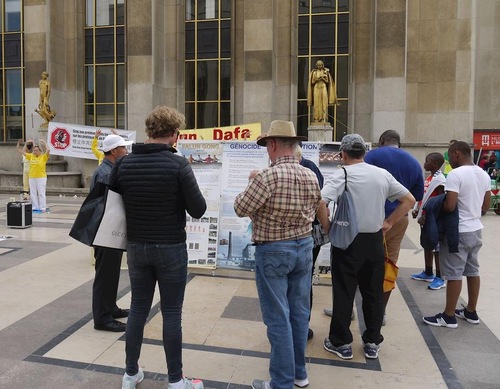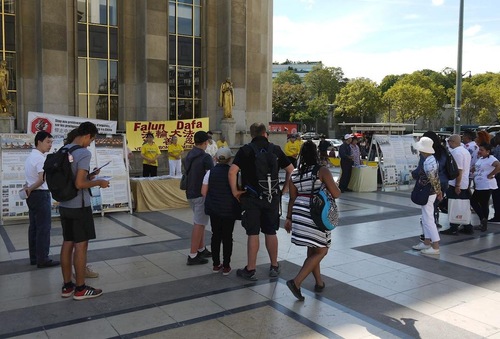 Tourists visiting Paris from all over the world see the Falun Gong exercises and learn about the persecution in China.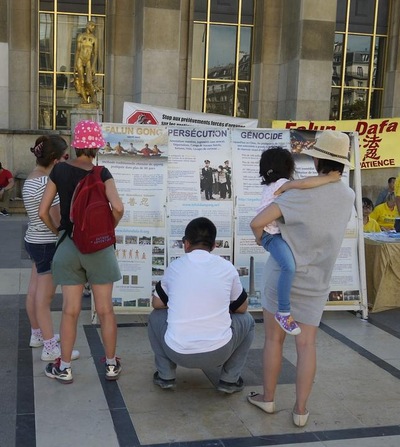 A Chinese family learns about the persecution the peaceful practice of Falun Gong faces in China.
Mr. Liani Belkcem, a businessman in France, showed great interest in Falun Gong. He said, "It's the first time I have seen it. I'm so surprised how well they completely entered tranquility. I feel the energy. It tells me something and attracts me to it." "Marvelous! I feel like I have been shaken. I like it very much!" Mr. Belkcem praised the principles of Truthfulness, Compassion and Forbearance, and would like to find out more information from the Falun Gong website.
Ms. Asmaa Oubou from Morocco said, "Their [Falun Gong practitioners] signature collection is a noble action. I naturally stand together with them. I cheer for their noble actions and hope the persecution will end soon. Let peace fill the world!"
Another tourist called Jean-Philippe Anderni said, "So many people are suffering under communism! It's horrible that organs could be taken without permission. People in China are persecuted for their beliefs. It's terrible from a humanitarian point of view. No language can describe the brutality! People have to work together to stop such bloody murder!"
Patrice, a local resident, said he knew the Chinese people don't have freedom of speech. "I would like to sign your petition. I'm against the Party and its crimes against humanity."
Shuju, a lady who was originally from Northeast China, said she personally knew a Falun Gong practitioner who had been imprisoned, force-fed, and tortured. She said the practitioner's teeth had been knocked off during force-feeding, and her fingers had been broken, but she continued to practice Falun Gong. Shuju admired Falun Gong practitioners' steadfastness.
After tourists from mainland China read the display boards, some renounced their memberships in the Communist Party organizations on the spot.