After Ten Years of Bitterness and Sorrow a Taiwanese Teacher Changes His Life
August 17, 2018 | By a Minghui Reporter in Taiwan
(Minghui.org) Mr. Wang Chengxiang, a 39-year old teacher, started practicing Falun Gong, also known as Falun Dafa, in 2015. After cultivation, he changed from being detestable and sorrowful to amicable and cheerful. He turned his life around from ten years of bitterness.
Endless Setbacks
Mr. Wang earned a bachelor's degree in Applied Mathematics in 2005 from National Cheng Kung University. He then enrolled in a statistics doctorate program at Zhongshan University at the age of 26.
At his young age, Mr. Wang thought about the meaning of life and asked himself what he was living for. He had read biographies of many famous people in history and took them as his models to follow. He dreamed of an auspicious future for himself.
He did not expect the many hardships that rolled over him one after another that were like heavy stones. His peaceful life changed overnight.
He failed the doctoral qualification examination and was almost forced out of the school. His research was seriously behind, making him feel that a doctoral degree was too hard to grasp.
His pursuit of friendship was often turned down and he had hardly one close friend. He failed to pass the test for his teaching license several times. He endured abuse during his one-year term of military service.
He had been barely making a living as a substitute teacher for ten years. With life so miserable, how could he make more of himself in the midst of so many difficulties?
Overcoming Problems
To Mr. Wang, the year 2015 was a turning point in his life. He was introduced to Zhuan Falun about six months before his dissertation presentation. He realized that Falun Gong was exactly what he was looking for.
As Master Li (the founder of Falun Gong) said, the more you read the book, the more you want to read it.
From the broad and profound principles of Dafa, Mr. Wang suddenly understood the meaning of life. He further realized that hardship is not a bad thing. It provides a chance to eliminate accumulated karma. Like pushing away a cloud to see the sun, virtue and good moral character will appear when karma is eliminated.
Mr. Wang now says, "When a conflict arises, I check it with Dafa standards and look inside to find shortcomings. Once I remove the attachment, my strength grows stronger and helps me to move forward."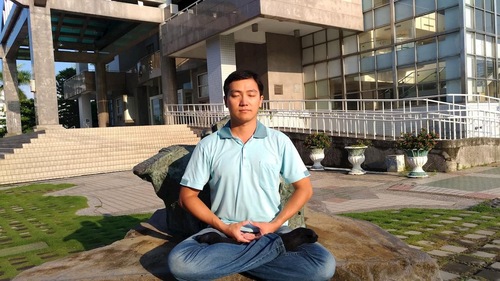 Wang Chengxiang practicing the meditation exercise in the morning sunshine
After removing his attachment to personal gain, Mr. Wang was able to finish more than 100 pages of his doctoral thesis incredibly fast and passed the oral exam. He also passed the teacher qualification test without taking time to prepare and became a licensed teacher.
He said, "It took seven years to get my doctoral degree, two years for administrative leave from the school, and one year to serve in the army. In those ten years, I was confused and frustrated.
"After becoming a practitioner, I let go of the human notions of resentment and personal gain. I taught at a grade school as a substitute teacher during the day and wrote my thesis at night. I put in my best effort and no longer worried if I would graduate. When all ended well, I understood that my success was attributable to Dafa."
Lighting Up a Child's Heart
In the deepest corner of every child's heart there exists the hope that they will find the help they need to become a good person. A teacher's upright behavior serves as a guiding light for this hope.
Mr. Wang feels that Dafa makes him a better person. He is determined to cultivate himself well and bring the goodness of "Truthfulness-Compassion-Forbearance" to more people.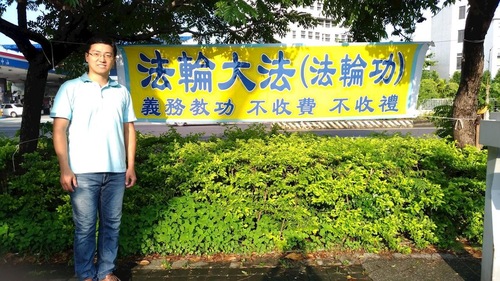 Wang Chengxiang and a poster displaying the principles of Truthfulness-Compassion-Forbearance.
Mr. Wang believes that the goal of education is not to teach children how to earn good scores but to learn how to adjust themselves to every situation. He feels that the best way to educate students is to live according to the standards of Truthfulness-Compassion-Forbearance and to make himself a good example for them.
He never gives up on any student. He cares about not only their school work but also their lives outside of school. After each exam, he talks to each student and gives them advice regardless of their test scores. He encourages his students to be responsible for their own future and to maintain a good character. He often makes time to help the students solve their problems.
Mr. Wang tells the graduates during the graduation ceremony every year to be honest, kind, forgiving, and tolerant to people anytime and anywhere.
Greetings from Students
His students wrote many messages to express their appreciation.
"I would have given up if I did not have you as my teacher. You taught us to build a foundation as firm as a pyramid and stack it up from the base, layer after layer."
"You have emphasized the importance of cultivating a good personality. We will always remember every word you said. We will always remember that we had such a good teacher."
"I have never met a more hard-working, humorous, serious, and thoughtful teacher like you in my life. You must have gone through tremendous experiences!"
"I was not a good student. I did not like to study but instead played around. You never gave up on me. You helped me build a solid academic foundation and reminded me to be flexible. You are an idol in many students' hearts. I really appreciate you."
"I will never forget that I had such a good teacher who guided me to become more mature and helped me to walk toward success step by step."
"Although I did not have good grades, you helped me to improve. You encouraged me to try again after failing. You helped me to deal with things differently. I am fortunate to have such an excellent teacher."
"I am lucky to have met you. Your great spirit helped me to strengthen my will. I hope that I can face the future with this spirit, accomplish something, and have you be proud of me."
Epilogue
Nothing in life happens by chance. Mr. Wang said he considers anything that happens to him as a good thing, and accepts it positively. In the future, he will deal with any hardships in the spirit of Truthfulness-Compassion-Forbearance.