Celebrating Independence Day in Chicago, Los Angeles, and Honolulu
July 07, 2018 | By practitioners in the United States
(Minghui.org) Falun Gong practitioners in the United States participated in various celebrations and parades on the July 4 holiday, bringing traditional values to local communities and calling for help to end the persecution of practitioners in China.
This report covers three events that took place in Chicago, Los Angeles, and Honolulu.
Chicago
The Evanston Independence Day Parade in northern Chicago is one of the largest community events every year. This year, practitioners' Eastern-themed float, colorful costumes, beautiful music, exercise demonstrations, and especially the message of "Truthfulness-Compassion-Forbearance" on their banners won the spectators' hearts.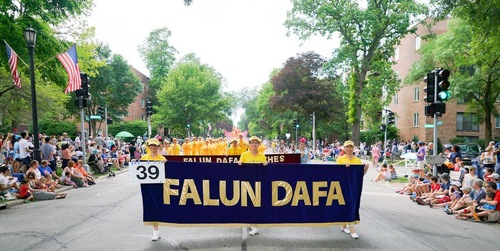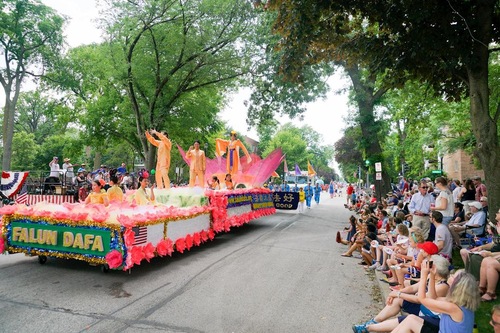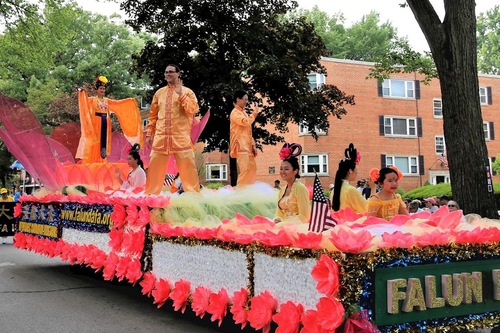 Demonstrating the Falun Gong exercises on the lotus-decorated float
Local resident Sabrina E. told practitioners that her husband had always wanted to learn Falun Gong. He often goes to China for business and knows the persecution well.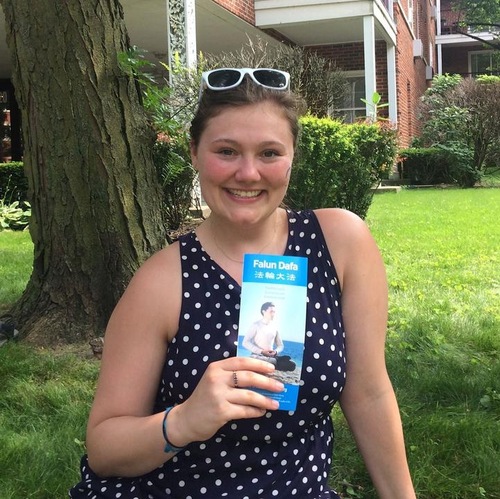 Laura Lakin said she liked the practitioners' float. As a fan of meditation, she expressed interest in learning more about Falun Gong. "They all need this," she said while pointing to other spectators.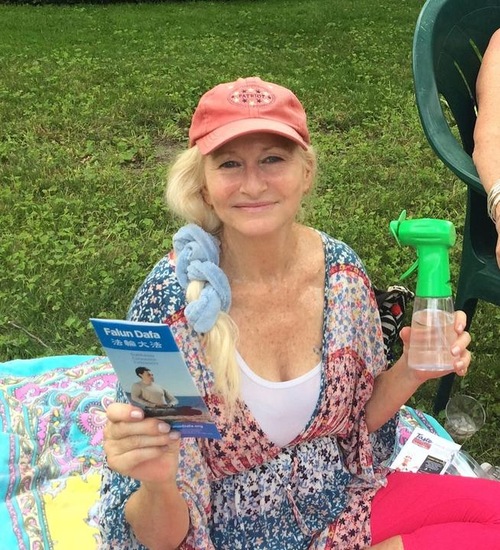 Alitra Cole said the practitioners did a great job. She promised to tell her Chinese friends about Falun Gong.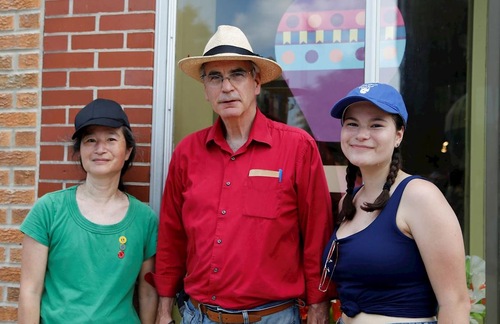 Tom Sundell has watched every parade in the last two decades. He likes the multiculturalism in the parade and especially the message of "faithfulness" in the Falun Gong entry.
Los Angeles
The 114th Independence Day Parade in Huntington Beach was four miles long and attracted more than 100,000 people this year.
Themed as "A Star-Spangled Salute," the parade was formed by 200 groups, including the Tian Guo Marching Band, which consisted of Falun Gong practitioners in California.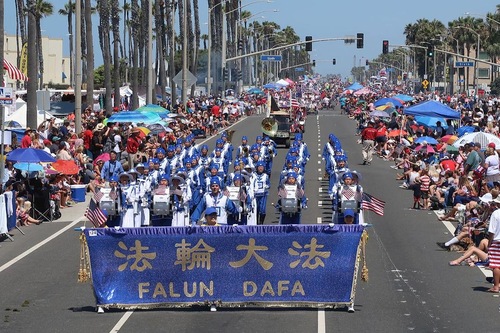 Tian Guo Marching Band in the parade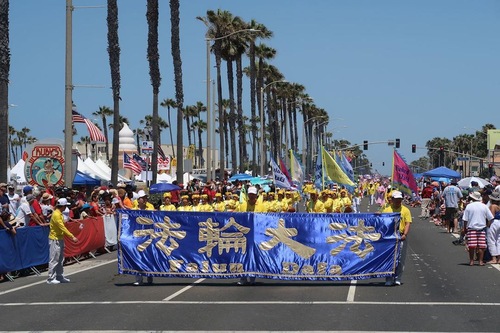 Practitioners' waist drum team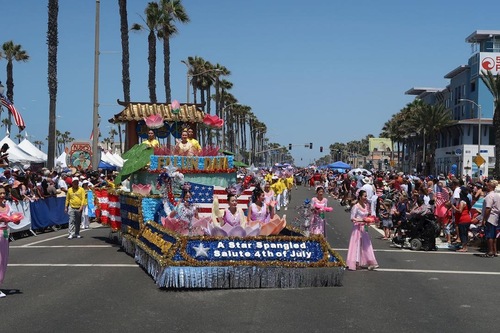 Falun Gong float
Practitioners have attended every Independence Day parade here for 15 years. This year, their float wowed numerous people. Its designer, Andy Auduong, said it took a dozen practitioners six weeks to finish the two-level float. The first level had three giant lotus flowers, a symbol of purity in Chinese culture. The second level had an even bigger lotus flower, along with a Chinese-style archway with a board inscribed with the characters for "Truthfulness-Compassion-Forbearance," the guiding principle of Falun Gong.
Jana supports Falun Gong and said she hopes President Trump will help to stop the persecution of Falun Gong in China.
Honolulu
For the 19th time, practitioners from Honolulu attended the celebration at Ala Moana Beach Park, where they introduced the self-improvement practice to the public and asked for help to stop the persecution.
Many people were interested in learning the exercises, while many condemned the suppression of practitioners in China.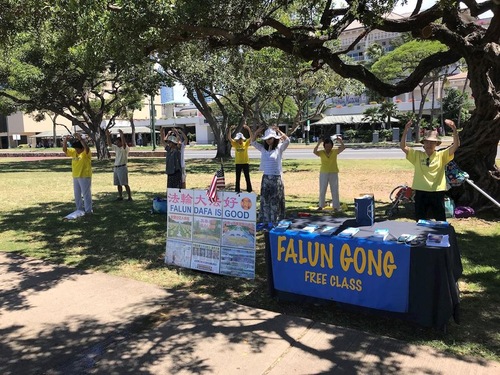 Demonstrating the exercises at the celebration
A Vietnamese-American asked for detailed information about the persecution.
"People in Vietnam also suffer from communism," he said, "I clearly know how cruel the communist party is and what kinds of disasters it has brought to the world."
Related articles in Chinese:美西国庆节游行-民众欢迎法轮功(图)国庆日讲真相-夏威夷民众喜爱"真善忍"(图)