Seventy-Year-Old Harbin Woman Tried for Practicing Falun Dafa
July 25, 2018 | By a Minghui correspondent in Heilongjiang Province, China
(Minghui.org) An elderly woman was tried for her belief in Falun Dafa on July 6, 2018, nearly 10 months after she was arrested. The trial was held in the Harbin No. 2 Detention Center, with only two family members present.
On the night of September 24, 2017, the police entered Ms. Zhao Xiuzhi's rented home and arrested her. She was taken to the Harbin No. 2 Detention Center.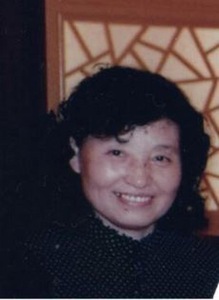 Ms. Zhao Xiuzhi
Police Violate the Law
When officers from the Lujiajie Police Station in Nangang District went to Ms. Zhao's home on September 24 to look for the original owner, they saw a painting with the words "Falun Dafa is good" on the wall. They decided to ransack the house. Several Falun Gong books and materials related to Falun Gong were confiscated.
Ms. Zhao was arrested and detained for 15 days.
The Public Security Bureau changed the detention to criminal detention after 15 days.
When Ms. Zhao was interrogated, Zhang Xumin from the Public Security Bureau threatened to tear up the confiscated materials, to increase the count of the evidence. Zhang indeed later tore the desk calendars in half to create more evidence for the trial. The Falun Gong books were also used as "evidence," although the ban on publishing Falun Gong books had been rescinded.
When Ms. Zhao was arrested and detained for five months in 2000, Zhang tried to hide important information. A document stating that Ms. Zhao was taken to a labor camp was approved, without informing Ms. Zhao. However, she was not transferred to the labor camp.
In an attempt to get a longer sentence, Zhang used this document during the trial to prove that Ms. Zhao had previously been taken to a labor camp.
Trial
Upon arriving for the trial, Ms. Zhao's daughter was informed that she has been listed in the indictment as a witness.
However, Ms. Zhao's daughter had not been asked nor agreed to be a witness. She had only sent a letter to the authorities requesting her mother's release.
Under existing laws, only one prosecutor is allowed to present the case. However, two prosecutors were present at the trial. Her lawyer demanded that one be banned from speaking or withdraw from the case. The judge did not agree to the lawyer's request and threatened to adjourn the hearing.
When the lawyer protested the suspect evidence, the judge once again threatened to adjourn the hearing.
During the trial, the lawyer was not allowed to mention that 70-year-old Ms. Zhao brings no harm to society for following the Falun Gong principles "Truthfulness, Compassion, Forbearance."
The judge often interrupted Ms. Zhao from defending herself. But Ms. Zhao continued to emphasize that she only wanted to follow the principles of "Truthfulness, Compassion, Forbearance" and be a good person.
Participants in the persecution of Ms. Zhao:
Zhao Yazhen, prosecutor: +86-451-84353057Miao Shiyun, judge: +86-185-03601102Zhang Xumin, person-in-charge of the case: +86-133-04641100