Tibetan Schools in India Welcome Falun Dafa
July 24, 2018 | By a practitioner in India
(Minghui.org) I am a Western practitioner who lives in India. I recently went to two northern, mountainous states in India for six weeks.
Most of the 23 different institutions I visited were schools, with the youngest kindergarten children being around 2–3 years old. I also went to two hostels, a college, and a private industrial training institute.
The emphasis of this trip was on introducing Falun Dafa to Tibetan schools. During the past 60 years, many thousands of Tibetan refugees have fled to India, due to increasing repression and severe human rights abuses in Tibet. Most of them have remained in India.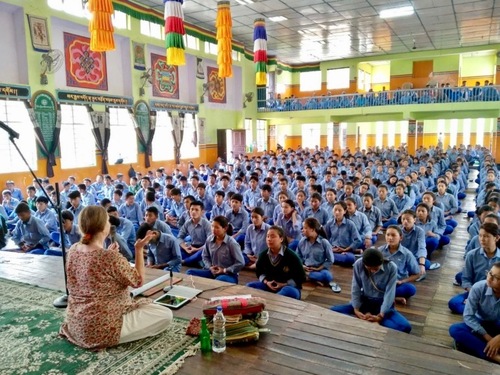 Students and teachers on the ground level and the balcony learn the Falun Dafa meditation practice.
The journey was made challenging by my having to move eleven times, the many bags containing brochures and displays about Falun Dafa and the persecution of the practice in China, the unexpected heat, and early rains at times.
Despite the expected and unexpected tribulations, the trip was very successful. I was able to introduce Falun Dafa to many more schools than originally planned.
Most of the places I visited were completely new to me. Nearly everywhere I went I ran into people—teachers, children, and others—I had met previously, mostly during my many visits to Ladakh and other parts of India. Some had practiced Falun Dafa in their schools, received flyers at displays, or seen posters.
Several times when I met new people, I felt a deep connection, as if I was seeing long-lost friends again. The feeling often seemed mutual.
The principal of one school wrote me a letter that said, "This is to express my deepest gratitude and heartfelt thanks to you for sharing the five exercises of the Falun Gong practice with the staff and the students of our school."
It is always heartening when children, even if they had Falun Dafa sessions in their schools years ago, say "Falun Dafa" or "Falun Dafa is good" with delight when they see me on the street or at their new school.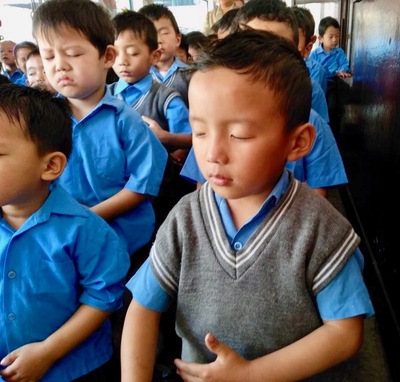 Some of the youngest children learn the Falun Dafa exercises.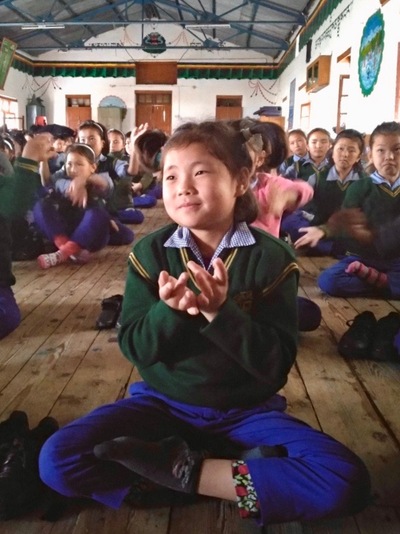 A girl learns Falun Dafa meditation.
When it was crowded, hot, or a Saturday, the students were sometimes restless while doing the standing exercises. But they calmed down fully during the fifth exercise, which consists of a sitting meditation. Indeed, it was almost pin-drop silence, after which all repeated with much heart, "Truthfulness, Compassion, and Forbearance are good, Falun Dafa is good."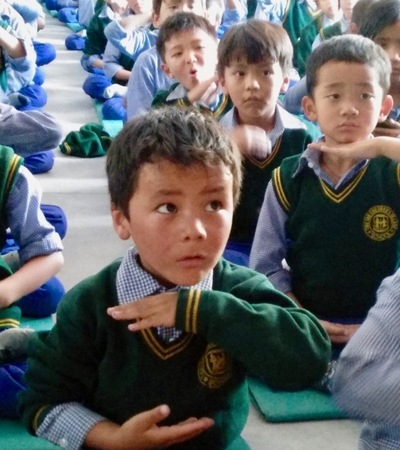 A young boy concentrates as he follows the hand movements of the fifth exercise.
The above-mentioned principal also wrote, "I really admire your spirit and dedication... Through these exercises, the students' ability to concentrate, which is lacking these days, will improve. I thank you for your dedication and concern."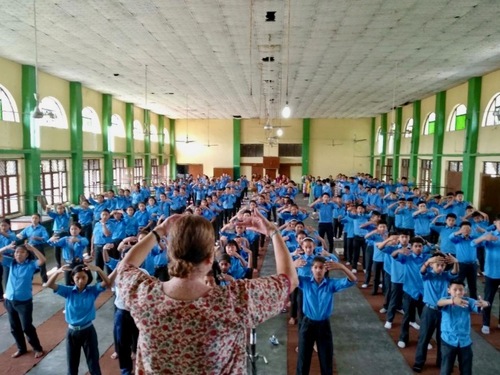 Students learn the second of the five Falun Dafa exercises.
Displays of Persecution in China
Many children were mesmerized by the posters and captions depicting the persecution that practitioners of Falun Dafa, including young children, face in China. One young girl looked at each picture for a long time.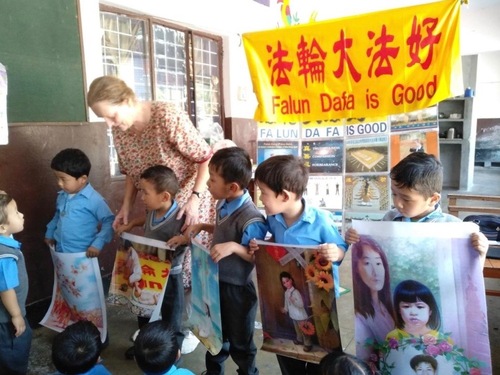 A girl on the left got up on her own and looked at each picture for a long time.
A headmistress wrote, "This is definitely a pure and unconditional service to humanity. I appreciate your kind service for the cause of humanity."
When talking about these human rights abuses and showing the posters, I noticed that some eyes were wet, with tears falling silently or wiped away.
Some of them could have been remembering the severe human rights violations the Tibetans have been facing, such as leaving behind family members and friends, who are often tortured or even killed. Their experiences are very similar to what Falun Dafa practitioners and many other people of different faiths suffer in China.
Many Tibetans commented that concerning these atrocities, we—Tibetans and Falun Dafa practitioners—"are all sitting in the same boat."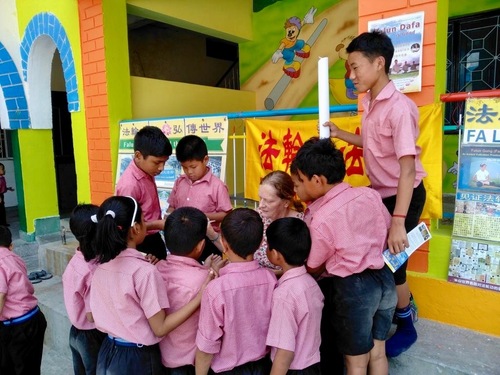 After the introduction to Falun Dafa, the schoolchildren were eager to get a Falun Dafa flyer to take home.
The many letters of appreciation I received express not only a deep appreciation of Falun Dafa but oftentimes a clear understanding of the persecution as well.
A headmistress wrote, "We owe much appreciation and admiration for your work to promote these messages of peace and wellness, while also highlighting the cruel persecution of Falun Gong by the communist regime in China of their own people, much in the same line as they are persecuting Tibetans in Tibet.
"It is our hope that you get to talk about the Tibetan issue along with Falun Gong and help create awareness in the many places you travel to. So, a big 'Thank you' on behalf of all Tibetans inside and outside Tibet."
The principles of Falun Dafa resonate with the secular ethics now taught in all Tibetan schools. The same headmistress wrote, "The session was also meaningful for us as the three principles of Truthfulness, Compassion, and Forbearance fall in line with what we are trying to inculcate in our students through the secular ethics lessons our school is carrying out as directed by the Department of Education, Tibetan Administration in Exile."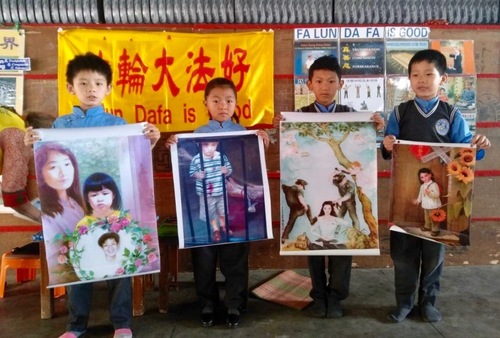 Tibetan children in India learn about how children and their families are persecuted in China for practicing Falun Dafa.
Since the first arrival of Tibetan refugees in India some 60 years ago, it became apparent that one of their most critical needs was finding a means to care for the many children who had been orphaned or separated from their families during the arduous escape from their homeland. The reason for establishing separate schools for Tibetans in India was to provide them with an excellent education and at the same time help preserve the Tibetan language and culture.
All these schools, big or small, are amazingly well-managed, with many dedicated teachers and staff staying true to the motto of their schools, "Others before self."
One school principal wrote in an appreciation letter that the staff and students "cherish that extraordinary event and adopt the Falun Dafa principles of 'Truthfulness, Compassion, and Forbearance' as our guiding ethical standards.
"We earnestly express our solidarity with the Falun Dafa practitioners and pray for the revival and the flourishing of its ancient spiritual practice. May Peace Prevail on Earth. In deep appreciation."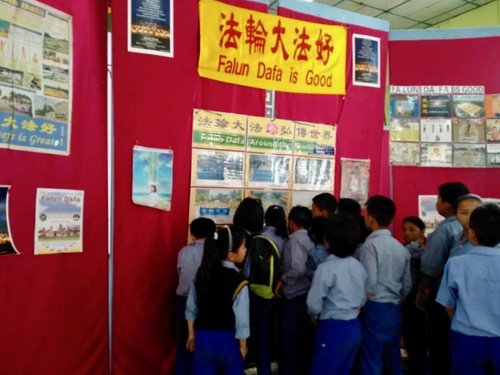 Children look at the posters "Falun Dafa Around the World."
The director of a private industrial training institute wrote after a Falun Dafa session, "We sincerely acknowledge and greatly appreciate your awareness program on the importance of Truthfulness, Compassion, and Tolerance, which are of prime importance in today's world. We express our solidarity with the members of Falun Dafa and wish them success in their contribution towards world peace."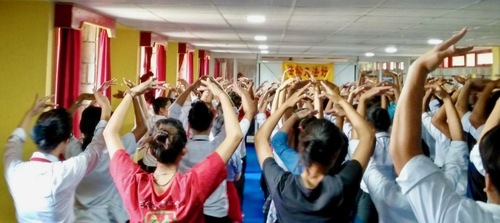 Students and teachers at a private industrial training institute practice the second Falun Dafa exercise.
In addition to giving out flyers, magazines, books, DVDs, Ancient Tales of Wisdom stories, posters, etc., to school libraries, I recommended the Nine Commentaries on the Communist Party. Although most Tibetans are fully aware of and have experienced the evil of the CCP, many do not know the details or the CCP's history.
Besides schools, I visited many other places and people and put up posters in shops.
When I talk about the persecution in China, I mention that China is just a country and has a very old history, just like India, and that Chinese people are just like people everywhere in the world: some are good, some are bad, and who is who may change. Some good ones might become bad, and bad ones might become good.
In the Falun Dafa sessions, the children were advised to rationally and compassionately understand what is good, what is bad, and why.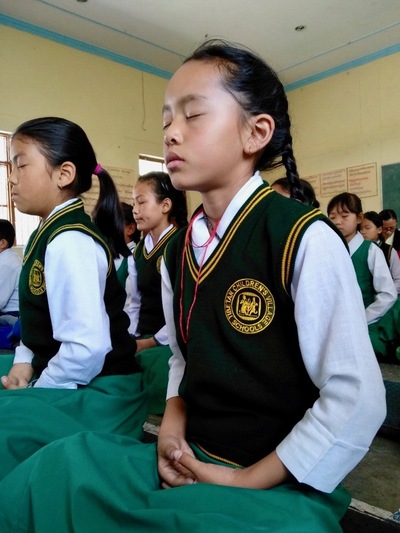 Girls at a Tibetan school in India learn the Falun Dafa sitting meditation.
Another principal wrote, "These body and mind exercises that you demonstrated today will certainly help in the long run to promote a better society and a more harmonious world as students are the seeds and our future solely depends upon how we raise them and what values we teach them.
"I would also like to express my gratitude to you for standing up to the Chinese communist government's persecution of its own innocent people. I appreciate the valuable lesson that you conveyed to the students that we should be rational and make a distinction between what is good and what is bad."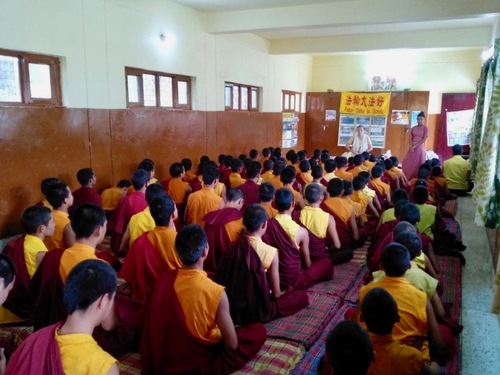 Students at a school for aspiring lamas participate in a Falun Dafa session.
Many teachers already knew of The Epoch Times, NTD India, and different Falun Dafa websites, but those who did not were made aware of these independent media outlets. Surely, in the time to come, and with the help of all these informational channels, more awareness will spread among the children and many others.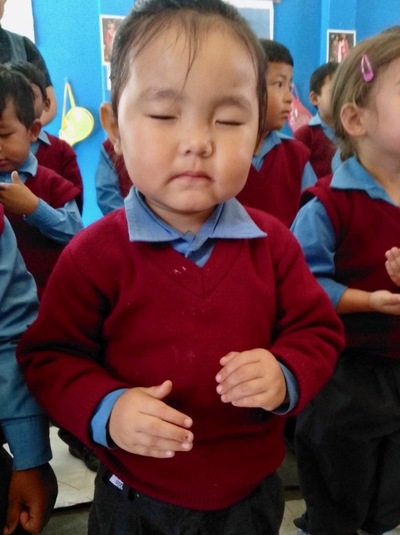 Children around three years of age try to learn the Falun Dafa movements.
Ideas and Initiatives
Many thanks go to the many "helping hands," without whom this endeavor would not have been possible: the directors, principals, headmasters and headmistresses, teachers, staff, children, and so many more.
I am very fond of the Tibetans and my many connections to my good Tibetan friends from my 28-year stay in India. Several times, it happened to be Tibetans who gave me ideas and suggestions on how to move ahead on my path as a practitioner.
In Ladakh, which is located in the northernmost part of India, more than 15 years ago, I first heard about Falun Dafa from a visiting Chinese-American practitioner accompanied by a local Tibetan. Both of them were doing the Falun Dafa exercises at a local women's festival. This was my very first contact with Falun Dafa.
In August 2007, when I was putting up posters in a local restaurant in Leh, Ladakh, a Tibetan teacher suggested that I come to his school. The principal of the school agreed, and I held the first-ever Falun Dafa session in a school in Ladakh, followed in subsequent years by sessions in this same school and many of its branches and many other schools.
In 2008, when the first-ever display was done in Leh to commemorate July 20, 1999, the day the persecution started in China, another young Tibetan man voluntarily vacated his outdoor "shop" for the occasion. Many other displays followed over the years.
Years ago, a relative of a close Tibetan friend had the idea to display the posters and banners on the long wall of her house on special occasions. Thousands of locals and tourists have since received flyers during these displays.
Even where I live, I was inspired to hold weekly displays, usually from October through April, after seeing a young Tibetan man selling his merchandise there on a foldable bed. I have been doing this for many years and have reached people from the local community as well as from all over India and the world.
All these ideas and initiatives, and many more, were suggested by Tibetans. Therefore, in a way, this trip to Tibetan schools in India was something of a return of these "favors," not to the individuals involved but at least to many members of their ethnicity.
India is a vast country with many different cultures, traditions, tribes, religions, castes, etc. Several practitioners in India had previously visited schools and universities and in the process taken many photos and received many letters of appreciation. In this vast country with so many young people, we hope to visit many more schools in different parts of India in the time to come.
Looking back, the success of this astounding trip was possible only due to Master's arrangements—the right timing, strong karmic connections, and many other factors.
Some schools put video clips, news articles, and photos about their Falun Dafa event on Facebook and other social media. Some had already seen the three-minute video "A Way to the Heart" or had previously circulated this video and its related article on NTD India.
Schoolchildren practice the second set of Falun Dafa exercises.
Boys practice the Falun Dafa sitting meditation.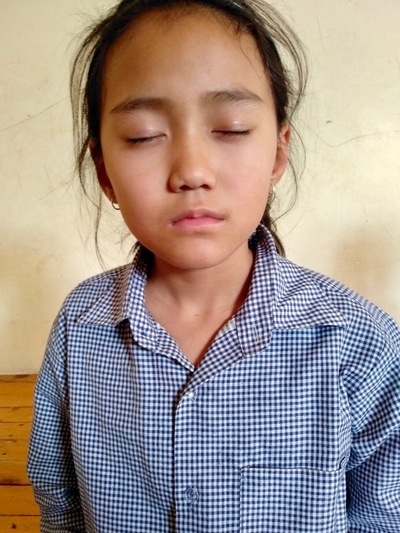 A girl at a Tibetan school in India deeply immersed in Falun Dafa meditation.