Falun Dafa at the Dragon Festival in Minnesota
July 24, 2018 | By a Falun Dafa practitioner from Minnesota
(Minghui.org) Minnesota hosts many outdoor events for the whole family to enjoy in the summertime. The Dragon Festival, in its 19th year, is a two-day Pan-Asian event held at St. Paul's Lake Phalen. The festival attracts thousands of visitors each year and offers dance performances, dragon boat races, martial arts demonstrations, and vendor booths.
Falun Dafa practitioners have participated in the event for 13 years, giving more people an opportunity to find out about the meditation practice and its persecution by the communist regime in China.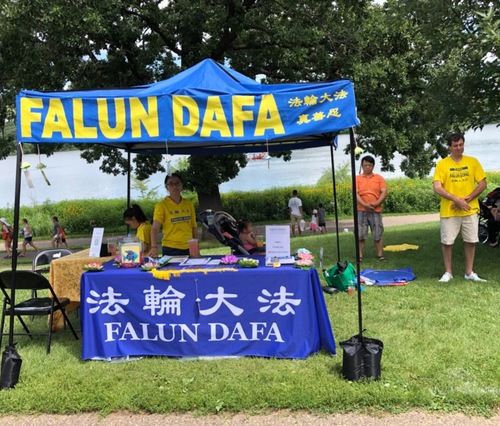 The Falun Dafa booth featured demonstrations of the exercises and how to fold origami lotus flowers. Many people were drawn to the beautiful lotus flowers that decorated the booth and the peaceful exercises. Some said they wanted to learn the Falun Dafa exercises at a local practice site.
An elderly woman stopped by to say that she had learned the practice in the 90s and used to do the exercises regularly at the practice site. Due to a family situation, she got busy and stopped going. She now wanted to re-learn the exercises and said that she would try to find an indoor space near her home so practitioners could teach the exercises.
People from Mainland China also stopped by the booth to talk. A woman from Sichuan Province said she likes to recite, "Falun Dafa is good. Truthfulness, Compassion, Forbearance is good." She then asked if she could take a photo of the booth to show family and friends back in China about Falun Dafa in America.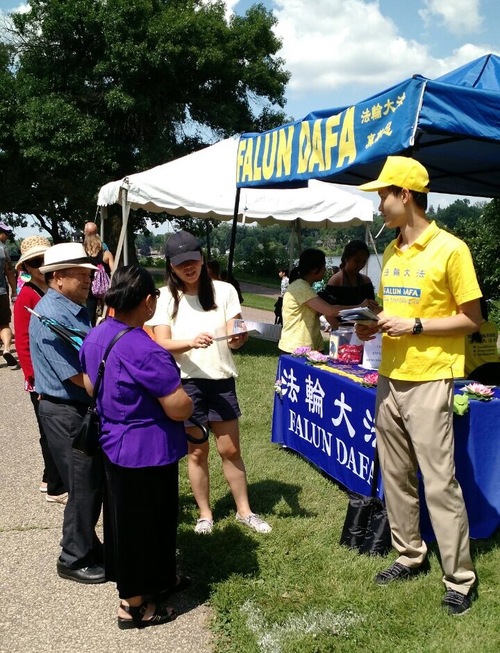 Another woman from China who saw the booth was so happy that she began to cry. She also practices Falun Dafa and was in Minnesota on business. She did not expect to see Falun Dafa practitioners at the event. She stayed and talked with the practitioners for three hours.
A Chinese man who escaped China after taking part in the student movement on Tiananmen Square on June 4, 1989, also stopped by to talk. He said Falun Dafa is great because its practitioners have not given up their belief despite being persecuted for so many years. He discussed the evil committed by the Chinese Communist Party and said that Falun Dafa is changing history and that people in the future will know the greatness of Falun Dafa.