Canada: Rally in Ottawa Condemns Human Rights Violations in China
July 23, 2018 | By Minghui correspondent Ying Zi
(Minghui.org) "Nineteen years of unrelenting human rights violations against Falun Gong practitioners and their family members. Nineteen years of human rights violations that have absolutely torn apart and devastated the lives of countless, countless individuals," stated Alex Neve, secretary general of Amnesty International Canada, in front of the Chinese embassy in Ottawa on July 20, 2018.
The Chinese Communist Party (CCP) launched the persecution of Falun Gong 19 years ago on July 20. Mr. Neve spoke at a rally at the Chinese embassy to condemn the 19-year-long persecution in China and call for its end. He was joined by Ludwik Klimkowski, President of Tribute to Liberty, David Kilgour, former Canadian diplomat, and Falun Gong practitioners.
"This is a human rights crisis that plays out in China, but its impact in the ways it touches and causes such pain and suffering for families has been felt right around the world," continued Mr. Neve.
"And those nineteen years of human rights violations have included of course, arbitrary arrests, illegal imprisonments, detention as prisoners of conscience, torture, ill-treatment, harsh unforgiving prison conditions, unfair trials, attacks against human rights lawyers who have had the courage to come forward and seek to defend Falun Gong practitioners, and at the end of the day, death in custody, so numerous that we have lost count."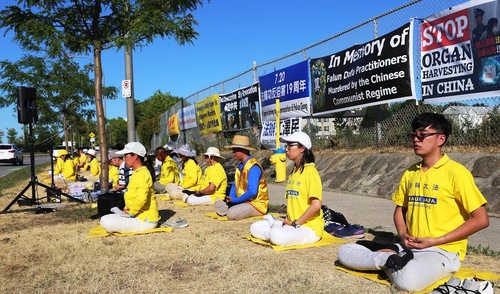 Rally in front of the Chinese embassy in Ottawa calls for the end of the persecution of Falun Gong in China.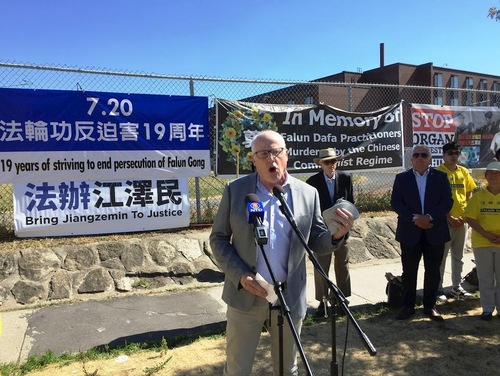 Alex Neve, secretary general of Amnesty International Canada, praised Falun Gong practitioners for their perseverance, courage, and determination during 19 years of sadness and injustice.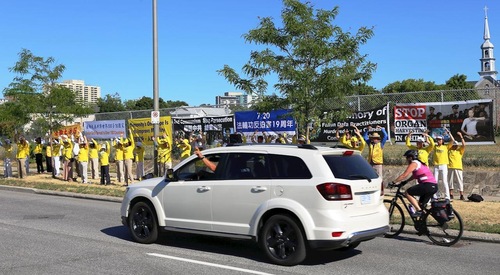 A driver gives the "V" for victory sign to express his support for Falun Gong.
Witness to July 20, 1999: Power of Faith Helped Me Overcome Tribulation
Mr. Wang works as a software engineer at a high-tech company in Canada. He experienced the start of the persecution on July 20, 1999. The day after it was announced that Falun Gong had been banned, "I visited the State Bureau for Letters and Visits in the early morning of July 21, 1999. The sidewalk was packed with Falun Gong practitioners. They stood there quite orderly.
"Many buses arrived at about 10 a.m. Soldiers got off and started grabbing and throwing practitioners into the buses. Practitioners held hands to avoid being dragged into the buses. But the soldiers forced them and left with busloads of practitioners.
"Many Falun Gong practitioners told the soldiers the facts about Falun Gong. The soldiers didn't speak but showed sympathy in their facial expressions. The buses took practitioners to the Feng Tai Stadium. All were kept there. Practitioners studied the teachings of Falun Gong together and shared cultivation experience there. At about 4 or 5 p.m., local practitioners were released. Practitioners from out of town were taken somewhere else.
"The slanderous propaganda began to be broadcast non-stop the next day."
Mr. Wang tried to inform people around him about the facts of the persecution. He was arrested in June 2001 and detained in a labor camp. He managed to leave the labor camp a year later. He didn't give up his belief despite torture and brainwashing.
He recalled that another practitioner reminded him in the labor camp, "Never give up your belief." This inspired and encouraged him. This simple sentence has stayed with Mr. Wang right through to today. "It must be the power of faith," he said.
Amnesty International Canada: "Deepest Respect and Unending Solidarity"
"Canada must be strong, and firm, and unwavering, and unconditional in its message that these 19 years of human rights violations must come to an end. That it's time, not to put trade first, not to put business first, not to put geopolitical interests first. It is time to put human rights first in our relationship with China, and that absolutely includes the human rights of Falun Gong practitioners right across the country," Mr. Neve stated at the rally.
He concluded his speech by expressing his respect for Falun Gong practitioners: "I do also want us to remember that while this is about sadness and injustice, and we should be filled with outrage, we also gather at the time of this anniversary with incredible admiration and respect for the resilient, the brave, the determined, the courageous practitioners of Falun Gong, who in the face of those 19 years of injustice, do not give up, who continue to stand up for their rights and the rights of their families. And from Canada, we send them our deepest respect and unending solidarity."
Tribute to Liberty: "Evil Always Fails"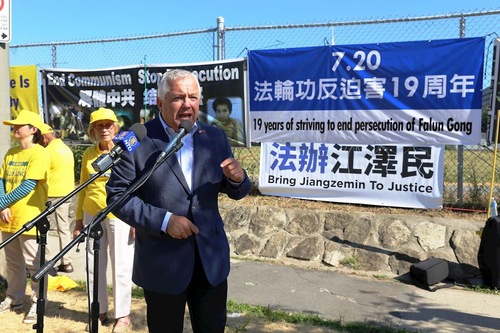 Ludwik Klimkowski, president of Tribute to Liberty
"The victims of Falun Gong and Falun Dafa are not in the past. They are victims of today. We have to, we must remember what they are going through in China and the suffering of the families who live here in Canada now who can't hold them every single day as they live their lives here."
Tribute to Liberty, established in 2008, is a Canadian charity whose mission is to establish a Canadian memorial to commemorate the victims of Communism. Its president Ludwik Klimkowski reminded those at the rally not to forget the harm of communism.
"We all know that communism disallows people to live their own lives in freedom, to pursue their own ambitions and their own way of life. To the people of this [Chinese] embassy, this must stop today. Nineteen years is 19 years too many. To you my friends, the story of survival, the story of people like you, communism always fails. Evil always fails. Tribute, tribute to liberty will always prevail.
"You can take someone's kidney, you can take someone's liver, you will never take their own soul, their life. Their freedom is being remembered and uplifted by people who are here."
Mr. Klimkowski is very supportive of Chinese people quitting the CCP and its organizations. "I think in the second decade of the 21st century, we really have to make sure we understand that communism has no place on this planet anymore," he affirmed.
David Kilgour: Accomplices in Organ Harvesting Will Be Held Accountable in Canada
Former Canadian diplomat David Kilgour summarized his research findings, gathered in collaboration with human rights lawyer David Matas, and investigative reporter Ethan Gutmann. Their conclusion was that Falun Gong practitioners have been killed for their organs for nearly two decades in China.
According to Mr. Kilgour, Canada's Justice for Victims of Corrupt Foreign Officials Act in effect since 2017, also known as Canada's Magnitsky Act, allows Ottawa to impose sanctions and travel bans on foreign officials responsible for gross human rights violations.
He quoted Canadian Minister of Foreign Affairs Chrystia Freeland: "Canada has a strong reputation around the world as a country that holds clear and cherished democratic values and stands up for human rights... This new law, which has received cross-partisan support in Parliament, is a clear demonstration that Canada takes any and all necessary measures to respond to gross violations of human rights and acts of significant foreign corruption."
Mr. Kilgour listed the following CCP officials responsible for gross human rights violations against Falun Gong practitioners: Bo Xilai, Wang Lijun, Zhou Yongkang, Zu Shusen, and Shen Zhongyang.
"The first step in a better direction for China is to end organ pillaging/trafficking/tourism now," said Mr. Kilgour. "Even if only 60,000 transplants per year are now done across China, it means about 150 persons per day are being killed for their organs."
Mr. Kilgour commended Falun Gong practitioners for their non-violent response to the brutal persecution.
Shawn Li, president of the Canada Falun Dafa Association, stated, "We call for the end of the persecution and immediate release of all Falun Gong practitioners, including Canadian citizen Sun Qian and 12 family members of Canadians."
Ms. Sun has been detained for 17 months in China without due process. Mr. Neve mentioned her case and said that 11 lawyers had to give up defending Ms. Sun due to harassment and threats from the CCP.