Information Event in Bratislava Marks 19th Year of Persecution of Falun Gong in China
July 22, 2018 | By practitioners in Slovakia
(Minghui.org) An information event was held in Hviezdoslav Square in Bratislava on Friday, July 20 to highlight the ongoing persecution of Falun Gong in China.
Passersby had an opportunity to see the Falun Gong exercises and read about the practice, including the fact that it is being persecuted in China.
An older man said that such behavior was characteristic of a communist regime. He himself was persecuted in the former Czechoslovak Socialist Republic, so he understood firsthand. He wished the practitioners success in their efforts and said that what they were doing was of great importance.
Signing the petition on Hviezdoslav Square, Bratislava.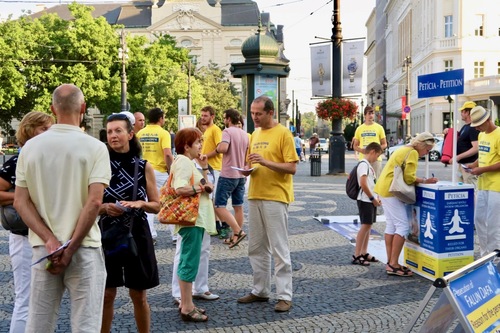 Passersby talk with Falun Gong practitioners at the information event.
Many Chinese tourists photographed the informational materials and recorded the exercises. Tourists from both Europe and overseas stopped by. After hearing the facts, many signed the petition.
An older lady from Slovakia said she would tell her friend, who organizes presentations for retirees, about the event so that they could find out about the practice of Falun Dafa and about the persecution.
In the afternoon, the practitioners did the fifth exercise, which is a meditation. They created an island of peace in an otherwise busy square and generated a great deal of interest.
A woman who was interested in the exercises said she wanted to know where she could learn them. She admired the peace and concentration exhibited by the practitioners. She and her husband signed the petition to protest the persecution of Falun Gong.
Many children, as well as adults, got a souvenir paper lotus flower. When it was time to leave, harp music from a nearby event filled the air. As if they were reluctant to let them go, visitors stayed and spoke with the practitioners. People wanted to sign the petition up until the last moment, even after the clipboard had been removed.
The day before, on Thursday, July 19, a 12-hour relay sit-in for freedom for Falun Gong practitioners in China was held in front of the Chinese embassy in Bratislava.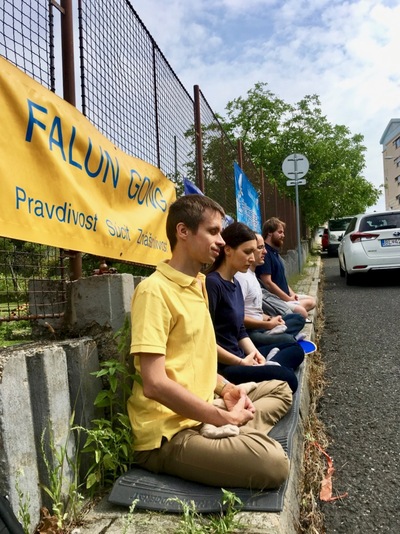 Start of the appeal in front of the Chinese embassy in Bratislava on July 19.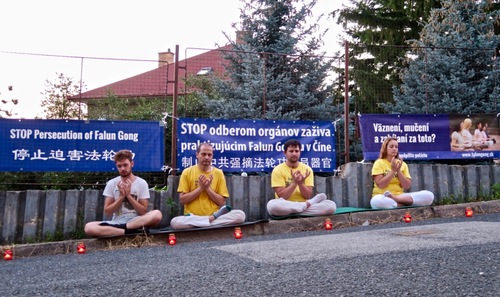 The appeal in front of Chinese embassy in Bratislava on July 19.
The goal of the appeal was to call for an end to the 19 years of persecution of Falun Gong practitioners in China. Practitioners demonstrated the exercises and informed passersby about the persecution of Falun Gong in China.
The peaceful protest in Bratislava was inspired by a similar activity in London, where Falun Gong practitioners have sat in front of the embassy around the clock for more than 16 years. Regular protests in Bratislava began in December 2004. Practitioners have since protested there every Thursday for about two hours.