Washington DC: Candlelight Vigil Commemorates Falun Gong Practitioners in China Who Died in the Persecution
July 22, 2018 | By Minghui correspondent Jingfei Li
(Minghui.org) Falun Gong practitioners from the eastern U.S. held a candlelight vigil in front of the Washington Monument on the evening of July 19, 2018 to commemorate fellow practitioners who were tortured to death by the Chinese Communist Party (CCP). The CCP's persecution has been ongoing for nineteen years. The practitioners called for a stop to the persecution.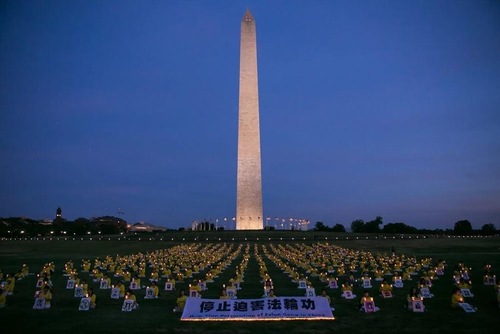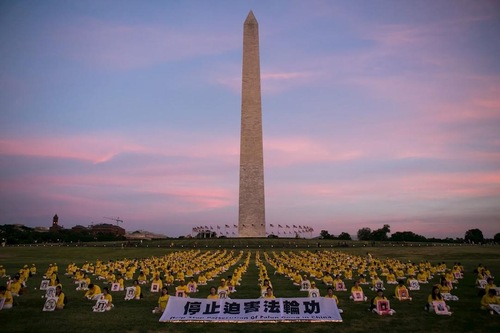 Candlelight vigil held in front of the Washington Monument on the evening of July 19, 2018.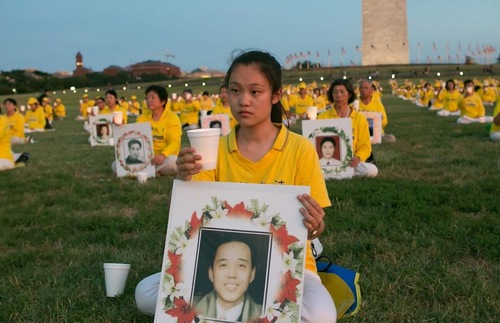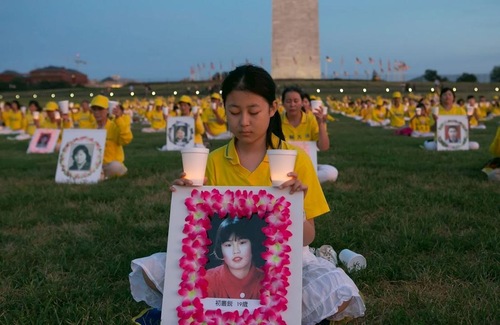 Candlelight vigil in front of the Washington Monument.
The horizon was filled with the afterglow of the setting sun at eight o'clock in the evening as Falun Gong practitioners sat quietly on the lawn in front of the Washington Monument. They held photos of some of the Falun Gong practitioners who died in the CCP's persecution.
Along with deep music, the practitioners lit candles to express their grief and respect. At the forefront was a banner conveying their unchanging demands for the past 19 years - to stop the persecution of Falun Gong.
The peaceful and solemn scene attracted many passing-by visitors, who paused and listened to practitioners explain the unprecedented persecution they experienced.
At least 4,236 Falun Gong practitioners are currently documented to have been tortured to death by the CCP since the persecution began on July 20, 1999. Due to the CCP's information censorship, the actual number could be much higher.
Professor of China University of Political Science and Law: Following Truthfulness-Compassion-Forbearance
You Zhaohe and Wang Lurui held candles during the vigil. You was a professor of philosophy at the School of Humanities at the China University of Political Science and Law, and a doctoral adviser.
His wife, Wang Lurui, was formerly an administrator in the Department of Retired Officials of Beijing Tiantan Hospital. They still clearly remember the heavy pressure on their family when the persecution began on July 20, 1999.
Practitioner You said, "The Chinese Communist Party suppresses Falun Gong. We felt that there was nothing wrong with practicing Falun Gong. Both of us took our child to Tiananmen Square to display Falun Gong banners. I was then detained and suspended from teaching.
"Later, the university planned to put me in a brainwashing center. I had to leave home to avoid the persecution. My child was still young, and my parents were in their 70s and 80s. I was forced to live a life of displacement. My mood was very heavy at the time and the family was under tremendous pressure."
His wife was arrested, detained, and incarcerated over ten times for her perseverance in practicing Falun Gong.
Practitioner You said, "No matter what kind of persecution we face and what kind of hard times we have experienced, we have always followed Truthfulness-Compassion-Forbearance, because I feel that nothing is wrong with being better people."
Lighting Candles to Express Grief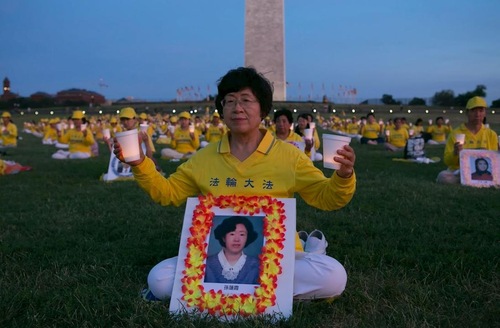 Chunrong Wang holds candles to commemorate practitioner Sun Lianxia, whose portrait is in front of her.
Practitioner Chunrong Wang had tears in her eyes while holding the candles. In front of her was the portrait of late practitioner Sun Lianxia. Wang said that she visited Sun when Sun was in critical condition due to being tortured by guards at a forced labor camp. Sun was full of bruises and cuts, which covered her body.
Practitioner Sun was a doctor in Dalian, Liaoning Province, China. Before practicing Falun Gong she had multiple illnesses, but returned to health after taking up the practice. Those who knew Sun praised her as a great doctor.
Sun was arrested in Fall 2000 on her way to Beijing to raise awareness of the CCP's persecution. After being incarcerated in the Dalian Forced Labor Camp, she protested the incarceration by holding a hunger strike. She was tortured to death on January 16, 2001. Camp guards did not stop torturing her even two hours before her death.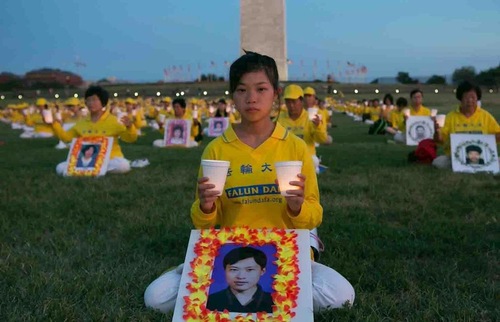 Xinyang Xu commemorates her father Xu Dawei.
Practitioner Lihua Chi and her daughter Xinyang Xu were in the front row holding candles with tears in their eyes. Chi's husband Xu Dawei was arrested for printing Falun Gong informational materials, and sentenced to eight years in prison. Xu was emaciated and mentally incapacitated when he was released in 2009. His body was full of cuts and scars. He died 13 days after being released.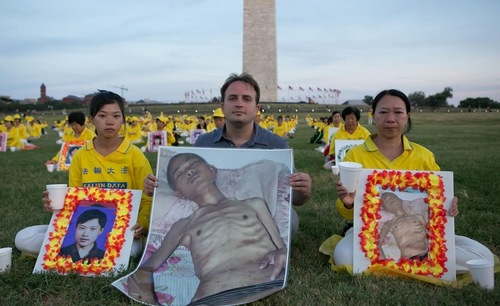 Eric Blews holds a poster of Xu Dawei.
After Eric Blews heard the story of the mother and daughter he printed a large poster of Xu Dawei and brought it to the candlelight vigil. Eric said that he was moved by Xu's story and wished to help raise awareness on the CCP's persecution.
Kery Nunez brought her three children to participate in the candlelight vigil. She said, "Today is the day when the persecution of Falun Gong has persisted for 19 years. We pay tribute to those Falun Gong practitioners who have been tortured to death in China.
"I want my children to know what is happening in this world. In China, Falun Gong practitioners are persecuted because of their beliefs. It is important for the children to participate and support justice."
Tourists Learn About Falun Gong
The Washington Monument is a famous tourist attraction with a constant stream of visitors from around the world. Many of the tourists used their mobile phones to take photos of the Falun Gong practitioners' candlelight vigil.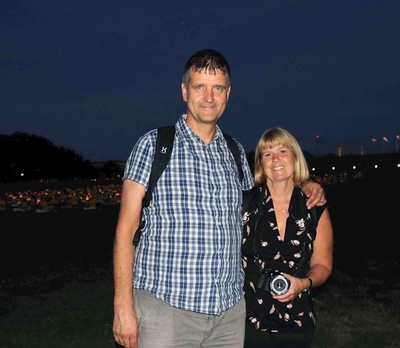 The Mortens from Denmark posed for a photo with the candlelight vigil in the background.
The Mortens are from Denmark. Mr. Morten said they had just come from the airport and were walking around the Washington Monument. It was their first time hearing about Falun Gong. They were shocked upon hearing about the brutal persecution in China during the past 19 years.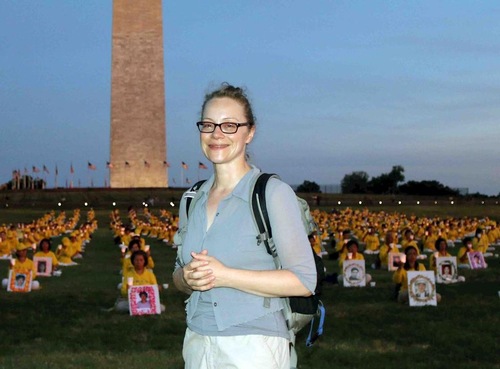 Tourist Rephaela Steinau from Germany.
Tourist Rephaela Steinau from Germany stayed a long time near the candlelight vigil. She said with tears in her eyes, "The scene is touching. I am really moved." She said she and her husband live in a small town in Germany. Their trip to Washington DC was to celebrate her husband's fiftieth birthday.