Two Kindhearted Liaoning Women Arrested for Their Faith
July 15, 2018 | By a Minghui correspondent in Liaoning Province, China
(Minghui.org) Two Falun Gong practitioners in Chaoyang City, Liaoning Province–Ms. Liu Xin and Ms. Han Aizhen–were arrested for their faith by local police on the night of May 12, 2018.
Members of their communities were shocked by the news since both women were well-known for their kindness.
Ms. Liu Xin Missed as a Kind Volunteer Caregiver
Ms. Liu Xin, 54, lives by Falun Gong's principles of Truthfulness-Compassion-Forbearance in her daily life. She is recognized by her community as a filial daughter-in-law who took care of her mother-in-law for more than 20 years.
Her mother-in-law suffered from cerebellar atrophy before she passed away and often got lost. Ms. Liu always patiently searched for her without complaint. When her mother-in-law's condition deteriorated, Ms. Liu would feed her. When she couldn't control her bowels, Ms. Liu would clean up for her.
Her long-term filial devotion touched many neighbors. However, Ms. Liu told them that she would not have been able to keep this up if she did not practice Falun Gong.
Ms. Liu also voluntarily took care of a senior citizen in the neighborhood who is over 85 years old. She often helped with her vegetable gardens, grocery shopping, and cleaning. During torrential rains one time, Ms. Liu called her husband over, and they worked together to prevent the senior citizen's home from flooding.
Since Ms. Liu had not visited her home after her arrest, the senior asked around after her. When she learned of Ms. Liu's arrest, she was in tears and said she would wait for Ms. Liu to return.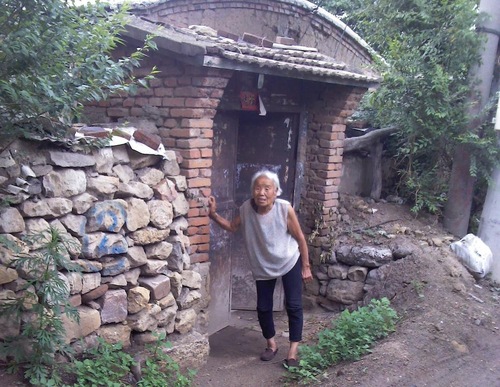 Senior citizen looked after by Ms. Liu Xin
Ms. Han Aizhen, a Good Samaritan
Ms. Han Aizhen, 56, is well-known for her altruism.
Her mother-in-law used to live about 50 miles away from her home. Despite this, Ms. Han often stopped by with necessities. During one exceptionally cold winter, she rented a trailer and hauled a full load of coal to her mother-in-law's home.
Many people thought she was a more like a daughter instead of a daughter-in-law. When Ms. Han's mother-in-law lived with her family, she always paid special attention to her and cooked the dishes she liked.
Ms. Han also helped strangers in need. Once, an elderly man's electric tricycle ran out of gas. He did not have his phone with him and panicked. When Ms. Han passed by and learned of his situation, she offered to tow his three-wheeler with her scooter. She pulled it all the way to the gas station. The man was touched and wanted to pay her. She simply asked him to remember, "Falun Dafa is good."
Another time, Ms. Han saw a lady struggling to carry a lot of packages. She walked up to her and offered to carry her items with her scooter. She escorted the lady all the way to the train station. The lady said she felt lucky to meet such a kind person. When Ms. Han told her about Falun Gong and its persecution by the Chinese Communist Party, the lady happily agreed to quit the Party.
Ms. Han's kindness could be felt through all aspects of her daily life. She would offer iced water to strangers on hot days and give money and clothes to people in need. She also had a big vegetable garden and would share her harvest with her entire neighborhood.