European Practitioners Share Personal Experiences of Attending Washington DC Conference
July 01, 2018 | By Wenying Zhou, Delong in Wanshington DC
(Minghui.org) Nearly 10,000 Falun Dafa (also called Falun Gong) practitioners attended the cultivation experience sharing conference on June 21st, and the activities before and after the conference.
Thousands of Falun Dafa practitioners took part in a large-scale exercise practice at the Washington Monument early on the day after the conference, which was followed by a character forming event, and a candlelight vigil that evening, despite the challenges of intermittent rain throughout the day.
Ian Lynch, an engineer from the United Kingdom, was one of the practitioners who joined the exercise practice and character forming event. Ian said it was a great experience for him to be with so many practitioners and in such a strong energy field.
Ian started practicing Falun Dafa in 2013. He said, "I used to have a lot of thoughts in my mind. The exercise practice let me calm down and have peace in my heart." He added that the cultivation practice also improved his efficiency in the work and helped him to remain calm during troublesome situations.
To him, attending the conference was a good opportunity to hear other practitioners' experience sharing, and to imagine how he would react if a similar event happened to him. He added, "Some practitioners talked about selfishness. I have this, too. I ought to let go this attachment and be more diligent from now on."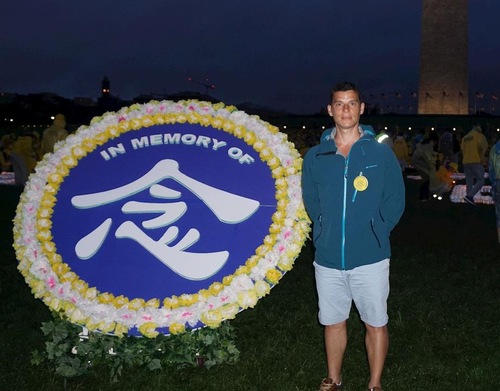 Guillaume Leguay, from France, said, "It's my first time to meet and share with so many fellow practitioners. It's a great experience."
Guillaume Leguay is an energy project manager who started practicing Falun Dafa in 2009 when he was working as an intern, and before graduating from a university in Germany. A friend recommended Falun Dafa to him and emailed him the link to Falun Dafa website.
He read through many of the articles online, downloaded two books, Zhuan Falun and Falun Gong, and taught himself the exercises by watching the free instruction videos.
After returning to Paris, he found other practitioners and joined a local group.
This was his first time attending a major experience sharing conference. He remarked, "I saw Master in person for the first time. I can't describe the happiness with any language. There was a magic feeling between us, like I had known Master for a long time. There is no strangeness at all."
The sharing speeches by fellow practitioners helped him to look inward within himself to find and let go of attachments.
Master said,
"...when a person reaches the Arhat level he's not fazed by anything he comes across. He's not the least bit concerned about any human things and he's always upbeat." (Zhuan Falun)
Guillaume said he often remembered this teaching when something happened in his life. "When my heart feels unhappy, I regard it as a warning to look inward to find what the attachment is and what the root is," said Guillaume. "Through cultivation practice, I become very patient. I am not impatient, not irritable at all."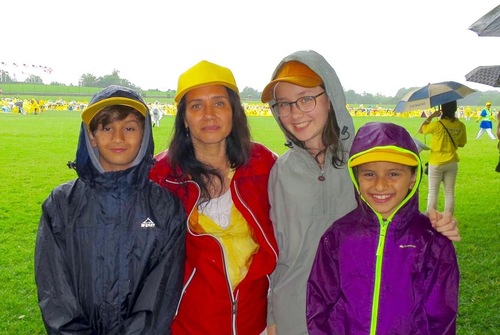 Anne (second from left) and her children.
Anne is a craft maker from Bordeaux France. Many years ago, her husband received a flier about Falun Dafa in a market. The flier stayed in a kitchen cabinet drawer for a long time. One day, he took out the flier and browsed to the Falun Dafa website, where he watched the first video of Master's Fa-teaching lecture.
When Anne came home and saw what he was watching on the computer, she joined him in watching the first lecture. They watched lecture two the next day and started their journey with Falun Dafa.
They completed the nine lectures and began to read Zhuan Falun. Since their house was 43 miles from Bordeaux, they couldn't find any practitioners nearby. So they learned the exercises by watching the online exercise instruction video.
Anne said, "Attending a conference is a good opportunity and it is a great gift to me. I don't have so many fellow practitioners near me. I feel happy to be among so many practitioners. I felt a strong energy field in the group practice, the same as the Fa conference yesterday."
Anne said she benefited a lot from sharing with fellow practitioners about how they handled matters in their lives, many of which she had also encountered.
She said, "I saw Master for the first time. I was very moved. No words could express my feelings. I am so happy to be able to attend a Fa-conference. Everything is predestined. When we wanted to cultivate, Master arranged everything for us."
Swanne, 13, is Anne's oldest daughter. She started practicing Falun Dafa at age 7. Soon afterward her health improved and she has rarely had any ailments since. She commented, "Falun Dafa answered my questions like what is the purpose of life and why we are here. I was very excited attending the Fa conference yesterday and met Master in person for the first time. Master is so kind. He was very calm and peaceful even when he was talking about very serious topics."
Al-Hassan, Anne's second child, started practicing Falun Dafa when he was seven. He said, "Falun Dafa taught me to examine my behavior and speech with Truthfulness-Compassion-Forbearance. When Master was giving the speech at yesterday's conference, I felt like I was floating. I was very excited."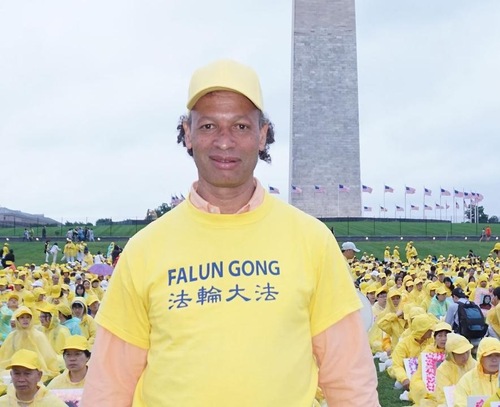 Practitioner Gille Buval from Martique, France.
Mr. Gille Buval is an audio/video engineer working at a TV station in Martinique France. His relationship with Falun Dafa started when he was on a journey to take video footage in another city and was handed a Falun Dafa flier.
He remarked, "After returning home, I read through the flier and began to read Zhuan Falun online. I read the first page, 'On Dafa,' and then I finished the whole book. Since then, I never stopped reading Zhuan Falun. Later, I read all of Master's scriptures and learned the exercises by watching the instruction videos."
Gille continued, "Falun Gong is like sunlight. When Master appeared at the podium yesterday, I wept. I couldn't explain the excitement in my heart."