Canadian Resident Speaks Out for Her Friend: Why Does the Communist Regime Torture an Elderly Woman for Her Belief?
June 09, 2018 | By Liang Yuling, a Canadian resident
(Minghui.org) I am from Guangdong Province, China and currently live in Canada. My heart is heavy when I came across a report about a woman that I know well.
The report read, "A woman in her 70s was tied with both legs crossed for long periods of time while being held at a brainwashing facility in Guangzhou City in November 2016. The torture caused total blindness in her right eye. The vision in her left eye is severely impaired."
Her name is Wu Yangzhen. I worked for her daughter for back in 2001. She had just been released from a local labor camp when her daughter hired me as a housekeeper.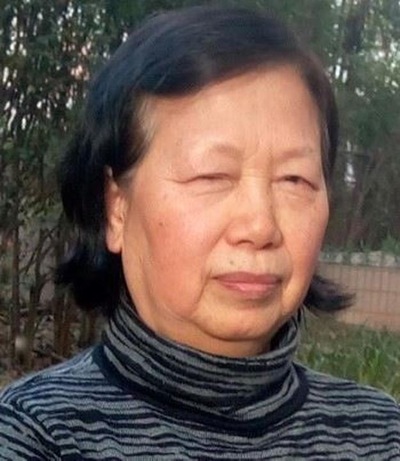 Auntie Wu
Auntie Wu told me that she was detained for refusing to renounce Falun Gong. At the time I didn't know much about the practice except for the slanderous propaganda from the government. I, however, witnessed that Auntie Wu was nothing like what was depicted by the propaganda.
She gave me extra money to purchase a bus pass when she learned that I biked to her daughter's house every day. I couldn't believe that she would do this for me when so many people only cared about their own interests.
Auntie Wu often shared with me how she followed Falun Gong's principles of Truthfulness-Compassion-Forbearance. She sometimes had conflicts with her daughter-in-law, yet she was able to handle things well with the principles.
I became interested in Falun Gong and wanted to give it a try. Unfortunately, Auntie Wu was arrested again for her faith not long after her release in 2001.
During the SARS outbreak in 2003, my son often had fever and I also felt discomfort all over my body. I remembered Auntie Wu and called her daughter. When I learned she had just been released from detention, I immediately went to visit her. She found me some Falun Gong books and showed me how to do Falun Gong exercises.
Auntie Wu filed a complaint in July 2015 against former Chinese dictator Jiang Zemin for initiating the persecution of Falun Gong that resulted in her past arrests. For filing the complaint, she was arrested again on November 2, 2016 and became blind in her right eye after just 19 days of detention.
I wonder what kind of a government China has that would force a kindhearted person like Auntie Wu to pay such a dear price for simply exercising her constitutional right to freedom of belief.
I call for the international community to pay attention to Auntie Wu's plight and help end the persecution of Falun Gong.
Related Reports:
Woman Blinded While in Custody, Files Complaint Against Judges that Dismisses Her Case Against the Perpetrators
72-Year-Old Woman Loses Eyesight After Torture at Brainwashing Center