A Mother's Gratitude for Falun Dafa
June 07, 2018 | By Minghui correspondent
(Minghui.org) Ms. Jennie Sheeks, a Falun Dafa practitioner in Philadelphia, shared her personal experience with the practice on World Falun Dafa Day, May 13, which happened to fall on Mother's Day this year.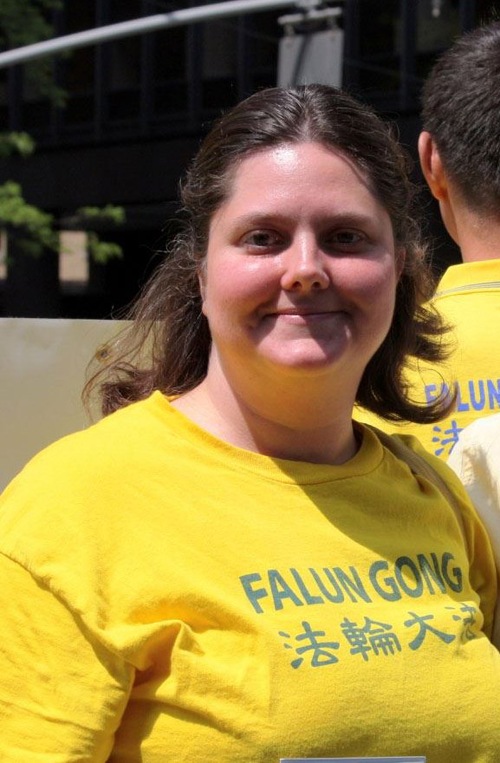 Jennie at the World Falun Dafa Day parade in 2014.
Six years ago when Jennie's three children were 5, 4, and 2, she searched on Google for a stress-relieving practice, and found some information about Falun Dafa. She said, "I was looking for a way of giving myself more energy to educate and raise my kids, reduce my stress, and make me a calmer mother. I noticed that learning Falun Dafa was free, and it was available at the Liberty Bell every morning on weekends. Finding a free exercise was important, given my financial situation. More importantly, I felt certain that no one was trying to profit from it. It was just a group of people sharing a practice."
It was a chilly morning in January, when Jennie came to the Liberty Bell and found Falun Dafa practitioners. She recounted, "These nice people started teaching me Falun Dafa exercises. As soon as two months after I began doing the exercises, my chronic health problem, which had made me want to die at times, was completely gone. It never came back. It's such a real and happy surprise. It made me continue. Cultivation in Falun Dafa has greatly reduced my stress, and deeply changed my life.
"I follow the principles of Truthfulness, Compassion and Forbearance as closely as possible in my heart, mind, and actions. These simple principles have become my support in every aspect of my life. At home and at work, whenever I ran into challenges, I would pause, look within, and ask myself what I should do to be truthful in this situation? How should I put others first? How could I better forbear in this situation? How could I keep calm, without letting my emotions get in the way?"
Jennie's family was excited about her newfound health and spiritual well-being. Her husband could tell she was less and less distressed by unexpected difficulties, and her mind had remained clear and stable instead. Jennie's mother also said Jennie had become kinder and more patient. Jennie said, "I know how to learn from my mistakes, and how to head in the right direction along the way."
On the special occasion of the World Falun Dafa Day and Mother's Day, Jennie was happy to tell everyone, "Falun Dafa has helped me become a better daughter and helped me become more calm and closer my kids."