Introducing Falun Dafa Meditation in Northern and Central Europe
June 07, 2018 | By Minghui correspondent He Ping
(Minghui.org) As summer is upon us, practitioners have been participating in numerous events to share the ancient meditation of Falun Dafa with their communities. Below are recent activities in Sweden, Slovakia, and Switzerland.
Sweden
A festival took place in Botkyrka Municipality of Stockholm on June 2 near Fittja train station. Practitioners were invited to join the event to present at a booth as well as provide an exercise demonstration.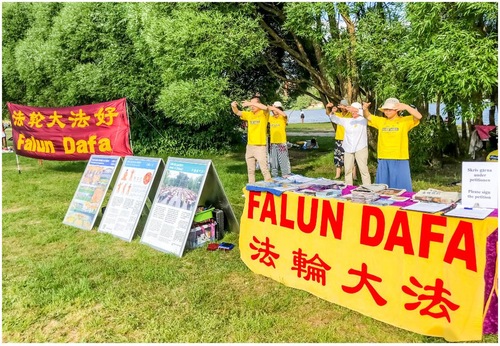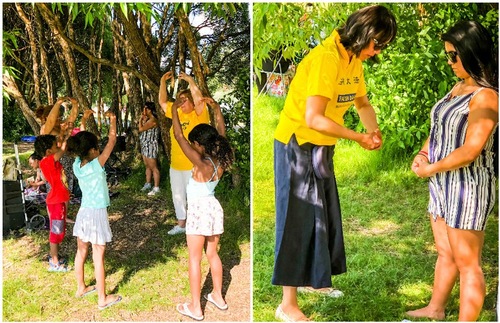 Falun Dafa practitioners attended a festival in Botkyrka Municipality of Stockholm on June 2, 2018.
Many people followed along with practitioners as they watched the exercise demo. Some came to the booth afterwards to learn the exercises.
A middle-aged woman and four children came to learn. "My oldest daughter saw your booth and told us she wanted to learn this meditation from China," she explained with a smile. The woman was surprised that the three younger ones, all about 7 or 8, could sit for such a long time to learn the exercises. She talked with a practitioner for a long time and said, "The meditation is so relaxing and wonderful."
Another woman from Russia read the pamphlet and said she liked the words Truthfulness, Compassion, and Forbearance, adding, "I have to learn this."
Slovakia
Falun Dafa practitioners went to downtown Trnava in Western Slovakia on June 2 to talk to people about the practice and the persecution in China. With a history of more than 800 years, Trnava has many churches within its city limit, making it one of the oldest and most important cities in the country.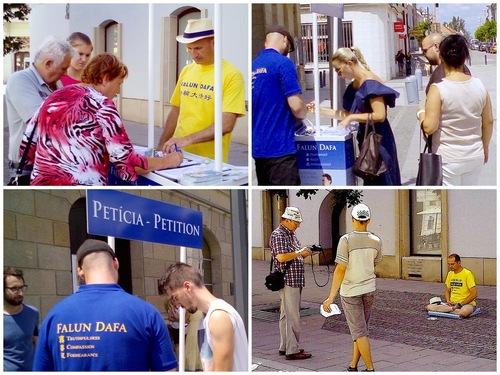 Practitioners went to Trnava in Western Slovakia on June 2 to tell people about the persecution in China.
One man told a practitioner this is the third time he saw such events. "I have learned what happened from the pamphlet. Show me the petition form and I will sign it," he said.
A pastor walked out of church. He asked a practitioner many questions, and signed a petition calling to stop the forced organ harvesting in China.
Three passersby were shocked by the brutality against practitioners in China. One of them said, "How can China do this? These people want to be better people and you cannot suppress them!" All three signed petition.
Switzerland
Practitioners held activities in the business district in central Geneva on May 31 to raise awareness about the persecution in China. Through a signature drive, they urged the United Nations to take actions to end China's forced organ harvesting crimes targeting Falun Gong practitioners.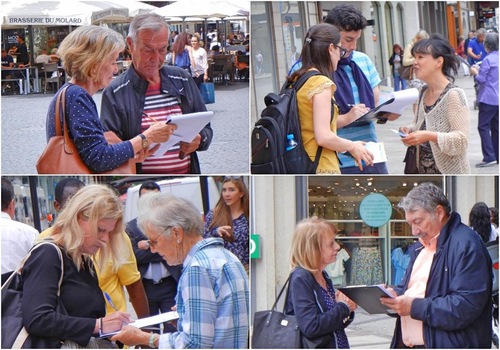 Signature drive in central Geneva on May 31, 2018.
One man in his 80s said he had heard about Falun Dafa and that the atrocities, such as forced organ harvesting, absolutely cannot be accepted. He praised practitioners' efforts to raise awareness. He signed a petition and took a copy of a report on forced organ harvesting.
A Christian woman was appalled by the organ harvesting atrocities. She said that since humans are made by the divine, organ harvesting is not allowed by the divine. She appreciated Falun Dafa's moral teachings and hoped more people would have faith and principles.
A man from Romania said while signing a petition, "No matter whether its happening to the Chinese, Romanians, or people from any society, we should work together to oppose the crimes of the Communist Party."
Related articles in Chinese:http://www.minghui.org/mh/articles/2018/6/4/瑞典夏日露天庆典活动-法轮功受欢迎(图)-368405.htmlhttp://www.minghui.org/mh/articles/2018/6/4/瑞士学员在日内瓦商业街传真相(图)-368399.html