Touching Scene—Group Practice and Falun Emblem Formation at Washington Monument
June 26, 2018 | By Minghui correspondent Zhang Yun
(Minghui.org) Falun Gong practitioners from around the world had a group exercise practice and formed a Falun emblem in front of the Washington Monument on the morning of June 22, 2018. Although it was raining in the morning, sometimes with heavy downpours, the practitioners persisted in the group practice. Afterwards, they formed a Falun emblem by dressing in different colors. The scene showed peace and determination.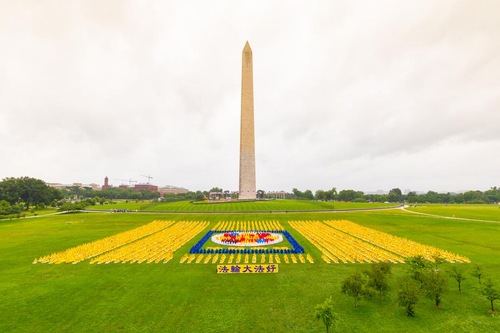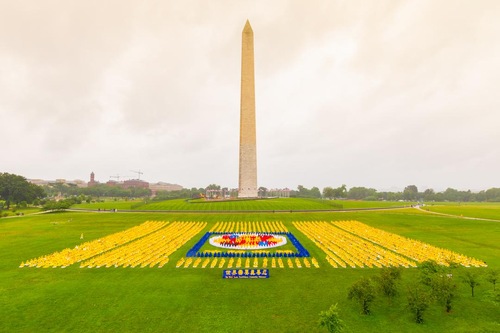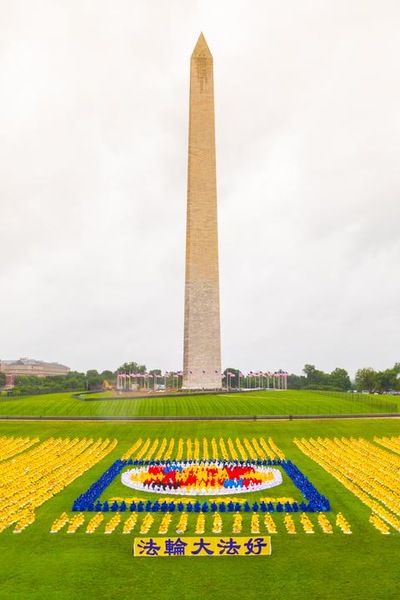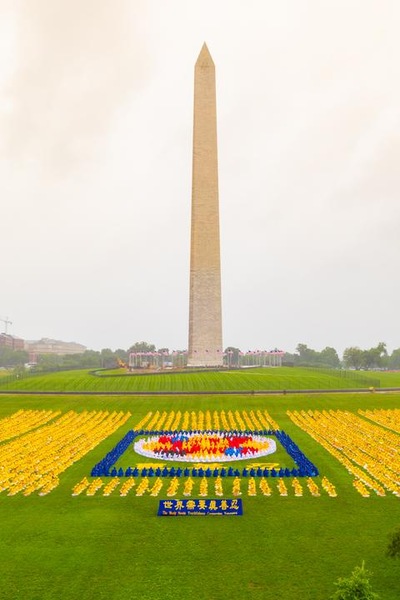 Falun Gong practitioners have group exercise practice and form the Falun emblem in rain on the morning of June 22, 2018.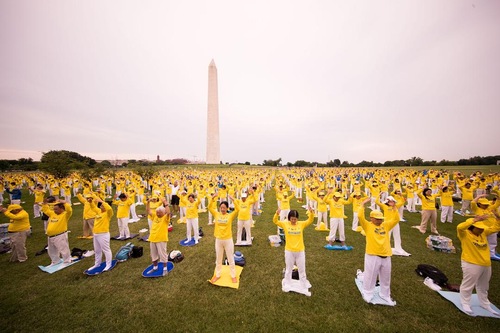 Group exercise practice.
Group Practice in the Rain Touches Tourists
Shermira, a tourist from New York, and her daughter were attracted by the scene. After learning about the situation, they took photos of the practitioners sitting in the showers. "It's so beautiful! I really like it!" she said.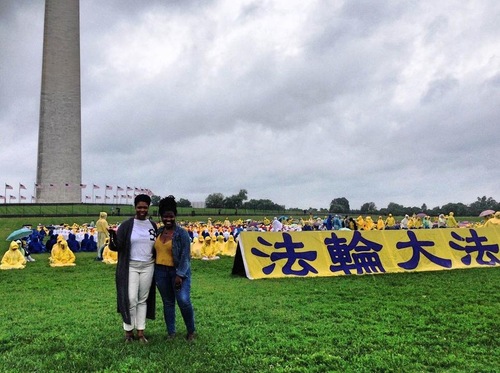 Shermira and her daughter from New York were drawn by the group practice.
Shermira said to the reporter, "I thought it was sad that they were being captured and kept in labor camp. I think it is unfair. One should have the freedom to choose which religion or faith he wants to observe.
"I think this is a really good opportunity for individuals to sit in a silent peaceful protest and really stand up for what they believe in strongly. Hopefully, you know, the message is transmitted back to China. It has to be changed under this regime. Hopefully the Chinese government will change and stop the persecution."
She pointed at the scene and said, "Although the weather is bad, you know what? It looks so beautiful, and to see everyone's colors. The main color is yellow, which looks very brilliant. And there is the sprinkle of red, white, and black. These people believe in their faith, and have really taken their time to meditate, and do it in a very beautiful way. Very beautiful, I love it.
At last, she said, "The Chinese government must stop their persecution immediately. It is so cruel, almost twenty years which is a long time, to be in this situation.
"I also know that a lot of cheap products are made by people who actually are captured in these places. That is not fair. There has to be a better way that people live their lives.
"I really hope that the current Chinese leader can improve on human rights issues and give the Falun Gong practitioners a free living environment."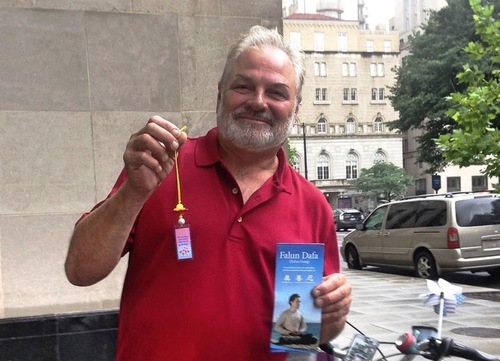 John wishes the persecution ends as soon as possible.
John did renovation work before retired. He said, "I have known Falun Gong for more than ten years and understood them very well. They have activities every year. I have always supported their efforts against the persecution. I oppose the Communist Party because it wants to control the world. I wish that China will end its persecution of Falun Gong practitioners soon!"
Falun Gong Practitioners in the Rain Share Their Experiences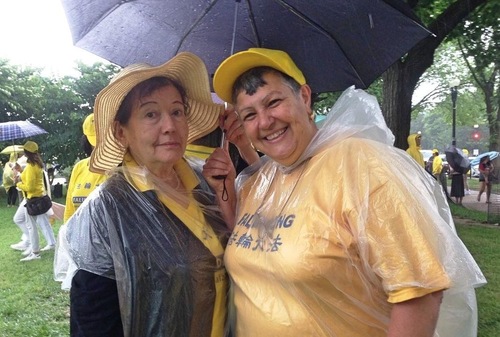 Maria Bromshteim (right) and Nataly (left), Russian Falun Gong practitioners from Florida.
Maria Bromshteim, a Russian Falun Gong practitioner from Florida who is in her sixties, said, "I participated in the group practice in the rain in hopes that through this activity, more people will be able to know Falun Gong and the brutal persecution for more than ten years. We wish that all governments will stand up and stop the CCP's persecution of Falun Gong."
Maria, who began practicing Falun Gong in Rhode Island in 2000, said, "At that time, I was looking for a spiritual thing. I saw Falun Gong in the newspaper and looked for it in parks. Finally I found it. The practitioners were very nice.
I was forty-five. My arms, legs, and waist were painful. I had to do physical therapy every week. After practicing Falun Gong, all my illnesses were gone. My life has changed too and I feel calm. I am grateful."
Nataly, a former Soviet scientist who practiced Falun Gong in Colombia in 2000, is a Ph.D. in physics and chemistry. She said that she has benefited from Dafa and wants more people to benefit from it.
In her seventies this year, she had tried yoga, Tai chi, and qigong in the past. In 2000, she saw an advertisement that a 92-year-old Tai chi teacher wrote: "I have taught Tai chi all my life. Now I tell all my students to learn Falun Dafa." Nataly later found Falun Gong practitioners in a park and began practicing Falun Gong.
Practitioner Dimitli Suchin from Germany also participated in the group practice and Falun emblem formation in the rain.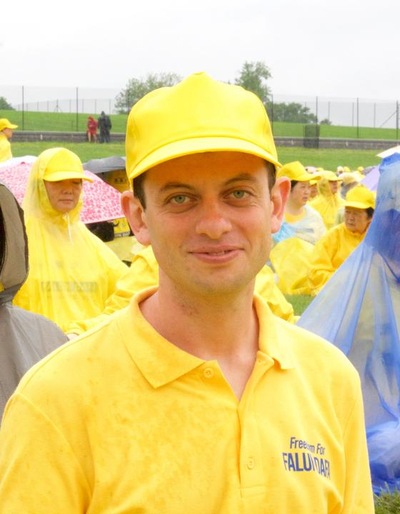 Practitioner Dimitli Suchin from Germany.
He said, "I come to Washington DC to attend the Falun Dafa Experience Sharing Conference. This is the biggest meeting in the world for practitioners. I like to attend it. At the same time, there are also a series of large-scale events.
"A grand march was held on Wednesday to introduce Falun Gong and expose the crimes of the CCP's persecution of Falun Gong to raise people's attention.
"Falun Gong is a very peaceful practice. Although we can practice Falun Gong peacefully in Germany and around the world, I still want to speak up for Falun Gong practitioners in China. They have done nothing to harm the society but suffer from the CCP's persecution because of their belief."
Suchin began practicing Falun Gong in 2006. He learned Falun Gong through his father's introduction. "At that time I was attending a training session. I was very nervous and could not sleep well. My father told me that if I practiced Falun Gong, it would help me calm down. So I started practicing it. As he said, Falun Gong really helps me," said Suchin with a smile.
"I feel that I have a lot of energy. I become calm and do not get sick. In terms of the mental side, through cultivation of Truthfulness-Compassion-Forbearance, I take conflicts lightly when they arise," said Suchin.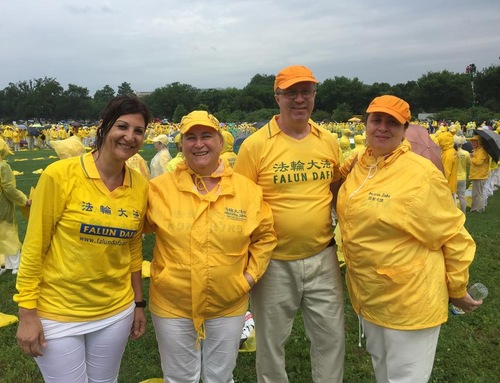 Micheal (second from right), his wife (first from right) and other practitioners from Israel.
Micheal, who participated in the Falun emblem formation, introduced himself, "I am a Falun Gong practitioner from Israel. At a party in 2005, someone gave me a Falun Dafa flyer, so I started practicing Falun Dafa.
"Truthfulness-Compassion-Forbearance helps me have a harmonious relationship with the people around me. After I practice Falun Gong, life has undergone tremendous changes. I stopped the bad habit of smoking and drinking for 40 years. Just after reading the book Zhuan Falun, I no longer wanted to smoke or drink."
"Today I come to join everyone in group practice. Although it rains, I enjoy participating the event with many Falun Gong practitioners together. The rain doesn't matter. I am glad I can be here today."
Related article in Chinese: Practitioners have group practice in the rain.