Thousands Form Falun Emblem at Washington Monument
June 24, 2018 | By Minghui correspondent Wu Sijing
(Minghui.org) Several thousand Falun Gong practitioners dressed in yellow, blue and white formed a large, colorful Falun emblem in front of the Washington Monument in Washington D.C. on June 22. The event caught the attention of many passersby.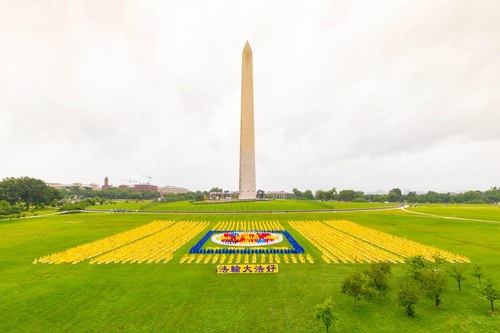 Falun Gong practitioners line up before the character formation at the Washington Monument on June 22, 2018.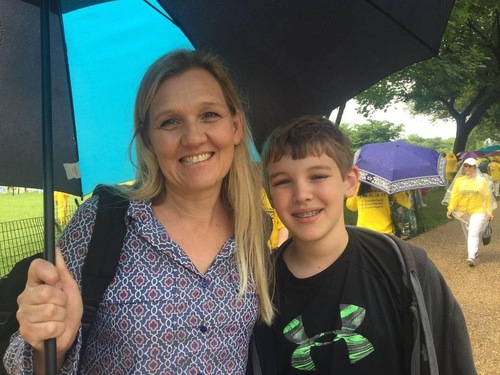 Wendy Peer and her son learn about Falun Gong at the rally.
Wendy Peer said the practitioners on the lawn were "very peaceful" and was curious to learn why several thousand people had gathered there. Upon learning of the Chinese Communist Party's (CCP) persecution of Falun Gong since 1999, she said, "They should have freedom to choose what they practice."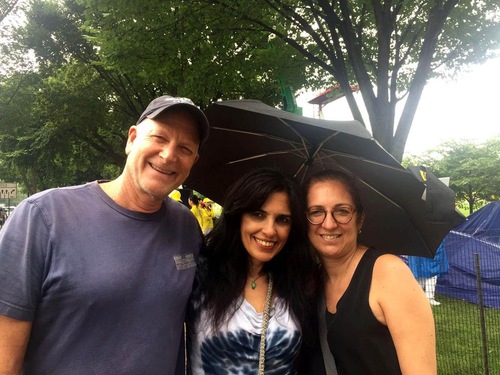 Jim and his friends after learning about Falun Gong
Jim remembered seeing news about Falun Gong on TV before. He encouraged practitioners to continue letting others know about the persecution of human rights in China, adding that people need to stand up and say no to the persecution. "I truly like this scene," he said.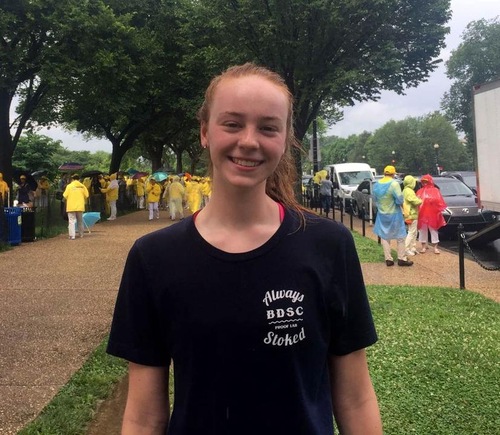 High school student Grace
Seventeen-year-old Grace passed by the event while jogging. She said she had learned of many human rights violations in school and that people should support those fighting for human rights in China.
Falun Gong practitioners came from all over the world to participate in events around D.C., including the character formation. They span all ages, including teenagers and those in their 70s. Despite the rain, they persisted in order to have more people learn about Falun Gong and its persecution in China.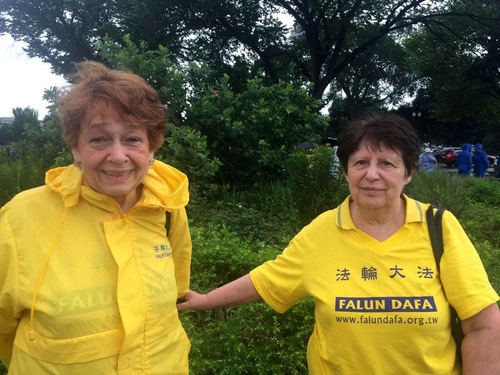 69-year-old Zimma and 70-year-old Valentina
Valentina is 70 years old and started practicing Falun Gong 15 years ago. She said, "I had a heart problem and needed to have surgery. I started practicing Falun Gong then. As a result, my heart disease was gone, and there was no need for surgery."
Her family members did not expect her to live past 60 due to her health. However, after starting to practice Falun Gong, she became very healthy and active. She came to D.C. to participate in many events to raise awareness of the persecution.
Valentina said she gained not only good health but also improvements in her character. "I have become more tolerant. I am trying to be better and help others. I know the purpose of life is to return to our true selves," she said. Her family also saw the changes in her and supports her practice of Falun Gong.
Zimma has practiced Falun Gong for 20 years. She was high-spirited and participated in the event with Valentina in the rain.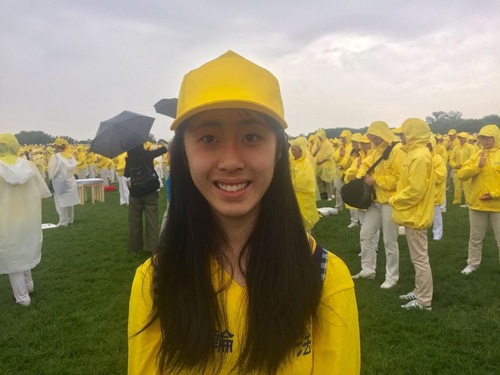 14-year-old Annie likes to practice Falun Gong
Annie is from New Zealand. She started practicing Falun Gong with her mother when she was young. She started taking the practice more seriously after she started high school in New York a year ago.
She participated in the Falun Gong club at school. She reads Zhuan Falun, the main book of Falun Gong, and practices the exercises with other students each day.
She said, "Now, I often treat others kindly and with tolerance. I would think from other people's perspectives, so I have few conflicts with other students."