Introducing Falun Gong in Schools in the United States
May 07, 2018 | By a Falun Dafa practitioner in Virginia
(Minghui.org) After reading an article about the entire student body and all the teachers at a school in India practicing Falun Gong, I made a wish to do the same thing in America. I then read an article about a practitioner who held a class to introduce Falun Gong in a college, and this made my wish stronger.
An event to introduce Falun Gong was soon arranged.
Earlier this year, a reporter had tried our meditation exercise and liked it very much. This reporter also serves on the Parents Teachers Association (PTA) at her child's school, so she asked if we could teach the exercises to the students in the school. I thought that if we could teach the teachers, the teachers could then lead the students in the practice. She suggested I attend a Teachers' Health Day event that was to be held on April 24.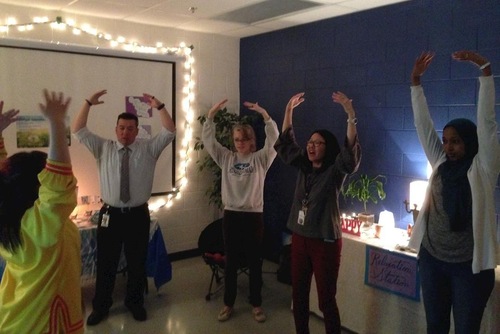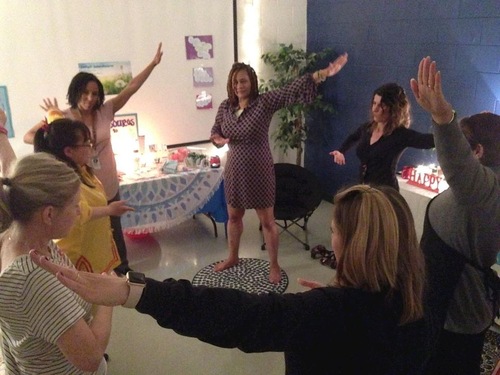 Teachers experience Falun Gong at a Teachers' Health Day event
I was expecting to see a large conference hall for the event, but to my surprise it was merely a 200-square-foot room outfitted with a massage chair, two long tables and various products for stress relief.
Organizers gave us half a table to set up a TV and display for our introductory materials.
When the first teacher came over to our display, we played a two-minute introductory video and then spent another two minutes to allow her to experience the first exercise. Soon, teachers came in groups, one group after another. More than 30 teachers experienced Falun Gong over the next two hours, including the school's principal. Many teachers said they could feel a strong energy field when they tried the exercises.
A young teacher did the first exercise very well, so I invited her to learn the sitting meditation. She was able to sit with both legs crossed in the full lotus position the entire time. She wanted to introduce Falun Gong to her mother and asked for our local contact information.
A number of teachers could feel a strong energy when they overlapped their hands in front of their lower abdomen. A staff member who works in accounting came over to our table with a lot of worries but left with radiant energy.
We encouraged the teachers to lead their students in practice for 10 minutes a day and explained to them how it would benefit both the students and the teachers. They agreed.
The first two teachers practiced the exercises along with us many times over the course of the event. They said that they felt really good after doing the exercises and they invited us to come again next year. We appreciated their assistance in creating an environment to promote Falun Gong.
Falun Gong demonstration at International Night at a school.
Another school had contacted me about introducing Chinese culture at an "International Night" event. I told the contact person that we could bring Han Dynasty costumes and demonstrate the Falun Gong exercises. The event was originally scheduled for March, but was postponed until April 26 because of a big snow storm.
We demonstrated the Falun Gong exercises on stage and also had a booth to introduce Falun Gong. A number of students, parents and teachers tried the Falun Gong exercises during the event.
After the event, we told our contacts at the school about the Teachers' Health Day that we had attended at the other school two days earlier. Our contacts liked the idea and said they believed that teachers need a meditation practice to help them relax and to increase their efficiency.
Ever since I had the wish to promote Falun Gong in schools, more schools have begun to contact me to introduce Falun Gong. We now have a small Falun Gong promotion team formed in our area, and more opportunities to introduce Falun Gong are presenting themselves.
Master wants us to promote the Fa and to save the people around us. I believe that introducing Falun Gong to groups is a viable way, too. Let's use our wisdom to save more sentient beings.