Heilongjiang Province: 14 Falun Gong Practitioners File Complaint Against Police for Illegal Arrest and Abuse
May 07, 2018 | By a Minghui correspondent in Heilongjiang Province
(Minghui.org) Fourteen Falun Gong practitioners in Mudanjiang City have filed a complaint against several officers for arresting them without any legal basis and for causing them injuries.
Falun Gong is a spiritual discipline based on the principles of Truthfulness-Compassion-Forbearance that has been persecuted by the Chinese communist regime since July 1999.
Mr. Gong Chengge was home on April 23, 2018, when police broke in and arrested him and his 13 guests, also Falun Gong practitioners.
Mr. Gong, Ms. Zeng Deyun, Ms. Jing Longjin, 83, Ms. Song Xiuyu, 78, Ms. Cao Shufang, 75, and Ms. Jin Jinyu were released hours later.
The other eight practitioners, including Ms. Gao Xiuqing, Ms. Wang Mingyan, Ms. Wang Meihong, Ms. Fan Jimin, Ms. Jiang Chunmei, Ms. Zhang Shumei, Ms. Zhang Li, and Ms. Li Hongwei, were each given 15 days of administrative detention. They went on a hunger strike to protest the illegal detention and were released on April 27.
The 14 practitioners recently filed a complaint against Mei Yonggang (deputy chief of Dongan Police Station), Li Xuejun (vice head of Mudanjiang City Domestic Security Office) and his deputies Yin Hang and Ma Qun, as well as guard Li Jingwei of Mudanjiang City Detention Center.
Illegal Arrest
The police never showed any ID or produced any search warrant when they broke into Mr. Gong's home. They also didn't wear uniforms as required by law when making arrests.
Ms. Fan refused to be taken away. An officer grabbed her neck and dragged her from the fourth floor down to their police cruiser. Ms. Fan had several marks left on her neck.
Ms. Gao rebuked the police for persecuting Falun Gong practitioners. Her brother, Mr. Gao Yixi, died within nine days of his arrest for refusing to renounce Falun Gong. Their nearly 90-year-old mother was overcome with grief and passed away.
Police confiscated Mr. Gong's Falun Gong books, two laptops, three desktop computers, and five cell phones.
One officer revealed that the practitioners had been monitored for months before their arrest.
Officer Li Xuejun drove Ms. Cao home to ransack her place. Ms. Cao was so terrified that she developed a heart problem.
Abuse of the 8 Detained Practitioners
Ms. Gao Xiuqing, Ms. Wang Mingyan, Ms. Wang Meihong, Ms. Fan Jimin, Ms. Jiang Chunmei, Ms. Zhang Shumei, Ms. Zhang Li, and Ms. Li Hongwei were held at Dongan Police Department for one night before being moved to Mudanjiang City Detention Center. They all refused to sign their detention notice.
One practitioner refused to undergo medical examination. An officer filled a cup with tap water and gave it to the detention center doctor for the urine test, so as to "complete" the required exam.
The practitioners refused to wear inmates' uniforms or have their pictures taken.
Except for Ms. Wang Meihong, all other seven practitioners had strands of their hair pulled out and placed in seven different pouches. It remains unclear why the guards collected their hair samples.
Ms. Zhang Li was dragged out of her cell on the morning of April 25 to be photographed. The other seven women, who were held together in a separate cell, shouted for the guards to stop.
Guard Li Jingwei slapped Ms. Li Hongwei in the face, as she stood closest to the door of her cell. One of Ms. Li's incisors was knocked out, while a few other teeth became loose. Her mouth bled.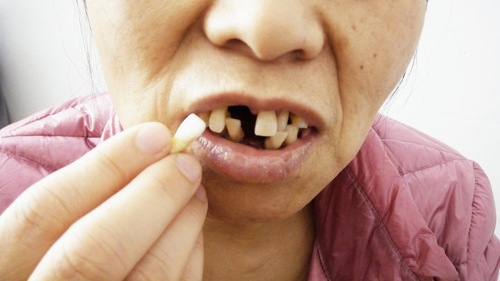 Ms. Li's incisor knocked out by a brutal guard
Ms. Wang Meihong's and Ms. Wang Meiyan's clothes were ripped open as the guards dragged them out of the cell to be photographed.
Ms. Gao Xiuqing was kicked in the legs, which left bruises, when she refused to have her picture taken.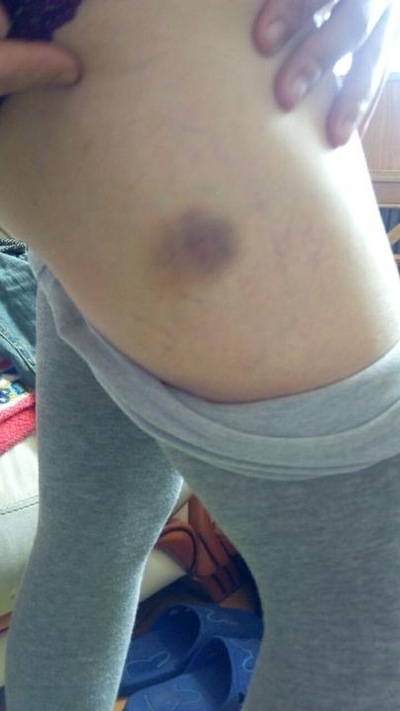 Bruise on Ms. Gao's leg
Wang Sheng, director of the detention center, showed up in the afternoon. Ms. Li showed him the knocked-out incisor and demanded to have a pen and a piece of paper to write her complaint. Wang found an excuse and took off.
Frantic Search for Knocked-out Incisor
In order to destroy the evidence of the knocked out tooth, several female guards forcibly removed Ms. Li's shirt to search her. Guard Han Xue didn't leave one inch of Ms. Li's body untouched. Even a male guard joined her in groping Ms. Li.
They couldn't find the knocked-out tooth and threw Ms. Li down on the ground. She couldn't get up for an hour. Her whole body hurt tremendously.
More than ten guards came to the cell on the morning of April 26. Ms. Li again expressed her determination to file a complaint against the responsible guards. One guard asked her where was the tooth, and she refused to tell him.
Two hours later, director Wang and guard Han came. Ms. Li was sitting in her bed when Wang and Han suddenly pulled the blanket and tossed her to another bed. They again body searched her and checked all her clothes. They left after failing to find the tooth.
Released Early after Going on Hunger Strike
The 8 practitioners went on a group hunger strike shortly after their arrest. They became very weak in just a few days. At around 9 a.m. on April 27, guard Han said to them, "You can now leave. You've given us too much headache these few days. We no longer want to keep you detained."
Li Xuejun" +86-13945343051, +86-15504530351Mei Yonggang: +86-13946365655