Toronto: Demonstrating Falun Gong Exercises at a Cultural Festival
May 03, 2018 | By Zhang Yun, Minghui correspondent in Toronto
(Minghui.org) Falun Gong practitioners in Toronto were invited to take part in a multicultural dance festival for Turkish Sovereignty and Children's Day on Nathan Phillips Square on April 21, 2018. Children of various cultural backgrounds presented their traditional dance and music for the event.
Falun Gong practitioners' lion dance and exercise demonstration delighted the crowd. Some said they felt a strong energy. Some followed along to learn the Falun Gong exercises. Practitioners also collected signatures on a petition calling for an end to the Chinese Communist Party's (CCP) crime of harvesting organs from imprisoned practitioners in China.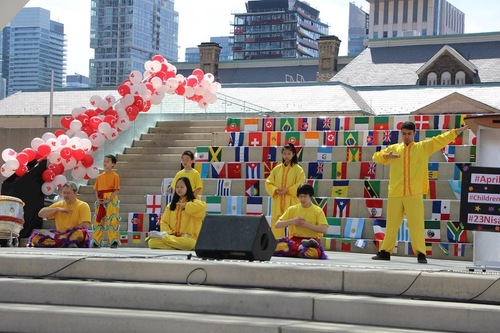 Demonstrating Falun Gong exercises at Turkish Sovereignty and Children's Day.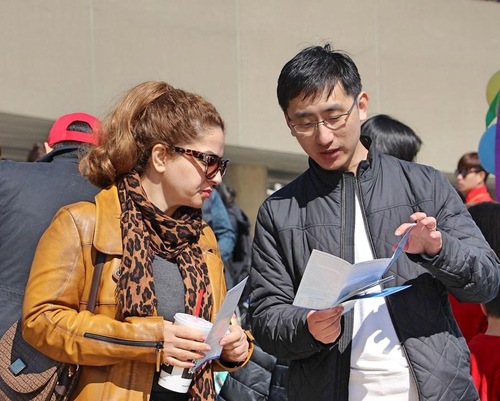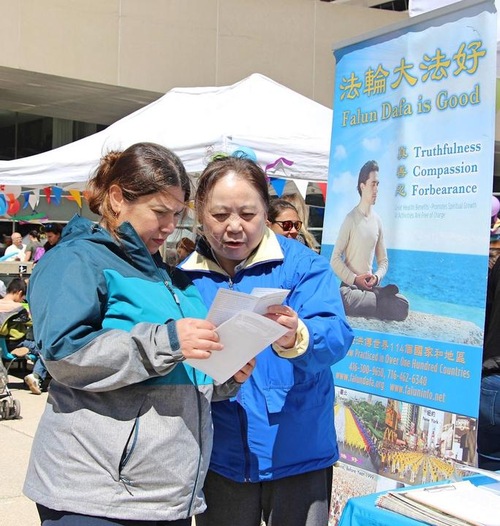 Many people learn about Falun Gong.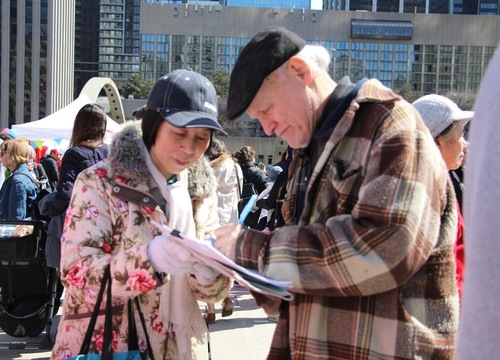 Signature collection calls for an end to organ harvesting atrocities in China.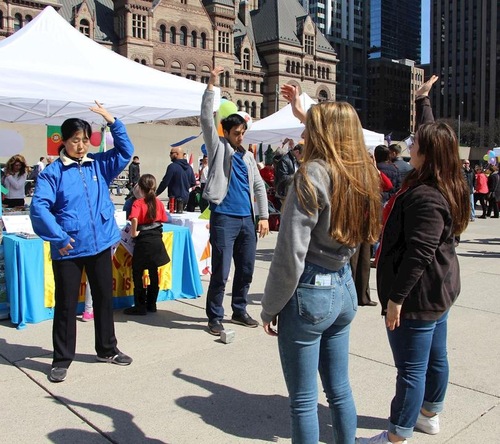 Learning Falun Gong exercises
Avedis, a local resident, talked with Falun Gong practitioners in depth about Falun Gong and the persecution. He said, "I'm very interested in learning this. I didn't understand why the Chinese government attacked such a great exercise group. Now I realize it's probably because of the nature [of the CCP]...I will definitely support your efforts to stop the persecution!"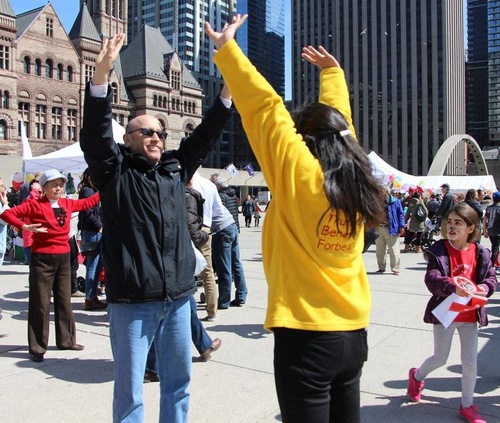 Ilhan said he felt strong energy while learning Falun Gong exercises.
After watching the Falun Gong exercise demonstration, a gentleman called Ilhan wanted to learn right away. He said, "This is the first time I have heard about Falun Gong. I don't know why, but I thought 'this is what I want' as soon as I saw it. I felt strong energy while learning the exercises."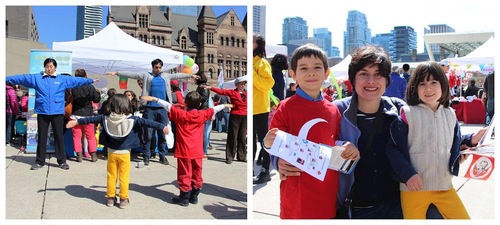 Alisa and her children
A woman named Alisa was surprised that her children patiently followed along with the exercise demonstration. She said, "The exercises are so soothing! I didn't expect my restless children would be able to do meditation for so long! They really enjoyed it and don't want to leave!" She said she would learn all the exercises with her kids online at home.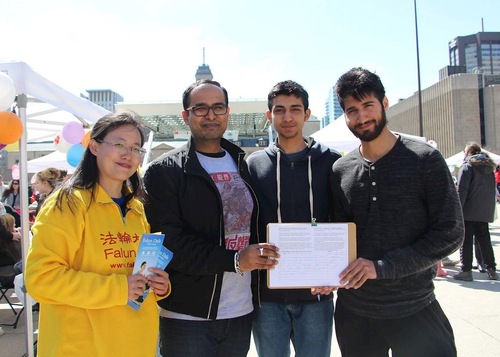 Jay (second from left), Gary (first from right) and their classmate sign a petition calling for an end to the persecution of Falun Gong.
Jay, a student from India, and his classmates gladly signed the petition. Jay said, "We can share the signature form online, so that more people can help stop the persecution. I know all about Falun Gong. People around the world practice Falun Gong, while it's persecuted only in China. I suggest we call for the current leader Xi to stop the persecution immediately. I hope he will listen, and do something forward-looking."
Many Chinese people at the festival stopped to talk to Falun Gong practitioners. Some of them quit the Communist organizations on the spot.
Ms. Mao, a Falun Gong practitioner who volunteered at the event said the movement of quitting the Communist Party and its organizations has seemed to gain a lot of momentum. She said, "Many Chinese people know clearly about the wicked conduct of the CCP. When I told them the significance of quitting the CCP, they agreed to do so right away. Twelve Chinese have quit Communist organizations within two hours this afternoon. Nowadays, you can find Chinese people ready to quit the Party at any place and at any time."