Learners Experience the Power of Falun Gong Exercises
May 28, 2018 | By practitioners in the United States and Canada
(Minghui.org) Many people who've never practiced Falun Gong often describe a sense of peaceful energy when they first give this self-improvement and meditation practice a try.
A few people who attended a Falun Gong workshop in the U.S. and spectators who enjoyed a Falun Gong performance at a parade in Canada recently commented on those palpable feelings.
Union City, California
Practitioners from San Francisco held a free workshop in the city hall of Union City on May 25.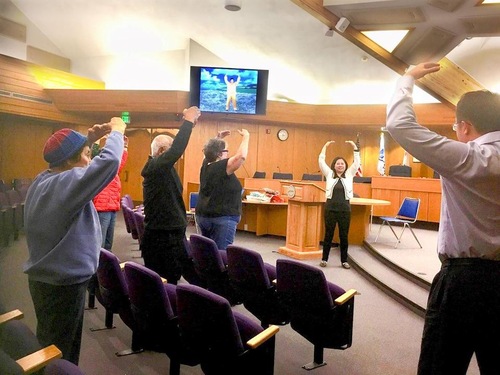 Learning the exercises
The practitioners first introduced Falun Gong and its principles of Truthfulness-Compassion-Forbearance, as well as its physical and spiritual benefits. They then played an instructional video of the exercises.
A few students in the group talked about how they felt after doing the exercises.
Gamela felt an energy flow course through her body. She worried that it would keep her awake at night. The practitioners told her she would only sleep better.
Eleanor had been looking for a practice to relieve stress. On her way to the event, she had pains everywhere, but after doing the exercises, she felt clear relief. She said the practice was very effective.
Ellen had a real sense of peace after the exercises. "I had to keep my eyes open just now because I was learning. I believe that the inner peace will even be more wonderful once I master all the movements and close my eyes."
Practitioners told the newcomers that doing the exercises was just the beginning and that reading Zhuan Falun, the main book of Falun Gong, and trying to develop a deeper understanding of Truthfulness-Compassion-Forbearance were even more important.
Victoria, British Columbia
On May 21, Canadian practitioners attended the 120th Island Farms Victoria Day Parade, the largest local event.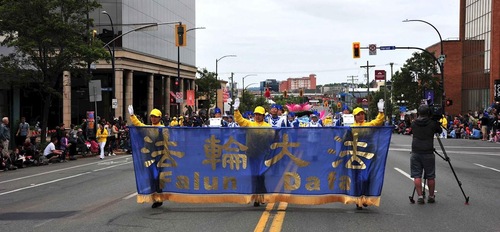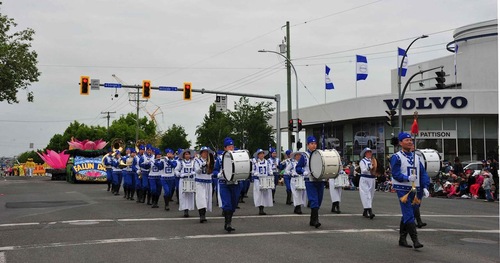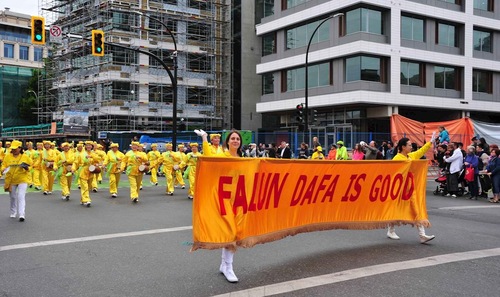 Falun Gong practitioners in the parade
The Falun Gong entry consisted of the Tian Guo Marching Band, a waist drum team, a float, and an exercise demonstration.
As Adam Skruckowski watched the Falun Gong group pass by, he felt a kind of peaceful energy approaching him.
"I couldn't help imitating them and doing the [exercise] movements with them," Adam said, "When I stretched my arms out like they did, I felt energy going through my whole body. It was very pleasant."
"I think Falun Gong is a not only a set of exercises but also something truly spiritual. I can feel its spiritual power."
When a practitioner told him about Falun Gong's guiding principle of Truthfulness-Compassion-Forbearance, Adam responded, "This is a universal law. I believe the universe has a supreme law that governs everything."
Related article in Chinese:"感受到祥和能量贯通全身"(图)