U.S. Commission (USCIRF) Highlights Forced Organ Harvesting in China
(Minghui.org) During a recent policy briefing on May 8, Daniel Mark, chairman of the U.S. Commission for International Religious Freedom (USCIRF) highlighted the forced organ harvesting from prisoners of conscience, including Falun Gong practitioners.
USCIRF is a U.S. federal government commission that reviews the facts and circumstances surrounding violations of religious freedom internationally and makes policy recommendations to the President, the Secretary of State, and Congress. In its 228-page 2018 Annual Report, 7 pages focus on situations in China. In addition, China was listed as one of the countries of particular concern (CPC), along with North Korea, Iran, and Vietnam.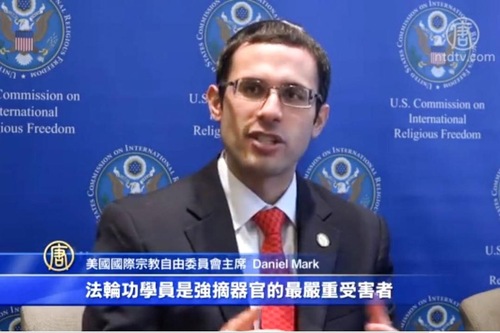 Daniel Mark, chairman of the U.S. Commission for International Religious Freedom (USCIRF) spoke at a police briefing on May 8, 2018.
During the policy briefing, Mr. Mark said that the religious freedom conditions in China continue to deteriorate. In the name of "Chinese characteristics," China continues to control, govern, and manipulate all aspects of beliefs. He also stated that Falun Gong practitioners were being illegally detained and are among the hardest hit victims of organ harvesting.
"...authorities continue to crack down on unregistered and registered churches and persecute Falun Gong practitioners," summarized the report in its key findings. In particular, it mentioned lawyers Jiang Tianyong and Gao Zhisheng, who were mistreated for defending Christians and Falun Gong practitioners.
The report recommends that the U.S. Government predesignate China as a CPC under the International Religious Freedom Act (IRFA), saying that the U.S. government, along with the Frank R. Wolf International Religious Freedom Act and the Global Magnitsky Human Rights Accountability Act, should increase their efforts in international religious freedom.
Detained Practitioners
The report listed some practitioners who had been detained numerous times for practicing Falun Gong. "For example, on September 19, 2017, police in Nanjing detained Ma Zhenyu, who had been arrested five times previously for practicing Falun Gong, served time in prison, and was subjected to multiple interrogations and torture."
Even after being released, practitioners are still being watched and harassed. "Also in 2017, authorities continued to monitor Falun Gong practitioner and former prisoner of conscience Zhiwen Wang, restricting his freedom of movement and preventing him from reuniting with his family in the United States," wrote the report.
Psychiatric Torture and Sexual Assault
The report indicated that authorities regularly target Falun Gong practitioners and force them into labor camps or prisons. It stated that many practitioners were missing, with their whereabouts not known since their disappearance.
The report continued, "While detained, Falun Gong practitioners suffer psychiatric and other medical experimentation, unnecessary medical tests, sexual assault violence, torture, and organ harvesting, often as efforts to force them to renounce their faith."
Human Rights Advocates: Forced Organ Harvesting Continues
Organ harvesting was also highlighted in the report. "Although China claims it ended the practice of harvesting organs from prisoners (many of whom are believed to be Falun Gong practitioners or other religious followers) on January 1, 2015, advocates believe the practice has continued," wrote the report.
Dr. Huang Jiefu, a surgeon and former vice minister for health, represented China during an international summit in 2017. He claimed that China was trying to reform its organ transplant systems and processes. But critics noted his direct role in performing transplant surgeries and directing China's transplant program.
Key Perpetrators Identified
The report stated that the ongoing 18-year persecution of Falun Gong was initiated by then President Jiang Zemin, who also created the infamous 610 Office, an extrajudicial security apparatus wholly designed to eradicate Falun Gong.
"In July 2017, the World Organization to Investigate the Persecution of Falun Gong (WOIPFG) added updated information to its list of more than 37,000 organizations and 80,000 individuals believed to have persecuted Falun Gong practitioners; the newest additions include government officials from the Ministry of State Security, as well as personnel from the 610 Office, public security, and the judiciary," said the report.