56 New York Lawmakers Send Congratulations for World Falun Dafa Day
May 11, 2018 | By Minghui correspondent Cai Ju
(Minghui.org) May 13, 2018 will mark the 26th year since Falun Dafa was first taught to the public. To honor the occasion, state assembly member Steven Englebright issued a proclamation to the Falun Dafa Association, which was co-signed by 55 assembly members.
The New York lawmakers highlighted Falun Dafa practitioners' contributions to local communities and Dafa's principles of Truthfulness-Compassion-Forbearance. "Their practice encourages them to be always thoughtful of others and to be good people," the proclamation reads.
"Falun Dafa was introduced in New York State in 1996; since then, practitioners have participated in and sponsored over a thousand events throughout the tri-state region and have given workshops in senior centers, corporate offices, health clubs, private residences, and police stations throughout the state free of charge."
This is the fourth year in which New York State Assembly members jointly signed a proclamation for Falun Gong.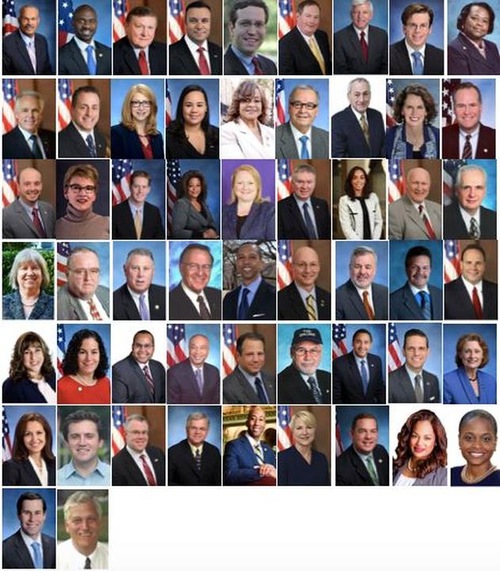 Pictured above are the 56 lawmakers who signed the proclamation. From top left to bottom right, they are:
Jeffrion L. AubryMichael BlakeKenneth D. BlankenbushKarl BrabenecDavid BuchwaldMarc W. ButlerKevin A. CahillRobert C. CarrollVivian E. CookClifford W. CrouchBrian F. CurranDaniel RosenthalCarmen N. De La RosaInez E. DickensAnthony D'UrsoJoseph A. ErrigoPatricia A. FahyMichael J. FitzpatrickAndrew R. GarbarinoAileen M. GuntherAndrew D. HevesiPamela J. HunterAddie E. JenneMark C. JohnsLatoya JoynerPeter A. LawrenceJoseph R. LentolBarbara S. LiftonWilliam MageeJohn T. McDonald IIIDavid G. McDonoughWalter T. MosleyL. Dean MurrayDaniel J. O'DonnellFelix W. OrtizPhilip A. PalmesanoChristine PellegrinoStacey Pheffer AmatoVictor PichardoJ. Gary PretlowAndrew P. RaiaJosé RiveraRobert J. RodriguezAngelo SantabarbaraJo Anne SimonAravella SimotasJames SkoufisDaniel G. StecFred W. Thiele, Jr.Clyde VanelMary Beth WalshRaymond W. WalterJaime R. WilliamTremaine S. WrightKenneth P. ZebrowskiSteven Englebright