France: Commemorating April 25 Appeal with Support from National Assembly Members
April 29, 2018 | By a Falun Gong practitioner in France
(Minghui.org) Falun Gong practitioners held a rally at Place André Tardieu near the Chinese Embassy in Paris, France on April 25, 2018, to commemorate the 19th anniversary of the peaceful appeal in Beijing.
Over 10,000 Falun Gong practitioners gathered in Beijing on April 25, 1999, to request the release of 45 practitioners who had been unjustly arrested in Tianjin, a city east of Beijing. The arrest was one of a series of cases of harassment by Chinese authorities that culminated the nationwide persecution of Falun Gong in July 1999.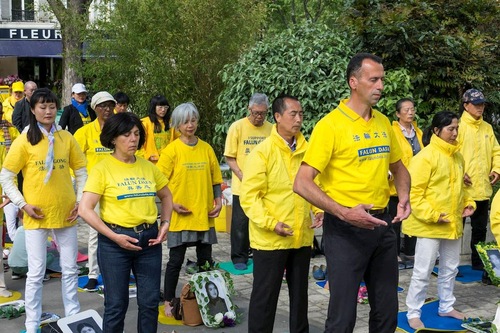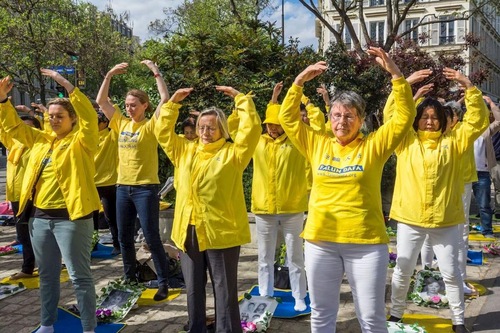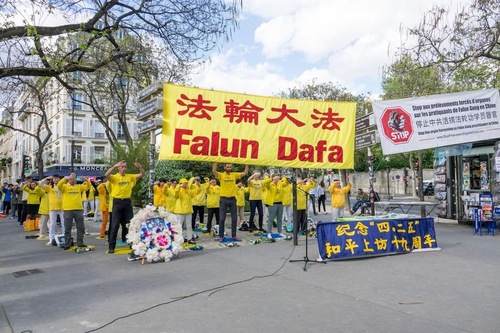 Falun Gong practitioners demonstrate the exercises on April 25, 2018.
Mr. Tang Hanlong of the French Falun Dafa Association spoke at the rally. He recalled the protest 19 years ago and condemned the Chinese Communist Party's (CCP) brutal persecution. Hundreds of thousands of Falun Gong practitioners have been incarcerated in forced labor camps and prisons. Thousands have been tortured to death, and more have been killed for their organs. He called on the current Chinese regime to stop the persecution and bring the perpetrators to justice.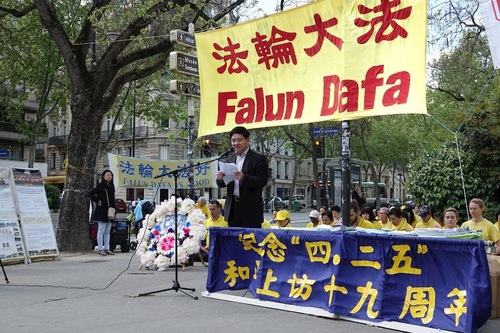 Mr. Tang Hanlong of the French Falun Dafa Association speaks at the rally.
Ms. Danielle Brulebois, a member of French National Assembly, said she has always supported practitioners' peaceful efforts against the persecution.
Secretary of the Bureau of the National Assembly and Member Danielle Brulebois sent a letter of support to practitioners.
In the letter, she stated, "The kindness and tolerance that characterize your association are values that I share and defend every day. Your fight, which reminds us of the horror of forced organ harvesting in China, made me react. I recently addressed a written letter to the Minister of Europe and Foreign Affairs on these inhumane practices.
"France, particularly through its international agreements, regularly denounces the trafficking of human beings around the world and particularly organ harvesting with the Palermo Convention. Our country's efforts to combat these practices must continue and grow."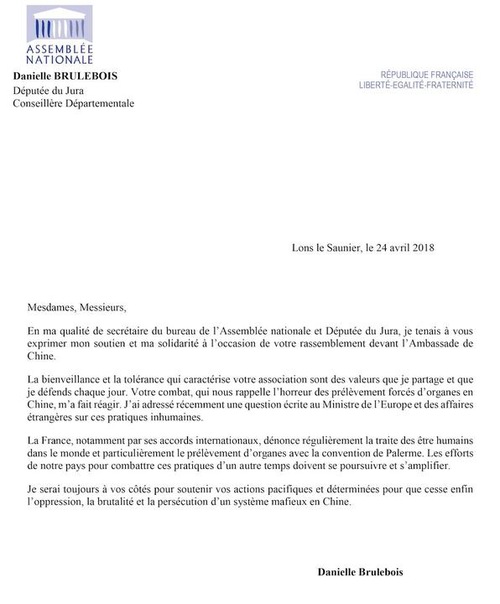 Letter from Danielle Brulebois, a member of the French National Assembly representing La République En Marche.
Support from Passersby
High-tech consultant and artificial intelligence project manager Alain De Kerlan said after learning about the persecution, "I am indignant. How can a nation persecute a group of people seeking self-improvement to uplift themselves? This violates the first article of the Universal Declaration of Human Rights."
Upon learning of the state-sanctioned organ harvesting from practitioners in China, he said, "I am very shocked. The so-called organ donation, which has been forcibly harvested from living people, cannot be tolerated. I reiterate that this tramples all human rights declarations and is the crime of the devil. We support you, and all French people are on your side."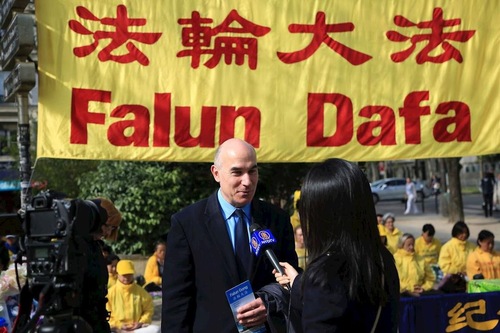 Alain De Kerlan, a project manager, gave his support to Falun Gong practitioners.
Information technology worker Emmanuel works in Paris. He said, "I don't know much about what is happening in China, so I paused to take a look. I am surprised. We don't know your hardship in China. This is miserable.
"Human rights are important. It is hard to imagine that live organ harvesting occurs in China. This news should be spread."
Piano instructor Grégoire Penalba said the persecution of Falun Gong is a disgrace to China. Tour guide Meryl Bouffils encouraged practitioners to "continue such peaceful petitions so that the whole world knows."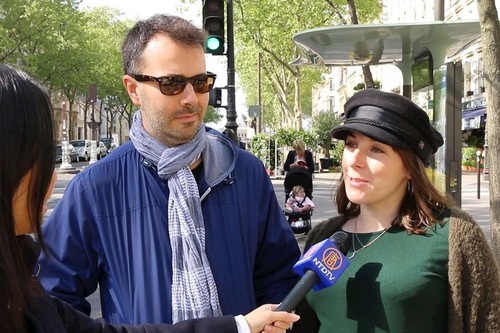 Piano instructor Grégoire Penalba and tour guide Meryl Bouffils (right)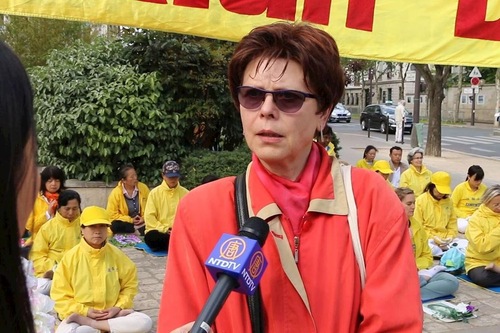 Paris resident Patricia Scagnetti
Paris resident Patricia Scagnetti said, "I support this event because I support freedom of thoughts. I am against organ trafficking no matter under what circumstance." Regarding the persecution, she said, "I cannot accept this. It violates all human rights. I will participate if I see a petition or signature collection in the future."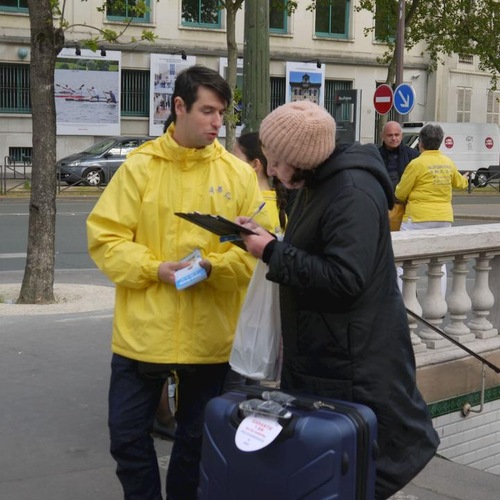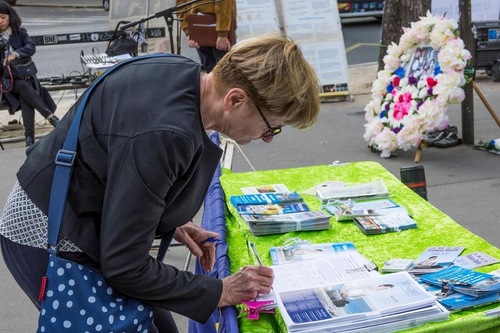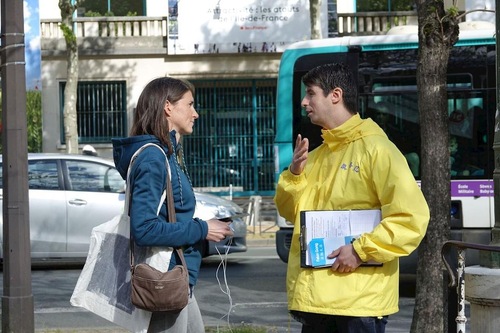 Passersby talk with Falun Gong practitioners and sign a petition calling to end the persecution in China.