From Los Angeles to New York, Candlelight Vigils Call to End Persecution
April 27, 2018 | By Minghui correspondents in Los Angeles, San Francisco and New York
(Minghui.org) April 25 marks a special day for Falun Dafa [also known as Falun Gong] practitioners. Nineteen years ago, a peaceful appeal took place in Beijing on April 25, when some 10,000 practitioners gathered in the nation's capital and called for the release of practitioners illegally arrested in Tianjin. Several months later, former Communist leader Jiang Zemin launched a brutal nationwide suppression that continues today.
"The peaceful appeal of 1999 was an example of ordinary citizens pursuing freedom of belief and simply striving to become better people," said Yi Rong, president of the Global Service Center for Quitting the Chinese Communist Party (CCP). "Today, the persecution continues and our efforts [to bring about its end] will not cease until the dark days are over."
Dafa practitioners commemorate the historic appeal through activities around the world, to draw attention to the ongoing suppression and to commemorate those in China who lost their lives in the persecution. The following are reports about recent candlelight vigils in Los Angeles, San Francisco, and New York.
Los Angeles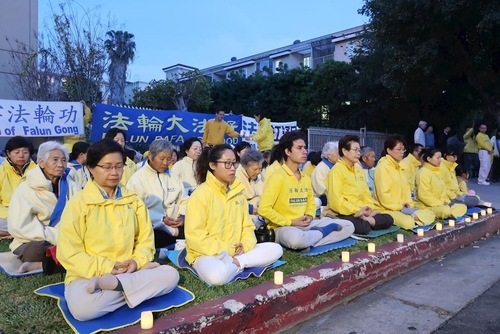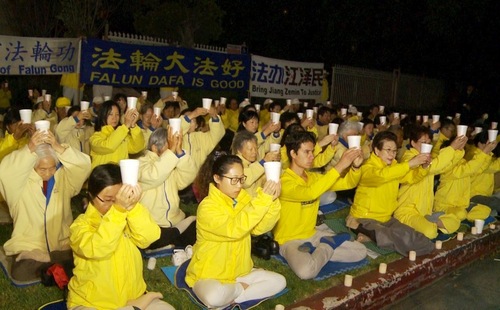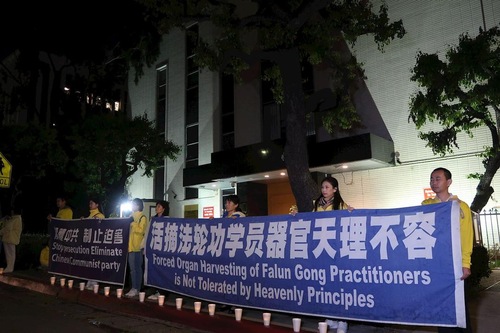 Candlelight vigil by Falun Dafa practitioners in front of the Chinese Consulate in Los Angeles on April 23, 2018.
A candlelight vigil in Los Angeles took place outside the Chinese Consulate on the evening of April 23. Large banners urged an end to the atrocities in China and to bringing Jiang to justice.
Wu Yingnian, spokesperson for the Falun Dafa Association in Los Angeles and a professor at UCLA, said that the peaceful appeal in 1999 was allowed by the Chinese Constitution and had a legitimate cause. "But Jiang Zemin nonetheless set up the 610 Office and has been persecuting Dafa practitioners since then."
Li Bolun, 21, learned the Falun Gong exercises with his parents while still a child. "My parents were detained for five years because of their belief," he recalled. "Another practitioner, doctor Li Yongquan from Tianjin, then took care of me." But Yongquan also suffered tremendously for practicing Falun Dafa. He was detained in December 1999 for nearly 18 months and was arrested again several times after that, where he was severely tortured until half his body was paralyzed.
Rahman Shaheen, who lives near the Chinese Consulate, was shocked to learn that practitioners in China have been victims of forced organ harvesting by the Chinese communist regime, their organs sold for transplant surgeries. He referred to it as a crime against humanity.
San Francisco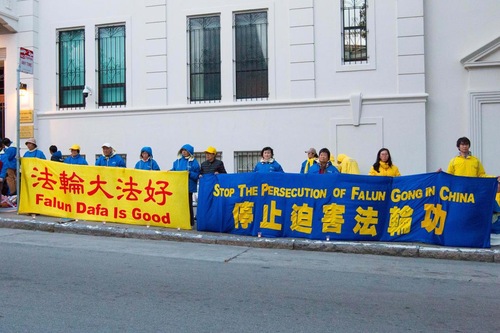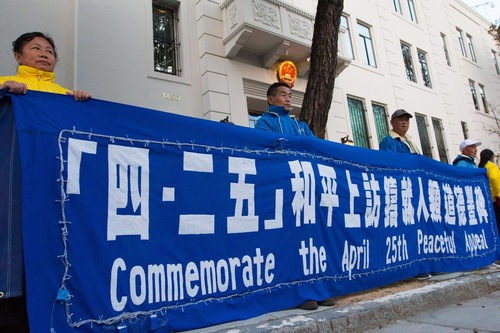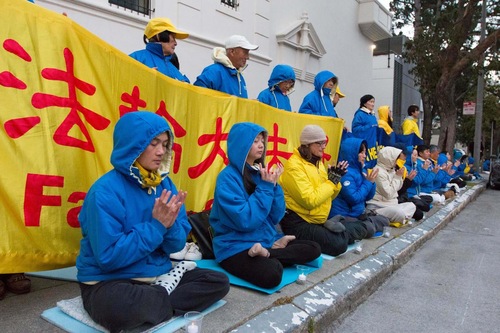 Falun Dafa practitioners gathered at the Chinese Consulate in San Francisco on April 25 to commemorate the peaceful appeal in Beijing 19 years ago.
Falun Dafa practitioners held a candlelight vigil outside the Chinese Consulate in San Francisco on the evening on April 25. Ms. Guo from Liaoning Province, who took part in the historic appeal in Beijing, said that she and other practitioners first went to make their case at the central government appeals office. Officials then told them to go to Zhongnanhai [the central government compound], where they stood until late in the day when then-premier Zhu Rongji agreed to release practitioners who had been arrested and detained in Tianjin. "Many of my friends are still detained in China for their belief and some have lost their lives," Ms. Guo said. "I am here today in the hopes that more people can learn about Falun Dafa and help stop the tragedy in China."
Calvin Robertson, who has a picture framing business in the area, heard about Falun Dafa for the first time. "It looks very good to me, since everyone is so peaceful," he said. He considers the CCP's forced organ harvesting a major crime. "I hope more people will come to know about this and help change the situation," he said. "At least I will tell my friends about it; this is a beginning."
New York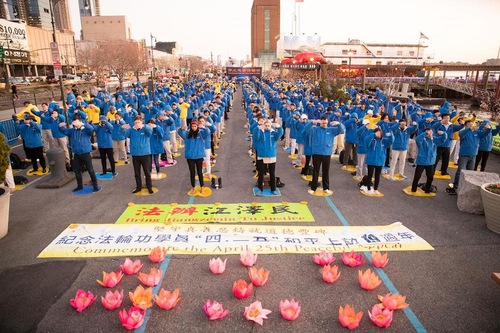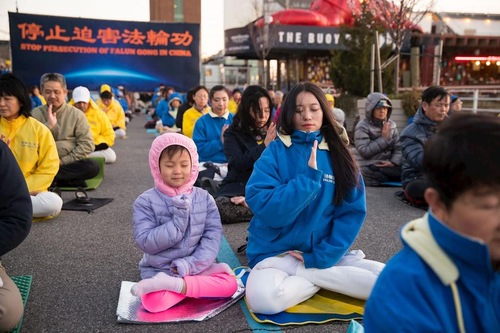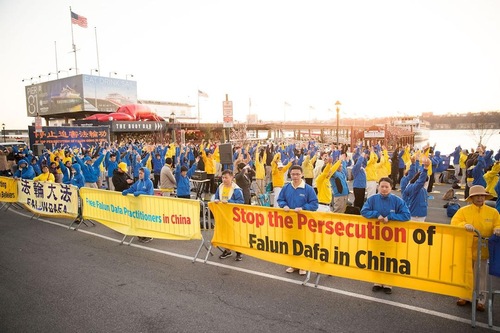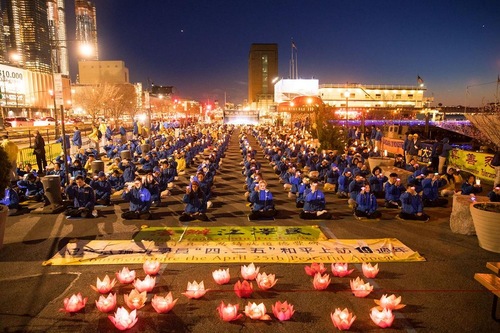 Group exercises and candlelight vigil at the Chinese Consulate in New York on April 22, 2018.
About 1,000 practitioners gathered at the Chinese Consulate in New York in the late afternoon of April 22 for a candlelight vigil to honor those practitioners who have died as a result of the persecution in China. Many thousands of practitioners lost their lives as a result of torture in police custody.
Mr. Yuan, who was a graduate student in Beijing in 1999, recalled his experience 19 years ago. "I knew that Falun Dafa was wronged, but I did not know where to go," he said. He said that practitioners simply needed an environment to practice their belief, just as they do now. "I know the brutal persecution still exists in parts of China, including Beijing," he said.
Ms. Hua Weiqun, another practitioner at the candlelight vigil, lived in Chaoyang District in Beijing back then. "A practitioner called me on on April 24, 1999, and discussed going to appeal against the illegal arrests [of practitioners] in Tianjin. So I went there the next day, carrying my baby," she explained. The protest was remarkable for being so quiet and orderly, with no slogans shouted. Some practitioners talked quietly among themselves and most simply read Falun Dafa books.
Ms. Hua said that her rhinitis and appendicitis disappeared through practicing Falun Dafa. "I also took part in a 1998 survey compiling the health benefits received from the practice. That is why I did not want to see innocent practitioners being wronged and such a wonderful practice suppressed," she said.
An older man jogging along the Hudson River stopped upon seeing the group exercises and candlelight vigil, and asked a practitioner about the event. Visibly moved, with tears in his eyes, the man grasped the practitioner's hands and said sincerely, "Good luck with everything."