Falun Gong Practitioners in Poland and Greece Commemorate the Historic April 25 Appeal
April 27, 2018 | By Falun Gong practitioners in Poland and Greece
(Minghui.org) Nineteen years ago on April 25, 1999, the world took note when 10,000 Falun Gong practitioners quietly gathered in Beijing and appealed to the central government to restore their right to peacefully practice their belief. Such a large-scale, peaceful appeal had never before taken place in communist China. Although the government initially agreed to the practitioners' requests, within months, an unprecedented persecution was unleashed. The persecution continues to this day. Every year, Falun Gong practitioners around the world hold activities to mark the anniversary of the historic April 25 appeal.
Poland
Falun Gong practitioners in Poland held a series of activities in Warsaw on April 22, commemorating the 19thanniversary of Falun Gong practitioners' peaceful appeal in Beijing on April 25, 1999. Practitioners held a demonstration in front of the Chinese Embassy to protest the Chinese Communist Party's (CCP) crimes against innocent practitioners in China, and to mourn those who have died from the CCP's persecution. They further exposed the CCP's persecution on Old Town Square in late afternoon, demonstrated the Falun Gong exercises, and collected signatures on a petition calling for an end to the persecution. Crowds of tourists got a chance to learn more about the persecution and sign the petition.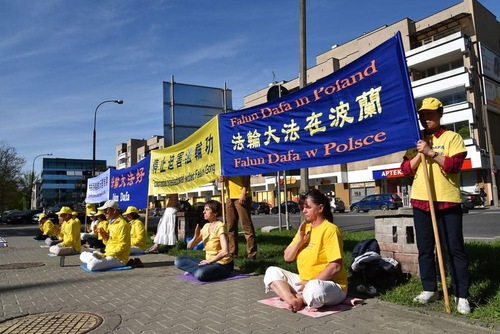 Falun Gong practitioners in Poland commemorate the April 25 Appeal in front of the Chinese Embassy in Warsaw.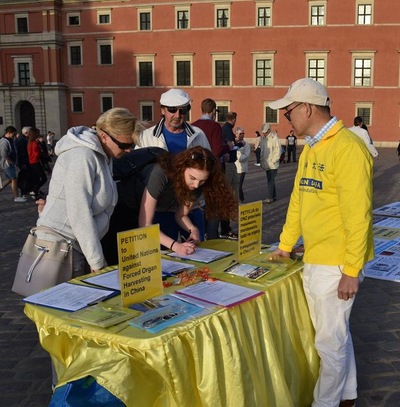 Exposing the CCP's crime of harvesting organs from living Falun Gong practitioners on Old Town Square in Warsaw.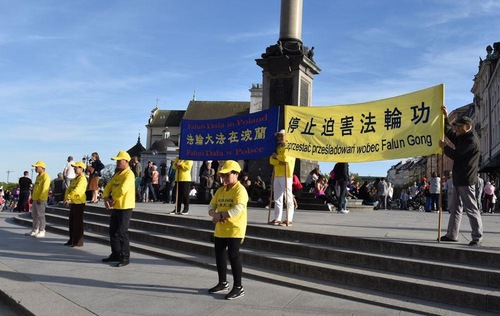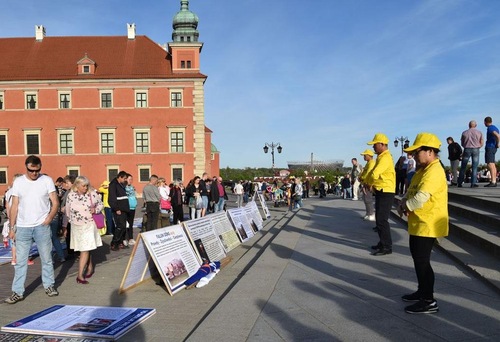 Practitioners in Poland demonstrate the Falun Gong exercises.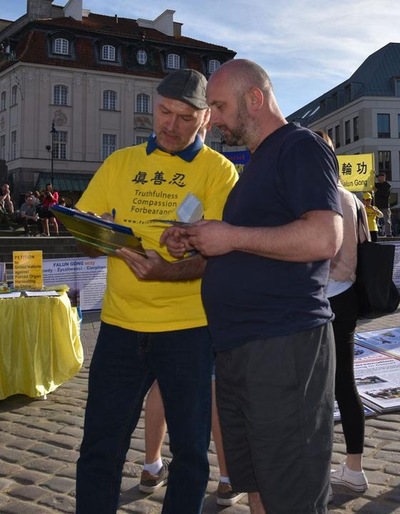 A Falun Gong practitioner talks to a tourist about the persecution of Falun Gong.
A nun who works at a health care association for the visually impaired spent a long time reading the display boards and talking with Falun Gong practitioners. She was especially attentive when a practitioner told her about the traditional Chinese culture of spiritual cultivation. She told the practitioner that it sounded very familiar to her, as if she recalled some memory from a long time ago. She took some introductory brochures to share with her colleagues.
A young man from China asked a practitioner, "Why do you have to call so much attention [to the persecution]? You can ignore the CCP if you think it's bad. I think keeping silent is best." The practitioner asked him, "Aren't these victims Chinese people, including yourself? How can we keep silent in the face of the CCP's crime of harvesting organs from living people? Not saying anything would be equivalent to accepting the crimes. If we had kept silent, everyone would have no choice except to believe the CCP's lies, and no one would know the true story of the April 25 Appeal. We aren't trying to persuade you to practice Falun Gong, but you should know which side is right and which is wrong. It's very significant for you. Please take a brochure with you. I hope you will be blessed." The young man replied, "I appreciate your kindness! I will definitely learn more about it."
Another Chinese man told a practitioner, "I have carefully read all your displays. Falun Gong is marvelous! I admire you! I don't understand why a country with five thousand years of history lacks universal values. A country without democracy or human rights won't establish a good international image no matter how many Olympic Games it hosts."
The practitioner replied, "The CCP's goal is to destroy humanity, so it won't promote universal values even though China indeed had great traditional universal values. The CCP used to cover up its crimes in the past, but it has completely unveiled its true nature with the persecution of Falun Gong." He suggested that the gentleman read the Nine Commentaries on the Communist Party and withdraw from any Communist organizations he had joined before.
Greece
Falun Gong practitioners in Greece held activities at the train station in Athens on April 24, 2018, to commemorate Falun Gong practitioners' peaceful appeal in Beijing 19 years ago.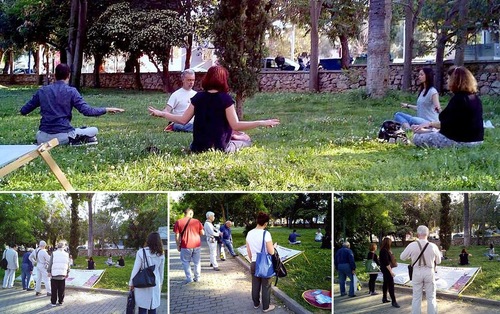 Practitioners in Greece introduce Falun Gong in downtown Athens.
Practitioners demonstrated the five sets of Falun Gong exercises and exposed the persecution of Falun Gong by the CCP, especially the crime of harvesting organs from living practitioners.
Many people stopped to watch the exercise demonstration and read the displays. They gave practitioners the thumbs up and were appreciative of the information that practitioners provided.