Introducing Falun Gong at a Chinese New Year Celebration in Ireland
March 03, 2018 | By a Falun Gong practitioner in Ireland
(Minghui.org) Falun Gong practitioners in Ireland celebrated the Chinese New Year and introduced Falun Gong on Grafton Street in Dublin on February 2, 2018. This date was January 2nd of the lunar calendar. Practitioners set up display boards introducing Falun Gong and exposing the persecution of Falun Gong practitioners by the Chinese Communist Party (CCP). Many passersby on this very busy street in Dublin had a chance to learn about Falun Gong and signed a petition calling for an end to the persecution in China.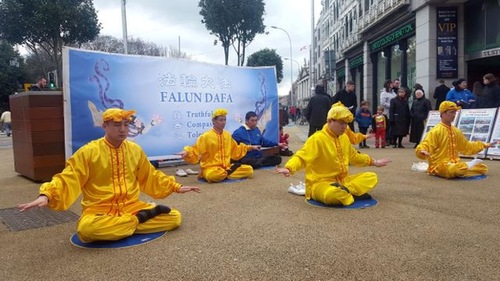 Practitioners demonstrate the fifth Falun Gong exercise.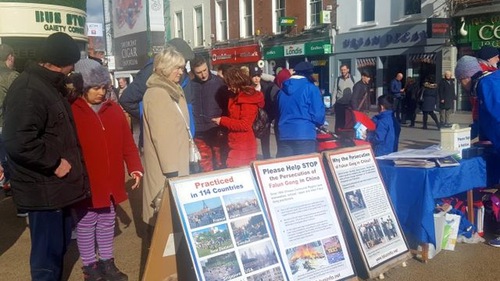 Passersby on Grafton Street read the Falun Gong display boards.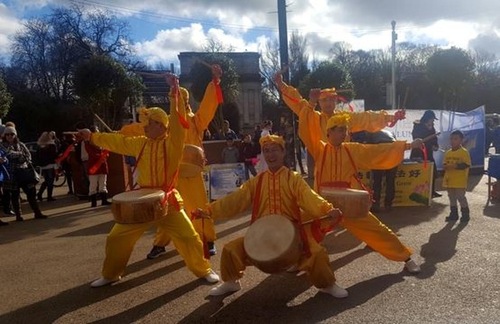 Falun Gong practitioners perform drum dance.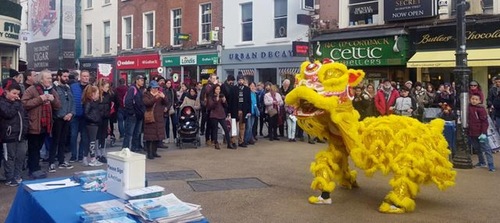 Lion dance.
Falun Gong practitioners introduced the origin of the Chinese New Year, the Chinese calendar system, traditional Chinese culture, including the harmony between heaven and the earth, and cultivation practice as the center of Chinese culture. They pointed out that Falun Gong, though a great cultivation practice, is banned by the Chinese Communist Party, and that innocent practitioners who follow the Falun Gong principles of Truthfulness-Compassion-Forbearance are being persecuted.
Practitioners gave performances of the drum dance, lion dance, and lotus dance, and demonstrated the five Falun Gong exercise sets. Their joyous performance received warm applause from spectators.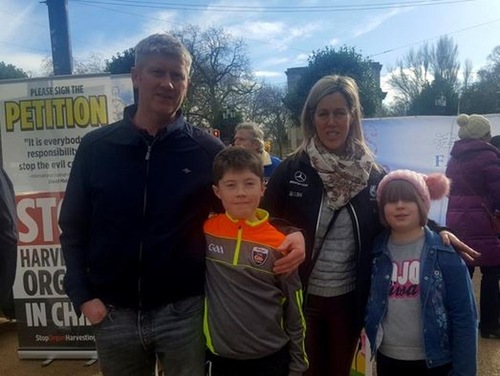 Katherine, David, and their children wished Falun Gong practitioners a happy new year.
Dublin residents Katherine, David, and their children learned about the persecution from reading the display boards, especially the CCP's crime of harvesting organs from living practitioners. Katherine said, "It's so sad! Organ harvesting is a bloody crime. We would like to sign the petition. It's very little but it's what we should do. I wish Falun Gong practitioners in China a happy new year!"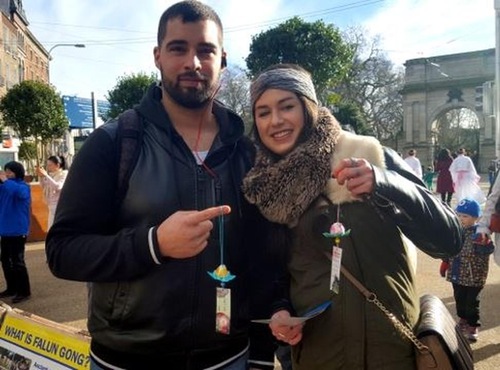 Amelia and her boyfriend expressed support for Falun Gong practitioners' work to end the persecution.
Amelia and her boyfriend, young tourists from Cambridge, Britain, were sad to hear about the organ harvesting from living practitioners, and signed the petition without hesitation. They posed together for a photo holding the paper lotuses they received from Falun Gong practitioners. They asked the practitioners to convey their happy-new-year greetings to Falun Gong practitioners in China.
An Asian family took initiative to learn the facts about Falun Gong. Everyone in the family signed the petition. They praised practitioners' courage and expressed hope they would keep up with their great job until the persecution ends.
Several people became interested in learning Falun Gong after watching the exercise demonstration and hearing an introduction. They look forward to attending the free upcoming Falun Gong workshop soon.