Man Hailed a Hero for Putting Out Neighbor's Fire, Now Faces Trial for His Faith
March 26, 2018 | By a Minghui correspondent in Shandong Province, China
(Minghui.org) Mr. Gao Hengbai was taking a nap one summer day in 2016 when he was awakened by a commotion. His across-the-street neighbor's natural gas pipe caught fire and their whole family had run out to avoid possible explosion.
Mr. Gao grabbed a blanket and soaked it with water. He rushed into his neighbor's house and put out the fire. The wife in that family told her son, "Don't ever forget about Mr. Gao. If it were not for him, our newly built house would have been burnt down."
Had the fire taken place years earlier, Mr. Gao would have been an unlikely hero. He was known as an abusive husband and son who beat up his wife and bickered with his parents all the time. He, however, was a totally different man after he began practicing Falun Gong in 2008.
Falun Gong is a spiritual discipline based on the principles of Truthfulness-Compassion-Forbearance that has been persecuted by the Chinese communist regime since July 1999.
Having experienced Falun Gong's transformative power, Mr. Gao never shied away from telling people that no law in China criminalizes Falun Gong and that Falun Gong is nothing like what is depicted by the state propaganda. His simple act landed him in police custody.
The 46-year-old resident in Nancun Town, Pingdu City was arrested on December 16, 2017 while distributing table calendars bearing information about Falun Gong.
Mr. Gao's parents, both 80, visited the local police station several times to seek his release. They were referred to Pingdu City 610 Office, an extra-legal agency tasked with eradicating Falun Gong and given power to override the judicial system.
The elderly couple found Guo Yucheng, vice head of the 610 Office, on December 28, but they were turned away. They came back the following day, only to be taunted by Guo. Their son was issued a formal arrest warrant that same day.
Mr. Gao's case was forwarded to Pingdu City Procuratorate on February 6, 2018. He was questioned at the Pingdu City Detention Center on February 8 and indicted on February 23.
Mr. Gao's family called prosecutor Zhang Zhengxia on March 4 to remind him that the indictment he filed against Mr. Gao lacked legal basis.
Mr. Han Zhiguang, a lawyer in Beijing, was hired to represent Mr. Gao. Mr. Han travelled to Pingdu City Court on March 12, but he wasn't able to meet with judge Li Yan, who was assigned to the case. Mr. Han then went to the detention center to see Mr. Gao.
Mr. Gao affirmed his determination to fight for his constitutional right to freedom of belief. He couldn't believe that he was arrested for trying to be good person. He asked Mr. Han to relay to his family that, "There is nothing wrong with practicing Falun Gong. Don't feel ashamed by my detention. Keep your heads up!"
Mr. Gao also wrote a power of attorney to entrust his eldest sister to testify in his defense in his trial. His sister submitted the document to the court on March 14.
While Mr. Gao awaits trial for his faith, many locals have signed a petition calling for his unconditional release.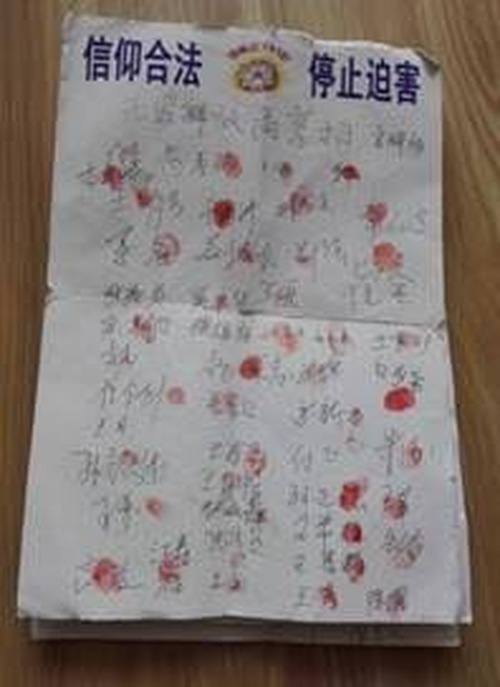 Petition reads "It is legal to have spiritual belief; Stop the Persecution."
Lawyer Says Falun Gong Practitioners Should Never Have Been Prosecuted for Striving to Be Good People
Mr. Han has represented many Falun Gong practitioners over the years. Though every practitioner is different, Mr. Han has found they share one common trait – they are all striving to become better people by following Falun Gong's principles of Truthfulness-Compassion-Forbearance.
Take Mr. Gao as an example. Mr. Han is impressed by how Falun Gong turned a once abusive person into an upright citizen, and a loving husband, father, son, and brother.
Mr. Han pointed out that the charges against Mr. Gao and his other Falun Gong practitioner-clients have no legal basis. He emphasized that they should never have been prosecuted for striving to be good people and exercising their constitutional right to freedom of belief.
Mr. Han once pondered why Falun Gong practitioners risk their lives to tell people that the persecution of their faith is wrong. He concluded that the only reason is that these practitioners have personally experienced Falun Gong's power of uplifting the spirit and improving health. He came to see that Truthfulness-Compassion-Forbearance are universal values and that no one should be arrested for upholding such principles.
Mr. Han also said that some of his non-practitioner clients failed to keep their promise to pay for his work, but that this has never happened with his practitioner-clients. He has seen that practitioners are honest and trustworthy.
Mr. Han expressed his determination to seek justice for Mr. Gao.
Family Devastated by Mr. Gao's Arrest
Mr. Gao's wife, Ms. Sun Zhengmei, knows firsthand how Falun Gong turned her husband around. She remained a victim of domestic violence before her husband picked up the practice of Falun Gong. Her head once bled after her husband beat her. Another time she had to seek shelter at her sister' house. She also recalled how "the old Mr. Gao" had once cut an item of clothing of hers into pieces after he exploded over some trivial matter.
Mr. Gao quit smoking and became a loving husband after he began to practice Falun Gong. Ms. Sun couldn't understand why he has to face trial for being a good person. She became depressed and didn't want to leave the house. In just a few short months, she has lost a significant amount of weight.
Their 10-year-old daughter cries at the mention of her father. She once wrote, "Daddy, I miss you" on a wall, and her mother burst into tears when she discovered the message.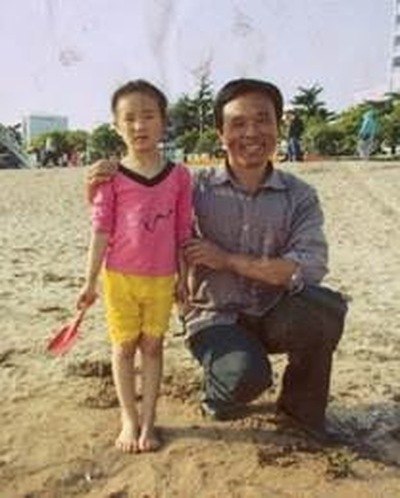 Mr. Gao and his daughter
Mr. Gao's parents are counting the days of his detention. They can't eat or sleep well. The elderly couple has four children. They used to worry about Mr. Gao all the time as he never failed to give them headaches. But their son totally changed after he began practicing Falun Gong. He visited them often to check on them. He was the first one to rush to their house when his mother took a fall and broke her leg.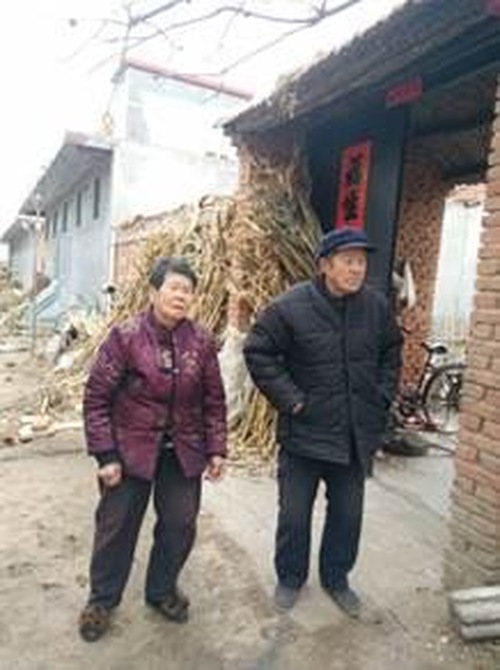 Mr. Gao's parents