Chinese Tourists Learn about Falun Gong While Enjoying Spring in Taiwan
March 26, 2018 | By a Falun Gong practitioner in Taiwan
(Minghui.org) Peach, plum and cherry blossoms have burst into colorful bloom, heralding spring's arrival in Taipei. Tourists from around the world are drawn to Taiwan's capitol, and many people from mainland China also come to enjoy this beautiful city.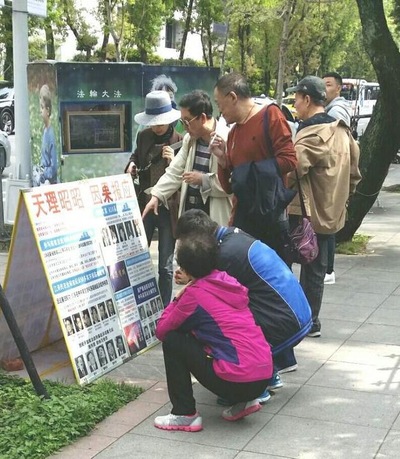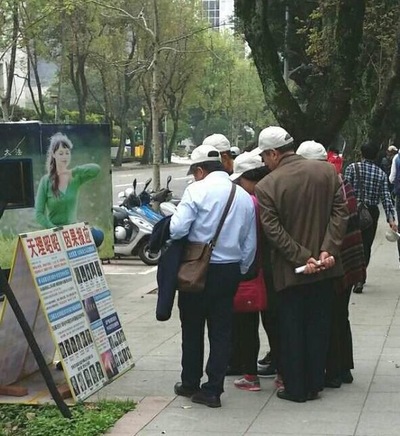 Chinese tourists attentively read informational display boards about Falun Gong in front of Sun Yat-sen Memorial Hall
"You're the one who's working hard!"
A guide brought a group of Chinese tourists to visit the Tapei landmark, Sun Yat-sen Memorial Hall. He stopped beside the Falun Gong truth-clarification site and explained the historical significance of the building. As the group entered the memorial hall, a Falun Gong practitioner greeted him and said, "You work hard!" The tour guide replied, "It's my job and I get paid. You're a volunteer, so you're the one who's working hard!"
When the Chinese tourists came out, they gathered at the Falun Gong truth-clarification site. The practitioner handed them informational pamphlets and their guide said, "You'll understand a lot after you read the information." Encouraged by his words, the tourists took the pamphlets.
"Keep up your efforts"
Another guide brought a group of tourists to visit the memorial hall. She greeted the practitioner and said, "The Chinese tourists' attitudes toward Falun Gong vary. One group is not afraid, and take the materials on their own initiative, while others are still very afraid. They have been frightened by the Communist Party. You need to keep up your efforts!"
Hopes to Meet Master Li Again
Later, two tourists from Guangdong Province left their group and came over to the Falun Gong truth-clarification site. They carefully read the information on the display boards and asked a practitioner, "Is it true that one becomes healthy after practicing Falun Gong, and that one doesn't need to take medicine?" The practitioner explained, "After practicing Falun Gong, one's health soon improves. Why should one take medicine if he is not ill?" They nodded and said, "Yes, that's true!" They also asked many questions about cultivation practice.
One of the tourists said that he'd attended one of Master Li Hongzhi's Falun Gong classes held in Guangzhou City, but he couldn't remember which year. He said that he did not continue practicing, but he traveled to Taiwan to see how Falun Gong was doing outside of China. The man said he hoped to see Master Li again in the future.
"You are remarkable!"
A Chinese engineer from California on a business trip took a day to go sightseeing in Taipei. As soon as he saw the practitioners, he asked for the latest Falun Gong newspaper. He said that although he lives overseas, he pays attention to events unfolding in China, and is concerned about China's future. He said that he's observed that most Chinese people dislike and curse the Communist Party, and the rest are too frightened and intimidated to see the facts clearly.
He told the practitioners that he admires them for their steadfast belief and their efforts to help Chinese people learn the facts. He said he knows that Falun Gong practitioners truly cherish Chinese people. He added, "Falun Gong is not only a blessing for all Chinese people, but also all of humanity! You are remarkable because you are trying to save all people!"