Japan: Introducing Falun Gong at a Senior Culture Presentation
March 25, 2018 | By a Falun Dafa practitioner in Japan
(Minghui.org) Falun Gong practitioners introduced the meditation and spiritual practice at the Senior Culture Presentation in Ibaraki City, Osaka on the afternoon of March 18. People became interested in learning the exercises after seeing the colorful display boards and an exercise demonstration on stage.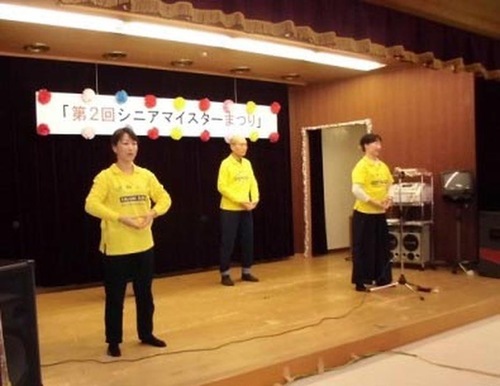 Falun Gong exercise demonstration at Ibaraki City Senior Culture Exhibition on March 18, 2018
Falun Gong, also called Falun Dafa, includes five easy-to-learn exercises. The practice is based on the principles of Truthfulness, Compassion, Forbearance and emphasizes looking inward for shortcomings to improve one's character.
People in more than 100 countries have started practicing Falun Gong since it was introduced to the public in 1992 by Master Li Hongzhi.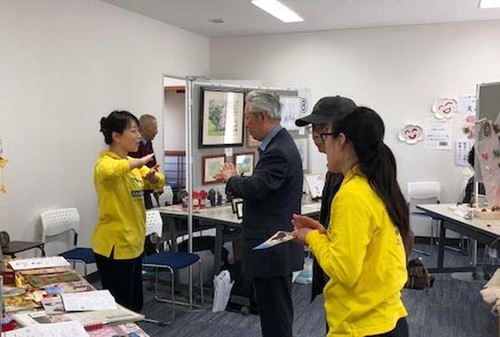 Mr. Kitamura, chairman of a senior community, discusses Falun Gong with a practitioner.
Mr. Kitamura, chairman of a local senior community, was looking for an exercise for his members. He has introduced tai chi, yoga, origami, and painting to the community but still lacked an activity suitable for senior citizens. He tried the Falun Gong exercises after hearing a detailed introduction by a practitioner.
"This practice is very good and suits the seniors. The movement is slow and smooth, but it effectively improves circulation," commented Kitamura.
He plans to discuss introducing Falun Gong as a regular exercise for the members.
Mr. Nishijima is the vice president of the International Cultural Exchange Association of Ibaraki City. He has a deep interest in traditional Chinese culture. After reading through the introductory display boards, he invited Falun Gong practitioners to the next annual International Cultural Exchange show.
Practitioners demonstrated the exercises on stage and invited audience members to stand up and follow along. Nearly a hundred people did the exercise movements. Afterward, many in the front rows said their hands became warm or they felt warmth in their bodies.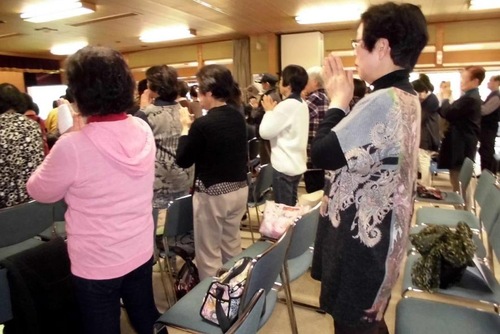 Nearly a hundred audience members followed along with the Falun Gong exercises.
After the demonstration, many people came to the Falun Gong booth to request more information. They were excited to learn that there are three group exercise sites in the city and another in a nearby city.