Orlando, Florida: Falun Dafa Welcomed at Lunar New Year Celebration
March 22, 2018 | By practitioners in Florida, USA
(Minghui.org) Orlando is home to the largest Chinatown in the State of Florida, with 30,000 Chinese residents and a large population of Vietnamese-Americans and those from other Asian cultures.
Falun Dafa practitioners participated in the local Lunar New Year celebration, where they demonstrated the Dafa exercises, introduced the ancient Chinese meditation practice to the public, and informed them of its ongoing persecution by the communist regime in China.
The Asian-themed festival attracted martial arts and qigong enthusiasts, many of whom showed interest in Dafa and its principles of Truthfulness-Compassion-Forbearance.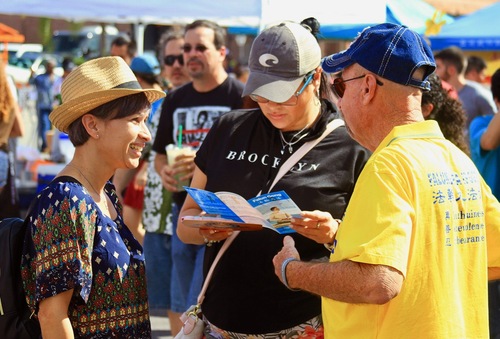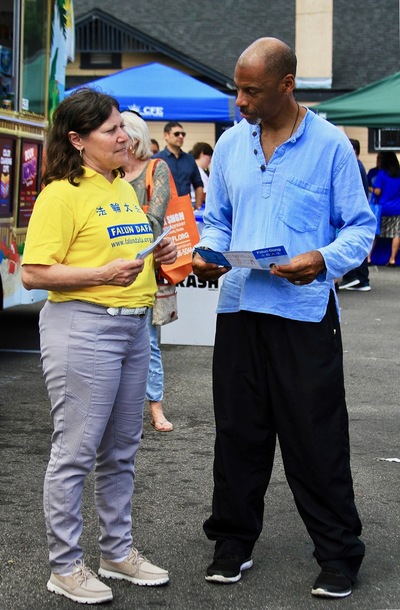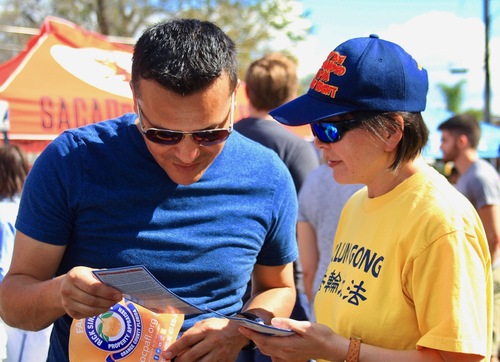 Practitioners introduce the Chinese meditation practice to visitors.
A yoga instructor who had to stop teaching after a double knee replacement was particularly eager to try Dafa. She wanted a practice that would not put too much strain on her, and she identified with the importance of cultivating the mind in order to improve oneself.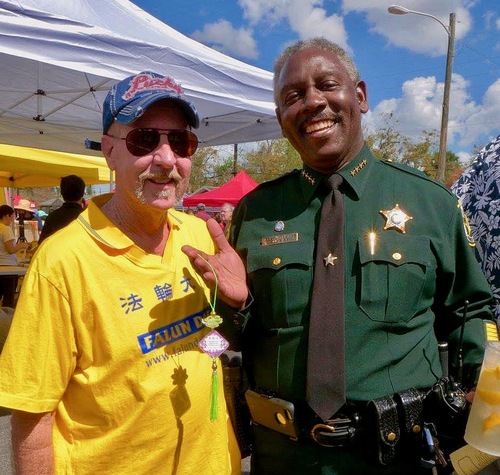 Sheriff Jerry Demings of Orange County holds a paper lotus flower with the words Truthfulness, Compassion, and Forbearance.
Orange County Sheriff Jerry Demings attended the celebration and stopped by the Falun Dafa booth. He is the first African-American sheriff of the county and was previously the first African-American to serve as Chief of Police for the City of Orlando. His wife, Val Demings, was the first female police chief of the City of Orlando and now serves as the U.S. Representative for Florida's 10th congressional district.
Practitioners also set up a booth and a large TV at the event entrance to promote Shen Yun Performing Arts. Incoming visitors were treated to beautiful scenes from the classical Chinese dance company.
Changing Attitudes
The practitioners' attendance at this year's celebration marked a turning point in the local Chinese community leaders' attitude toward Falun Dafa. As a result of hate propaganda spread by the Chinese Communist Party, the event organizers had previously refused to allow practitioners to wear Dafa t-shirts, demonstrate the exercises, or set up tables.
After years of outreach efforts, the practitioners were welcomed at the event. In addition, the Chinese Chamber of Commerce invited the Falun Dafa Association to join the Chamber—the greatest honor this organization could offer.
One of the most prominent and powerful Chinese attorneys in the area had for many years refused to support Dafa. However, she is now very supportive and said she even started encouraging people to visit the Falun Dafa exercise site in the local park, which is held every weekend.