Hong Kong: Seeing Through Pro-Communist Group's Defamation of Falun Gong
(Minghui.org) A pro-communist group, the Hong Kong Youth Care Association (YCA), has held numerous events in the past several months to defame Falun Gong. These activities were held in busy shopping areas in Causeway Bay. But contrary to what the organizers expected, many people saw through the group's tactics and gained a better understanding of the Chinese Communist Party's brainwashing strategies.
"The Communist Party has spread lies throughout my life," one pedestrian remarked, "I would not believe what this group [YCA] says at all."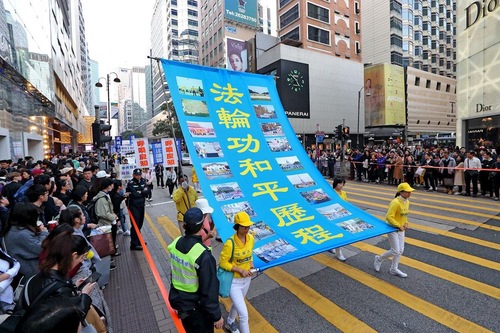 Falun Gong practitioners in a parade on 2018 New Year's Day.
Peter, another witness to the group's activities, said he had seen YCA members attacking Falun Gong practitioners in Causeway Bay and Tsim Sha Tsui. He was curious to find out the real story.
After reading materials from both Falun Gong practitioners and YCA members, Peter also read about it from newspapers including Apple Daily, Oriental Daily News, Toutiao, and the Epoch Times. In the end, he chose to read the Epoch Times due to its factual and updated news coverage.
Seeing YCA members set up so-called "mourning halls" recently and talking with practitioners for clarification, Peter said the YCA's claims are groundless. In addition, he praised the practitioners for their perseverance.
"I have read some Falun Gong books and was impressed that Mr. Li Hongzhi knows so much," he added. He said these teachings are very profound compared to what he had read in the past.
As YCA continued to slander Falun Gong, Peter attended a 9-day Falun Gong lecture session in Hong Kong. He read several chapters of the main book, Zhuan Falun,on the first day. "I have learned so much. It is so overwhelming, as if I have just woken up from a dream," he explained.