Mexico: Introducing Falun Gong to College Students and Faculty
March 10, 2018 | By a practitioner from Mexico
(Minghui.org) A group of Falun Gong practitioners were invited to introduce Falun Gong, an ancient self-improving cultivation practice from China, on the campus of Metropolitan Autonomous University (UAM) in Mexico City. The practitioners held activities to teach the exercises and raise awareness about the brutal persecution in China that has been going on since 1999.
They started with a screening on March 1 of the documentary Human Harvest, which exposes the persecution and forced organ harvesting targeting Falun Gong practitioners in China. Over 100 people came to watch the film and participate in the discussion afterward.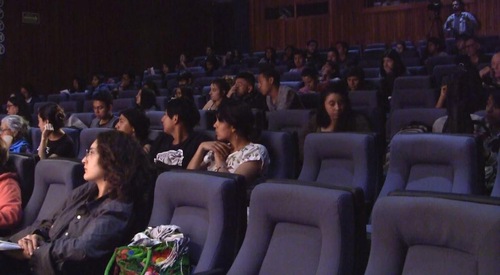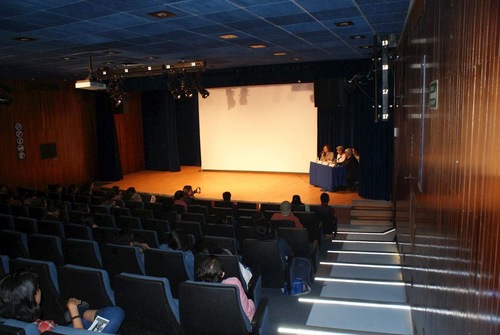 The movie screening and discussion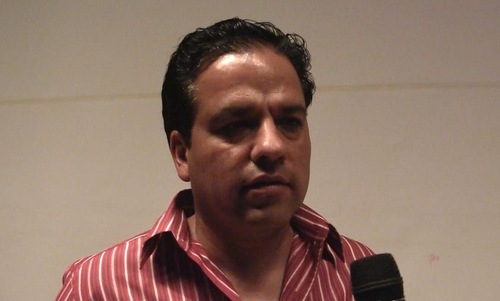 Ricardo Peña Marin said the crime of forced organ harvesting is unfathomable.
"We cannot allow a government to persecute a peaceful spiritual group," Ricardo Peña Marin, a biologist, said. "We should expose it on social media and call for bringing the murderers to justice." Several audience members asked for more suggestions for how to help stop the persecution.
The second day, practitioners held a free workshop, and more than 50 attendees came to learn the exercises.
"I am lucky to have a chance to learn this. It's amazing," said Aurora, who attended the workshop hoping it would help with her back problems. "On my way here, I had a lot of pain in my back, but I managed to finish all five exercises. Now, the pain is gone!"
Many attendees said they felt a strong energy flow while doing the exercises.
Fernando was one of them. He said, "I could see the energy. When I closed my eyes, I saw energy rotating. I've had shoulder pain for a year. But now, the pain is gone. I will definitely continue this practice."
Another student said, "I was pretty upset and anxious today. But during the exercises, I felt the negative energy leaving my body. Now, I have peace."
A faculty member of the university told practitioners, "I feel so refreshed. I will continue learning the practice. Hopefully, I will be like you guys—you are always calm and have a smile on your face."
The organizer of the event, Cecilia Ezeta, said, "I know that Falun Gong is a great practice that can relieve stress, so I invited them. I hope we can set up an exercise site on our campus."