Liaoning Man Tortured in Prison and Labor Camp
February 27, 2018 | By a Minghui correspondent in Liaoning Province, China
(Minghui.org) Mr. Sun Wenqing from Yingkou City, Liaoning Province, has been sentenced to three and a half years in prison and sent to forced labor camps twice since 1999 for not giving up his faith in Falun Gong.
During his imprisonment, Mr. Sun suffered numerous forms of torture, including being hung up by his four limbs, shackled to a board in the spread-eagle position, and deprived of sleep.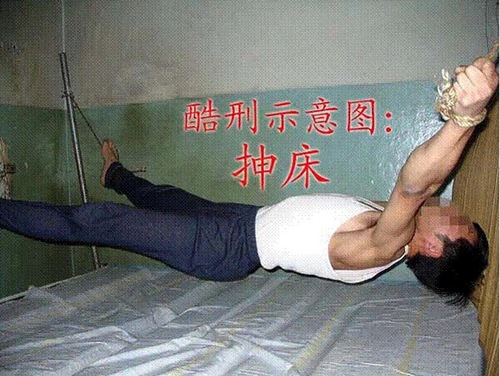 Torture reenactment: Suspended by the four limbs
Sentenced to Three and a Half Years
Mr. Sun was arrested on June 9, 2014, for handing out DVDs about the persecution of Falun Gong. The police ransacked his home and confiscated all Falun Gong materials, along with his computer and cellphone.
While he was held at the Yingkou City Detention Center, Mr. Sun refused to wear the jumpsuit for detainees. The guard ordered several inmates to beat him and forced the clothes on him. They also shackled him to a board in a spread-eagle position for three days. In addition, he was also forced to do slave labor.
Mr. Sun was tried on October 27, 2014, in a makeshift courtroom in the detention center. His lawyer defended him as "not-guilty." The judge adjourned the trial without announcing the verdict but later secretly sentenced Mr. Sun to three and a half years in prison.
In Dalian City Prison, the guards continued to torture Mr. Sun and attempted to force him to give up practicing Falun Gong. They denied family visits and didn't let him use toilet paper. For four months, he was forced to stand from early morning to late evening.
Mr. Sun was released on September 8, 2017, at the end of his term.
Two Terms of Forced Labor
In 2010, Mr. Sun was sent to a forced labor camp for two years for handing out Falun Gong flyers.
In the camp he was tortured and subjected to constant brainwashing, including sleep deprivation, to try to make renounce Falun Gong.
Because he spoke to the other detainees about the practice, a guard beat him with a rubber stick until midnight. His head became swollen. After that, the guard ordered a group of inmates to hang him up by his arms and legs for 14 days. The scar on his leg from that ordeal is still visible.
Mr. Sun was first sent to one year of forced labor on July 20, 2000. He and other practitioners were forced to work over 20 hours a day to make products for export.
Previous reports:
Mr. Sun Wenqing Speaks Up for Falun Gong in Court
Falun Gong Practitioner Mr. Sun Wenqing Illegally Detained at a Forced Labor Camp