Paris: Telling People about the Persecution of Falun Gong in China on International Human Rights Day
December 18, 2018 | By a Minghui correspondent in Paris
(Minghui.org) On December 9, 2019, despite the cold weather, Falun Gong practitioners demonstrated the exercises and talked to people about the practice and how it is being persecuted in China. Many people stopped to sign the petition calling for an end to the persecution.
Paris is historically significant in the history of human rights. Seventy years ago, on December 10, 1948, the United Nations General Assembly adopted the Universal Declaration of Human Rights at the Palais de Chaillot in Paris.
Ever since the Chinese Communist Party began to persecute Falun Gong in July 1999, local practitioners have introduced the practice and raised awareness of the persecution at Human Right Square in Paris. Every Saturday afternoon for 19 years, tourists from all over the world, as well as French citizens, have had the opportunity to learn about Falun Gong.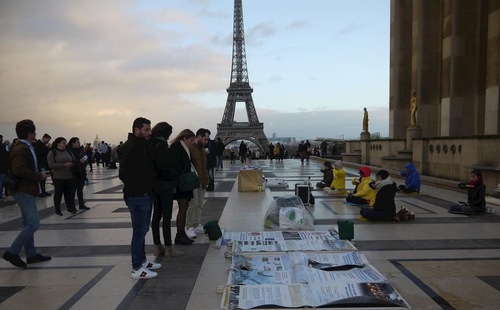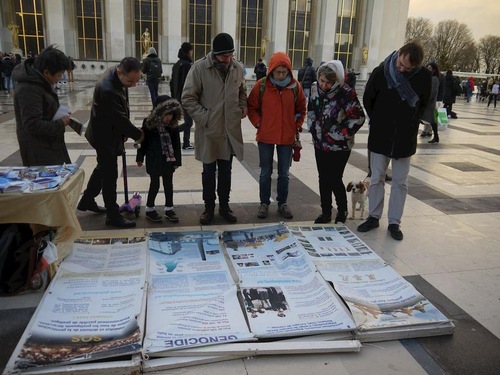 Tourists read about Falun Gong at Human Rights Square in Paris.
"Communism is destroying human culture"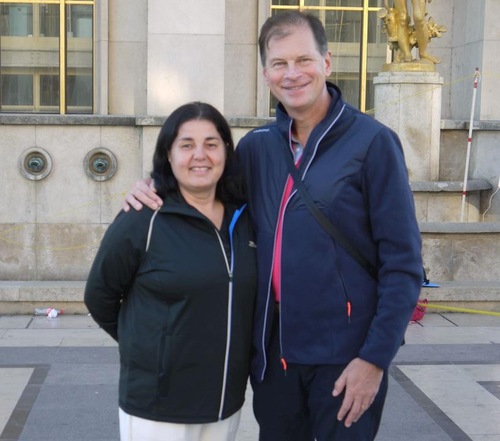 Alexis and Simone Solovieff
Simone and her husband Alexis Solovieff were taking a stroll near Human Rights Square when they noticed practitioners doing the exercises. They stopped and learned the sitting meditation.
Simone, a former Spanish teacher, said, "I'm against this persecution. Political systems such as communism, socialism, and fascism are destroying human culture. It hurts me to see innocent people lose their lives because of their belief."
She believes that one day no one will follow the communist ideology. She feels that, because of the Internet, news about the persecution of Falun Gong practitioners will quickly spread around the world.
Alexis Solovieff is an engineer. He said that he felt very peaceful when he did the sitting meditation. The noise around him was like a thin layer of fog but it did not disturb him.
He encouraged practitioners to continue telling people about the persecution in China.
Cosmetic dentist Diane heard about Falun Gong for the first time as she was walking to the Eiffel Tower. She was shocked to learn about the persecution, particularly the harvesting of organs from living practitioners. She thought that if more mainstream people and celebrities knew about this outrage, they will help stop it.