Australia: Media Exposes Chinese Consulate's Failed Attempt to Block Falun Gong from Perth Christmas Parade
December 10, 2018 | By a Minghui correspondent in Australia
(Minghui.org) Celestial maidens, a waist drum team, a golden dragon, and a 5-meter-long float decorated with lotus flowers made up the Falun Gong entry in the annual Perth Christmas Parade on the evening of December 1, 2018. More than 20,000 spectators watched the parade and were delighted by the Falun Gong practitioners' colorful costumes and energizing drum performance, and appreciated the practitioners' presentation of traditional Chinese culture in this annual event.
Falun Gong, also known as Falun Dafa, is a traditional Chinese meditation practice that follows the principles of Truthfulness, Compassion, and Forbearance. It has been heavily persecuted by the Chinese Communist Party since 1999.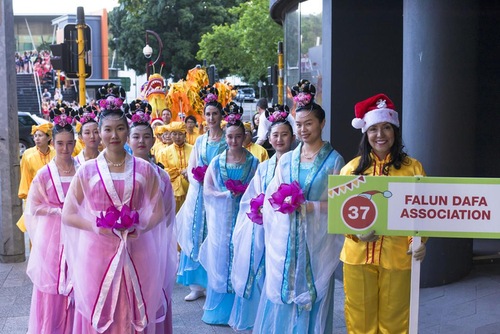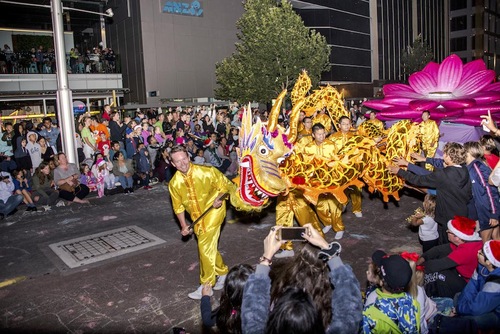 Falun Gong practitioners participate in the 2018 Perth Christmas Parade on December 1.
Concerns were raised that China has been actively interfering in Australia's domestic affairs when the General Consulate of China in Perth's attempt to block practitioners from participating in the parade was exposed.
The Australian: Event Organizer Pressured by Chinese Consulate
"Around 10:30 (the morning of the parade) we received a phone call from the organizer (Seven West Media) telling us that our lead banner could not mention Falun Dafa and the TV station reporting the event could not mention Falun Dafa either," said Mr. Lin, a spokesperson for the Perth Falun Dafa Association.
The group had already been approved and had received the necessary wristbands for the parade.
Mr. Lin was warned that if they didn't comply with this request, they would be banned from participating in the parade. But he refused to bow to pressure and told the staffer that he would consider taking this development to the media.
National newspaper The Australian reported that a man claiming he worked for the General Consulate of China in Perth called the parade organizer the day before the parade and told them to ban the practitioners from participating.
About one hour after the first phone call, another staff person from Seven West Media called Lin and said that practitioners would be allowed to participate but they could only display one small "Falun Dafa" name plate in front of the procession and no participant could carry any banners mentioning Falun Dafa or wear T-shirts with Falun Dafa printed on them.
When The Australian contacted Seven West Media to validate the request, the organization denied that they attempted to ban practitioners from the parade but admitted that they had requested the group not display any "political messages." However, other community groups did not have the same restrictions. They were able to wear shirts that prominently featured the logos and names of their groups.
According to Lin, the Falun Gong group has participated in this annual parade since 2008 and has never received any requests like this before.
Falun Dafa Association Condemns Communist China's Infiltration
Ms. Lucy Zhao, director of the Falun Dafa Association of Australia, said that the Falun Dafa group has always been warmly received by the spectators each year that they participate in the annual Perth Christmas Parade.
"We join the parade during the holiday season to share the peace and happiness of practicing Falun Dafa with people," said Ms. Zhao. "But the fact that the organizer decided to warn or restrict us, like the media has exposed, they must have received some pressure from the Chinese consulate."
Ms. Zhao added, "I'm not blaming them because I think they must be under pressure from the Chinese consulate. But now because of all the publicity, they face even more pressure from Australian society, which they want to avoid, as it puts them in a bad position.
"Why should we allow the Chinese Communist Party to pressure Members of Parliament, elected representatives, or media and businesses to persecute and discriminate against a peaceful spiritual group in Australia?
"Australians won't allow the Chinese Communist Party to continue to infiltrate our country, destroy our human rights and our values."
Australians Condemn the Chinese Communist Party Interference in Australia's Domestic Affairs
Paul Monk, former head of China Analysis at the Defense Intelligence Organization of Australia, said that this was obviously political interference from Beijing. "We should not be paying this kind of hypersensitive and nervous attention to what Beijing thinks because this is not China, this is Australia," he remarked.
"The Perth affair is worrisome," noted Clive Hamilton, professor of Public Ethics at Charles Sturt University.
In his 2016 book, Silent Invasion: China's Influence in Australia, Professor Hamilton explained how China has deeply infiltrated Australia.
After the report about the attempted interference was published in The Australian, many readers unilaterally condemned China's interference within Australian society and the fact that the parade organizer bowed to Communist Party pressure.
One reader commented, "Are we taking orders from communist China now? Shame on you!"
"This message is good for our family"
The day after the parade, December 2 was a warm and sunny Sunday. People near or at Cottesloe Beach noticed a long banner flying overhead with the message, "Be True. Be Kind. Endure – Falun Gong."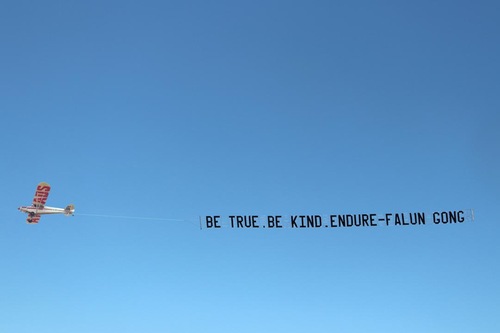 A banner flies over Cottesloe Beach in Perth "Be True. Be Kind. Endure – Falun Gong" on December 2, 2018.
Karen Dunscombe arranged for a flying banner advertisement more than a month ago. Her idea was supported by both her family and her boss, Mr. Brian Collingridge, the owner of the advertisement company. Ms. Dunscombe said that because she greatly benefited from practicing Falun Gong, she wished to let others know about the practice.
Mr. Collingridge offered to give her an additional hour of air time for free so that more people could see the banner since so many people go to the beach in summer.
Around 9 a.m., a light aircraft departed from Jandakot Airport, flew northwest to Bibra Lake over Adventure World theme park and the E-Shed Market of Fremantle City. Then it turned south over Rockingham City to the coast and turned north along the coastal beaches. It flew 3 circles over Cottesloe Beach, the most popular beach in Perth.
Leigh Travers and his family saw the banner flying over Cottesloe Beach. Mr. Travers said, "This is a good message!" It's not a commercial to sell you something, but [rather, a message] to lift people's spiritual realm. It's very good for our family."