Tian Guo Marching Band's Debut in Philadelphia Veterans Day Parade
November 08, 2018 | By a Falun Dafa practitioner in Philadelphia, PA
(Minghui.org) The 4th annual Philadelphia Veterans Day Parade was held in the first U.S. capitol, the birthplace of the Declaration of Independence. On Sunday November 4th, the parade and a series of celebrations drew patriotic crowds and local media. Among the entries in the parade was the Falun Gong group's Tian Guo Marching Band, their first time performing in this event.
The parade was made up of over 150 groups and 3,000 participants. The Tian Guo Marching Band was the only Chinese group, as well as the largest group, in the parade.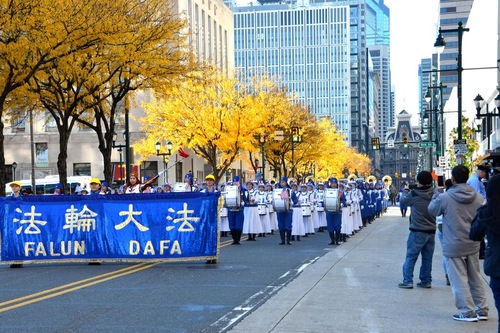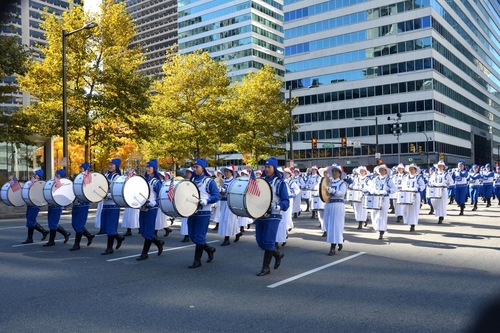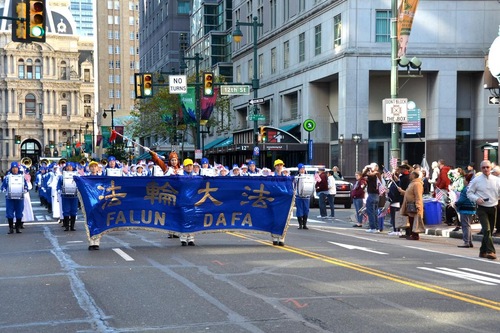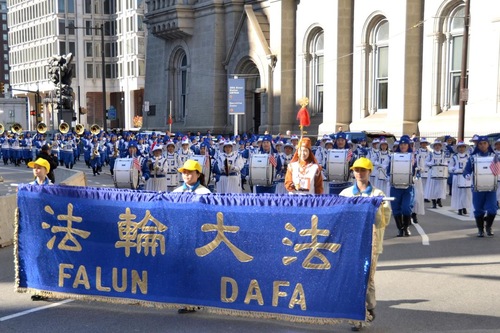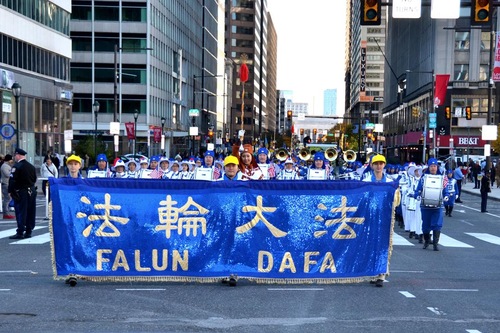 The Tian Guo Marching Band participates in Philadelphia's Veterans Day Parade on Nov 4, 2018.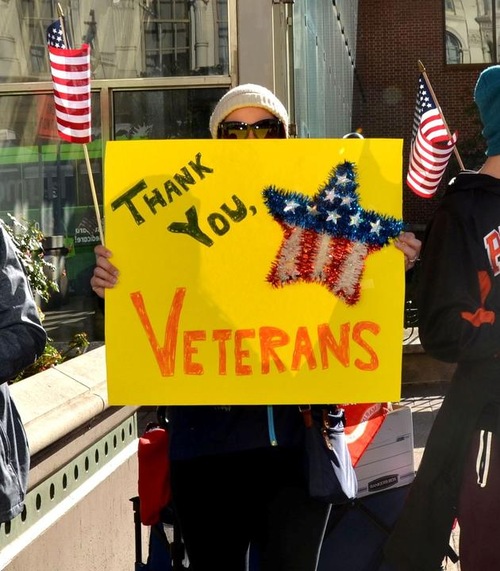 Lisa Jackson said she was impressed by the Tian Guo Marching Band.
Lisa Jackson from South New Jersey held a poster at the event that read "Thank You, Veterans." Her father used to serve in the Air Force and father-in-law in the Navy. She joined the event to thank all the military officers for their contributions to the country. It was the first time she had seen the Tian Guo Band and she said that their performance was fantastic. She had a flyer introducing Falun Gong and she was very curious. She appreciated that the practice is not only physical exercise, but also improving the mind according to the principles of Truthfulness, Compassion, and Forbearance.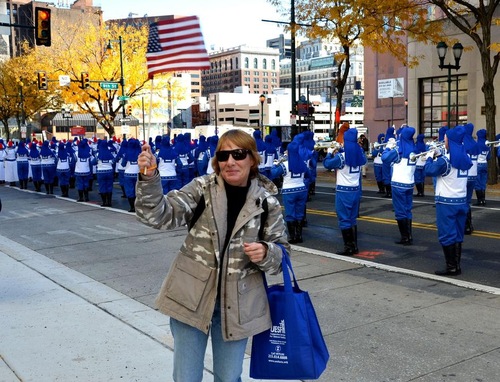 Charlotte Ray from Philadelphia enjoyed the Tian Guo Band's spirited performance.
Charlotte Ray came from a Philadelphia suburb and waved an American flag. When the Tian Guo Marching Band passed by her, she shouted out to thank the band. Her uncle served in the Vietnam War and she attended this event to thank all the veterans.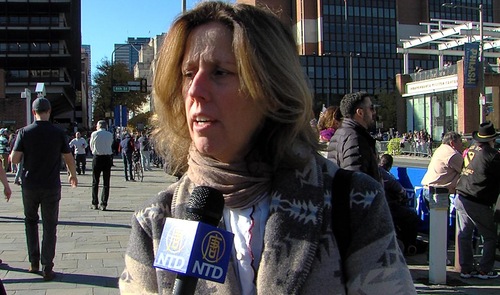 Connie Griffin from Massachusetts said the Tian Guo's Bands music was uplifting.
Visiting from Massachusetts, Connie Griffin thought Tian Guo's performance was outstanding and the music was uplifting.
Besides the band's original performance pieces, they also performed the patriotic American march, "The Stars and Stripes Forever," for this event.
Ms. Zhou, the conductor of Tian Guo Marching Band, explained that because the band members are practitioners of Falun Gong, which is rooted in traditional Chinese culture, the mission of their performing is to revive traditional values, kindness, and beauty.