Japan: Raising Awareness about the Persecution of Falun Gong at Daidogei World Cup Festival
November 26, 2018 | By Minghui correspondent in Japan
(Minghui.org) Nearly 2 million people from 23 countries attended the 27th annual Daidogei World Cup, a street performance competition, in Shizuoka, Japan, from November 1 to 4.
Falun Gong practitioners held activities during the festival to expose the Chinese Communist Party's (CCP) persecution of Falun Gong. They held a petition drive in support of a movement in which victims of the persecution are suing former CCP-head Jiang Zemin for launching the persecution. Practitioners collected over 1,000 signatures during the two-day event.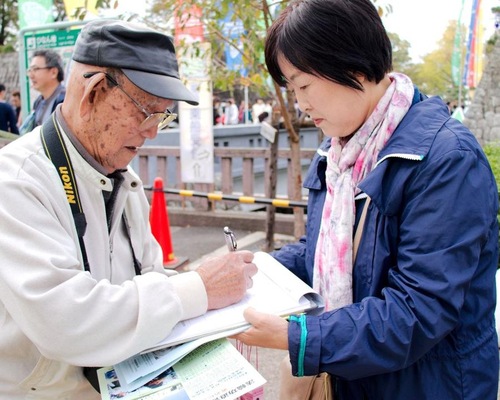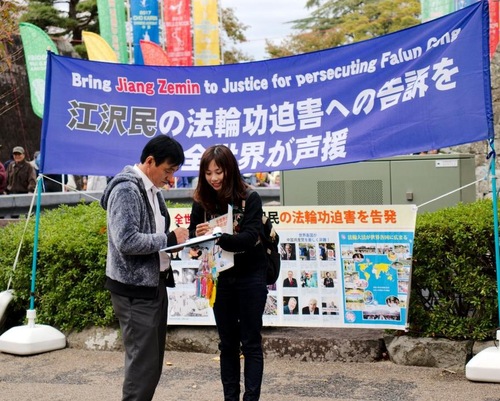 People sign petition supporting efforts to bring former Chinese dictator to justice for persecuting Falun Gong.
Falun Gong practitioners set up large banners at the entrance to the Daidogei World Cup, stating "Bring Jiang Zemin to Justice for Persecuting Falun Gong" and "Stop Organ Harvesting from Living Falun Gong Practitioners" in Chinese, Japanese, and English.
Many Japanese people respect the culture of spiritual cultivation and were saddened and outraged to hear about the CCP's brutal crimes against the peaceful group, in particular the harvesting of organs from living Falun Gong practitioners.
A Japanese woman told a practitioner, "I've seen many reports about it. I know organ harvesting is really happening in China. We absolutely shouldn't allow it to continue!" She had also become interested in learning Falun Gong and took some contact information with her.
A Japanese man signed the petition and asked where he could find Falun Dafa books. A practitioner showed him on his phone where the books are available for free download on the Falun Dafa website, www.falundafa.org.
A family of four from India signed the petition and then asked a practitioner to teach them all how to do the exercises.