Raising Awareness in Harvard Square
October 23, 2018 | By a Falun Gong practitioner in Boston, U.S.A.
(Minghui.org) Falun Gong practitioners in Boston have maintained a regular presence in Harvard Square, a triangle plaza near the heart of Harvard University, and in front of several of the main entrances to the campus to raise awareness of the Chinese Communist Party's (CCP) persecution of Falun Gong.
Harvard Square is not only a transportation hub for Cambridge residents but also attracts many tourists.
Practitioners set up posters and banners at these sites and distribute flyers and collect signatures on petitions. They inform people who stop by about Falun Gong and the CCP's state-sanctioned forced organ harvesting from Falun Gong practitioners for lucrative profits.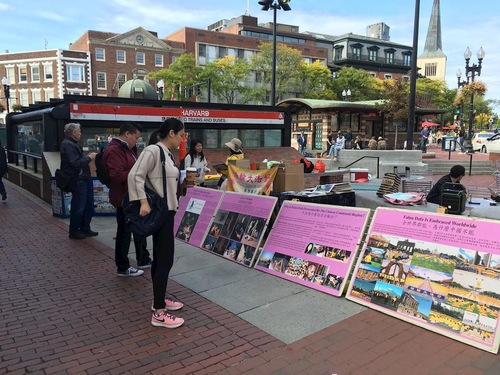 Passersby examine Falun Gong posters in Harvard Square.
A man from Tianjin in the U.S. on a short vacation said many people in China have found ways around the information censorship to learn about Falun Gong and the CCP's persecution. He praised the software Falun Gong practitioners have developed to help Chinese citizens overcome the Party's Internet firewall. He said the communist party was evil and shouldn't exist.
After listening to practitioners talk about Falun Gong and the persecution in China, a Chinese man in his 70s told them, "You are our country's hope, the spine of our nation."
A retired professor from Emerson College's Department of Journalism asked a practitioner their opinion on several of the CCP's policies. The practitioner explained that all the superficial changes within the CCP were strategies to mislead the international community, especially the Western countries and that the Party's only goal is to maintain its dictatorship and core interests.
The professor readily agreed and said that people should stand up and stop the persecution and the expansion of the Party. He said he agreed with practitioners 1000 percent and supported them. He took a copy of The Epoch Times newspaper.
A couple from Texas was in Boston on vacation and paused to talk with a practitioner. The man said that they had seen Shen Yun perform and were impressed. The lady was from Southeast Asia and knew of the crimes of the Cambodian Communist Party. The couple signed a petition calling for an end to the CCP persecution of Falun Gong.
A Harvard freshman read the posters about how Falun Gong practitioners in China are brutally persecuted for their faith. She expressed her admiration for practitioners' perseverance and courage in the face of such crimes and then signed a petition opposing the persecution.
She asked many questions about Falun Gong, including how it differed from other Buddhist school practices.