Seoul, South Korea: Falun Gong Practitioners March to End Persecution
October 15, 2018 | By a Falun Gong practitioner in Korea
(Minghui.org) A march through the city center of Seoul caught the attention of local residents and tourists on October 13. The march showcased the beauty of Falun Gong, also known as Falun Dafa, exposed the tortures and other human rights violations committed in the persecution of Falun Gong in China, and called for an end to the atrocities.
Falun Gong practitioners from over 10 countries and areas in Asia participated in this event, one of a series of activities during the 2018 Asia Cultivation Experience Conference.
Falun Gong was introduced to the public by Mr. Li Hongzhi in 1992. About 70 to 100 million Chinese were practicing Falun Gong before the persecution began in 1999. As the persecution intensified in mainland China, Falun Gong became increasingly popular in the rest of Asia after 1999.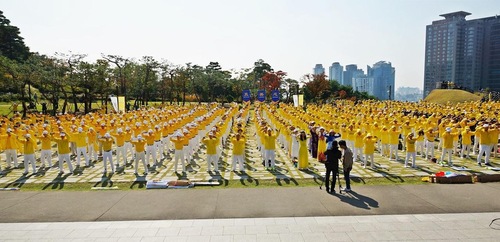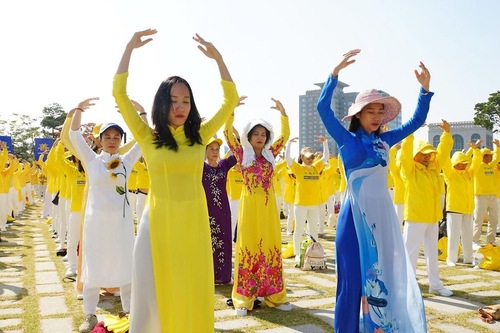 Falun Gong practitioners from over 10 countries and areas in Asia do the exercises as a group at Baekbeom Plaza in Seoul, South Korea, on October 13.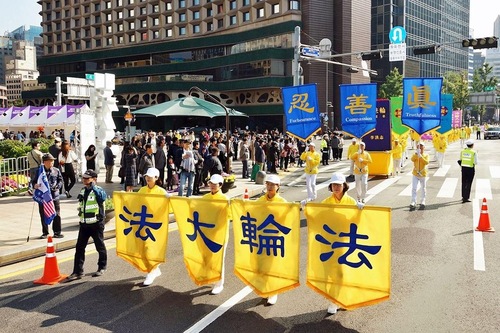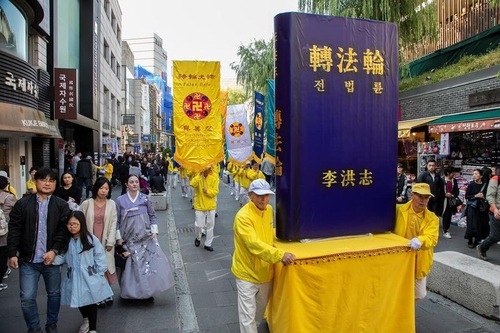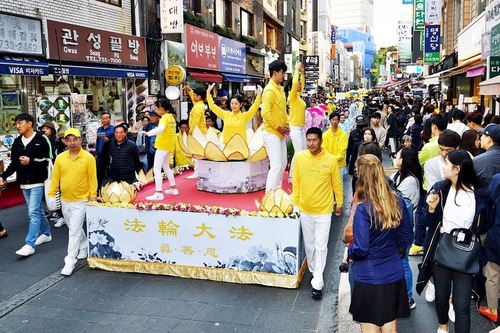 The march on October 13 showcased the beauty of Falun Gong.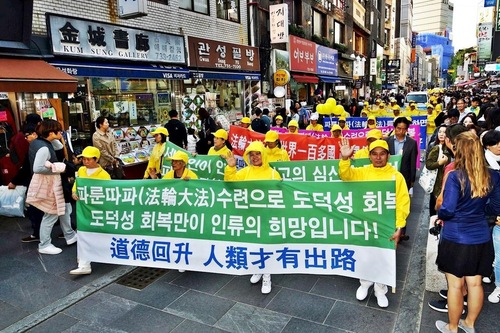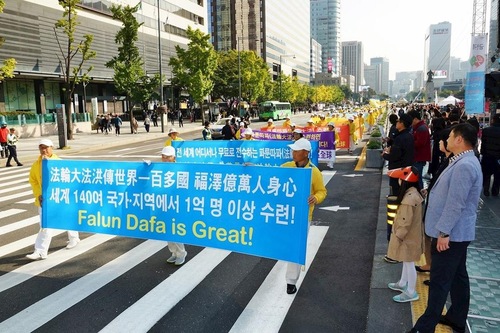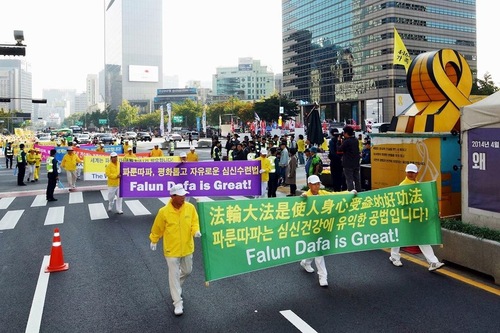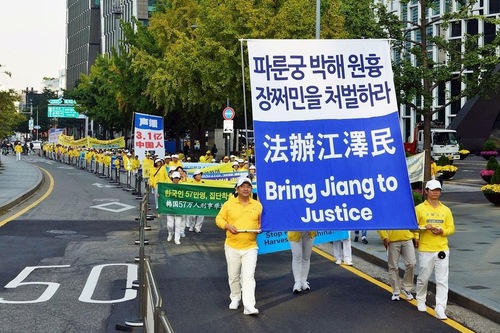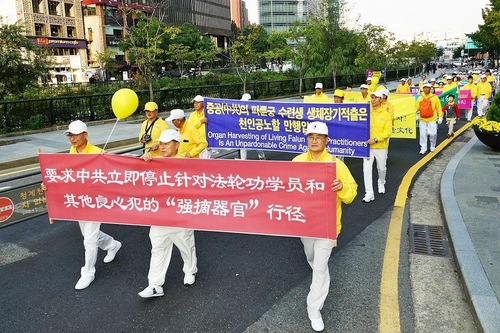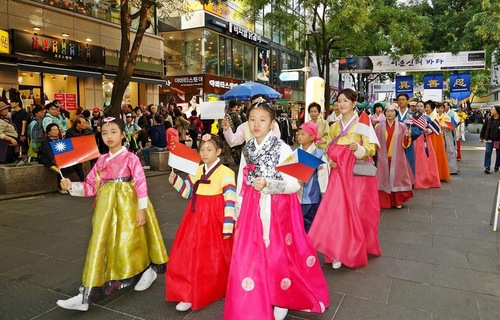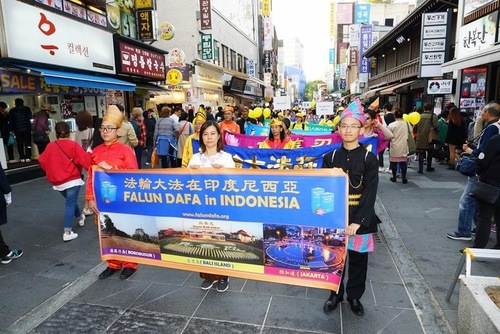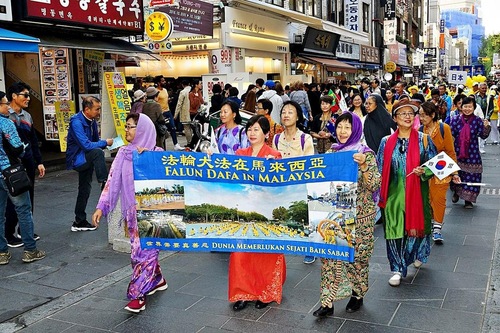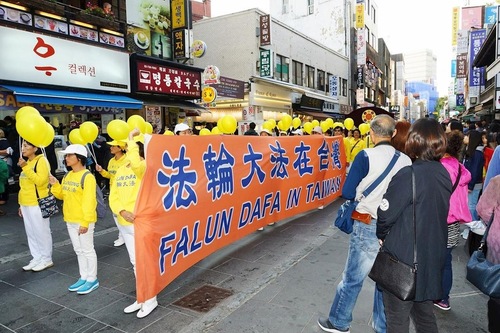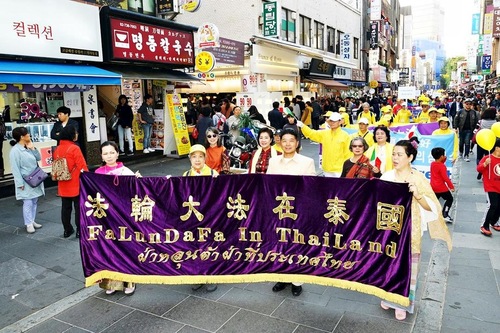 Falun Gong practitioners carry banners with messages such as "Falun Dafa is great," "Falun Gong has spread to over 100 countries in the world," "Falun Dafa in Japan." Banners were seen from various countries and areas in Asia, including Hong Kong, Indonesia, Taiwan, Thailand, and Malaysia.
Mainland Tourists and Locals Take Note
"I haven't seen a Falun Gong march before. I have, however, learned about it when I circumvented the Internet firewall. I know a bit about the persecution," said a mainland tourist from northern China. "Their pursuit is reasonable and legal. The political persecution against their beliefs is illegal. I'm quite sympathetic [with Falun Gong]. I'm amazed to see so many practitioners in this march!"
"I didn't expect Falun Gong to have such a momentum. I'm really surprised!" echoed a woman next to him.
Local residents also expressed their support. "I was feeling a bit down today but my mood has turned for the better after seeing the march, as if I have regained my strength," Hong Minshu said. "I know Falun Gong is persecuted in China. But I didn't know that so many people [elsewhere] practice Falun Gong. This is great!"
"The Chinese Communist Party is so bad. I know that the purpose of this march is to change the current situation of lack of freedom in China," commented a Korean businessman. He also offered his encouragement to the marchers: "Way to go!"
Piao Qingnan, who works nearby, said, "The only communist countries left on this Earth are China and North Korea. Such a good cultivation method is banned in China. If the Chinese Communist Party didn't exist in China, such a good exercise would have benefited more people."
Falun Gong Practitioners from All Walks of Life
The Falun Gong practitioners who took part in the march come from all walks of life. Among them is renowned swimmer, Olympic medalist Huang Xiaomin who currently resides in South Korea. She said that practicing Falun Gong helped her get rid of all the chronic illnesses and ailments she incurred as a result of years of demanding training. "Master Li Hongzhi gave me a second lease on life," she said. "Falun Gong practitioners in China are also a part of the rest of us in Asia. They are still under persecution and cannot join us for the conference. I hope that the persecution will end soon."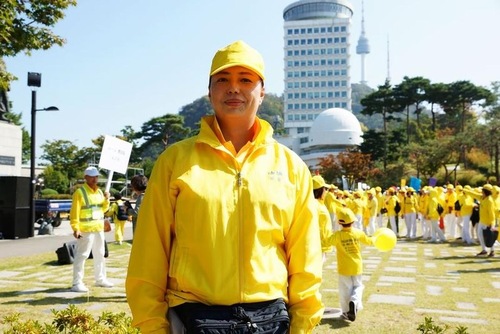 Renowned swimmer and Olympic medalist Huang Xia
Lin Lanying, a Chinese citizen of Korean nationality, learned about Falun Gong in 2001 from her Falun Gong practitioner aunt. Her aunt's kindness and steadfast belief touched her heart.
She took up the practice during her last year of college and persevered when facing the pressure of being fined and expelled. Her professors helped her stay at the school and teach for another six and a half years post graduation. She then immigrated to South Korea.
"Cultivating Falun Gong helped me find the meaning of life and the path to return home," she shared.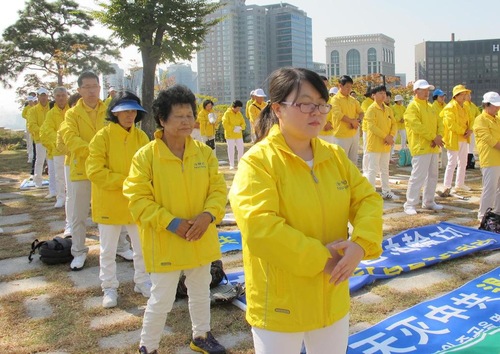 Lin Lanying, a Chinese citizen of Korean nationality.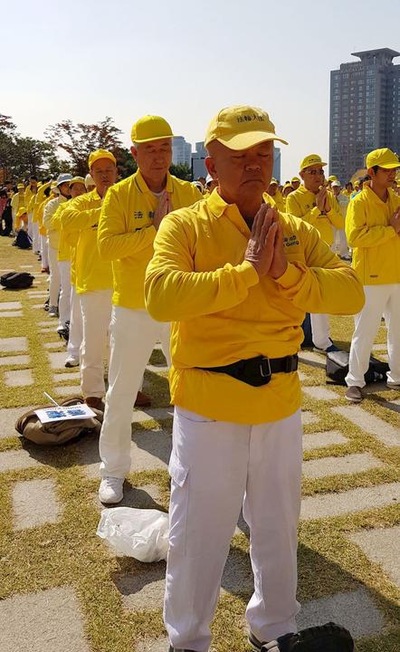 Zhou Yaming, a businessman from Malaysia, came across Falun Gong on a trip to the United Kingdom in 2006. He took up the practice after he got another recommendation about Falun Gong upon returning to Malaysia. He said that he cherished the opportunity to attend this large-scale activity in South Korea.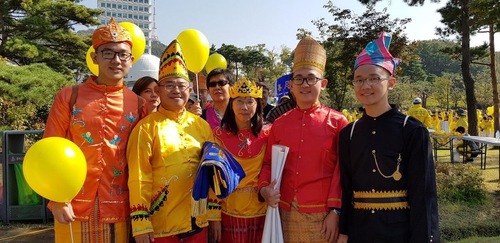 Huang Yiren (second left) and his family took part in the march dressed in traditional Indonesian attire. He first noticed Falun Gong when he saw the news of 36 Westerners protesting the persecution on Tiananmen Square in Beijing in 2001. He started practicing Falun Gong soon after reading more about it. His wife and three children followed him in this peaceful mind/body cultivation practice.
The march, led by the Tian Guo (Divine Land) Marching Band, departed from Baekbeom Plaza and passed many landmarks in Seoul, including Namdaemun (South Great Gate), City Hall, and Gwanghwamun, the main and largest gate of Gyeongbokgung Palace.