Israel: Demonstrating Falun Dafa Exercises in Tel Aviv
October 13, 2018 | By Falun Dafa practitioners in Israel
(Minghui.org) Falun Dafa practitioners gathered at Habima Place in Tel Aviv on Saturday, September 22, 2018, to demonstrate the Falun Dafa exercises and raise public awareness about the persecution of the spiritual and meditation discipline in China.
Falun Dafa is a spiritual practice based on the principles of Truthfulness, Compassion, and Forbearance. It includes five simple meditative exercises. The practice gained tremendous popularity in China. However, the communist regime in China began a brutal persecution of Falun Dafa that continues to this day. Under its campaign, practitioners in China are systematically detained, imprisoned, tortured, and even killed for their organs.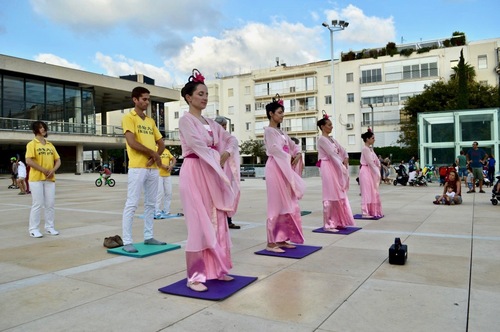 Practitioners demonstrate the Falun Dafa exercises.
Amid the calm, joyful atmosphere surrounding the practitioners doing the exercises, other practitioners distributed lotus paper flowers and brochures to the passersby.
Joining the practitioners were four dancers dressed in traditional Chinese costumes. They danced to a quiet song with the Chinese words "Falun Dafa Hao," ("Falun Dafa is good)."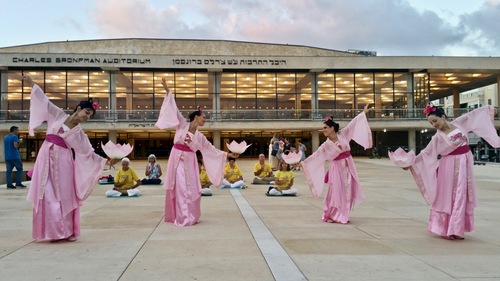 Practitioners perform an elegant dance to a song whose title translates as "Falun Dafa is good."
Meanwhile, many children and their parents were waiting for a show at a nearby theater. One of the dancers said, "When we started dancing, they sat down around us, and it was lovely to see them. They were captured by the magic of the music and the dance and wanted us to go on and on."
"I told the audience that each of us tried to express Truthfulness, Compassion, Forbearance and portray the goodness of Falun Dafa. The people were amazed and smiling. The children and their parents were quiet. The children had innocent smiles and said, 'Wow!' The adults weren't used to such beauty, harmony, quiet music, and flowing movement," she added.
During the dances, practitioners walked among the crowd, gave out Falun Dafa brochures, and asked people to sign a petition calling to stop the persecution in China. Many of them were surprised to hear that a meditation practice was being persecuted by the Chinese regime. Some asked where they could learn more about Falun Dafa and the exercises in Israel.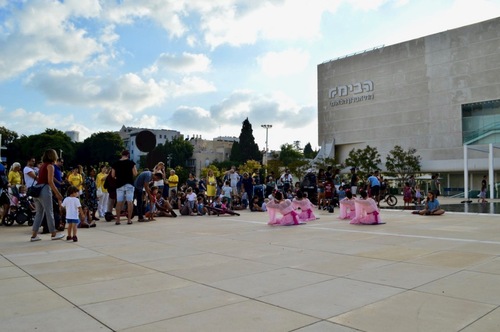 Practitioners talk with people at Habima Place about Falun Dafa and its persecution in China.