Russia: Falun Dafa Practitioners Gather for Experience-Sharing Conference
October 13, 2018 | By a practitioner from Russia
(Minghui.org) The 19th Falun Dafa Cultivation Experience-Sharing Conference in Russia was held on October 5. Eighteen speakers presented articles on their cultivation insights and experiences to an audience of fellow practitioners from Russia, Belarus, Ukraine, Kazakhstan, and other European countries.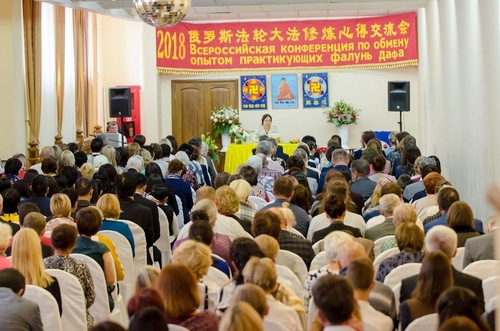 The conference hall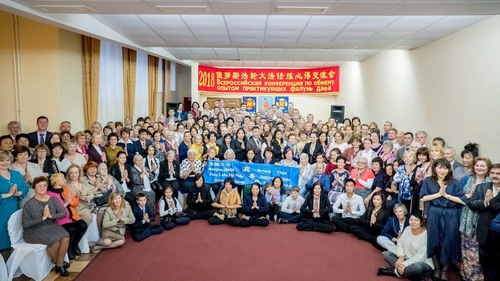 A group picture of the attendees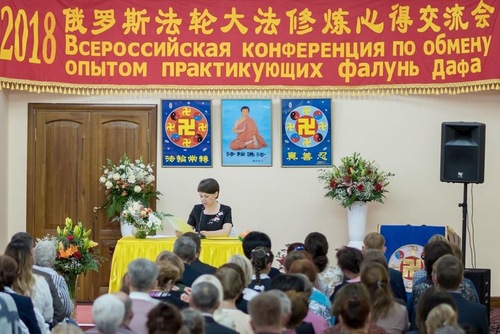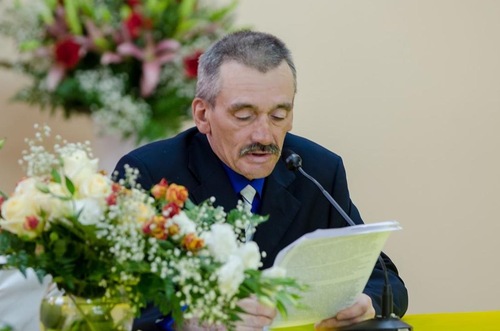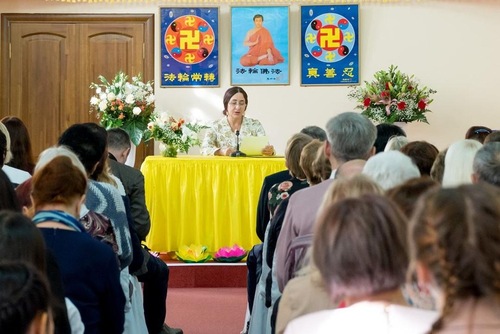 Practitioners presenting their articles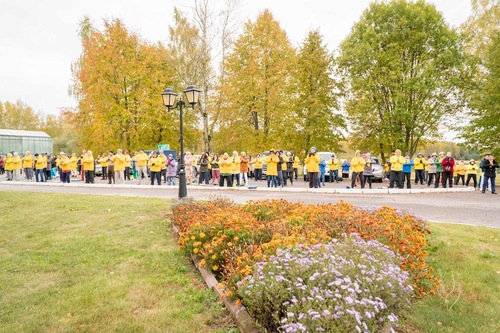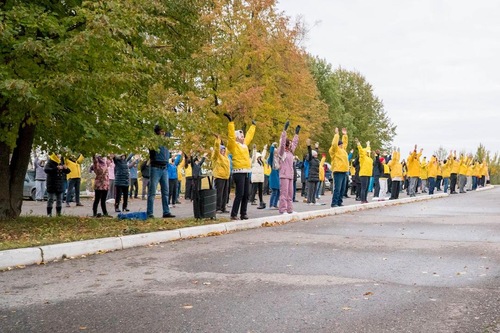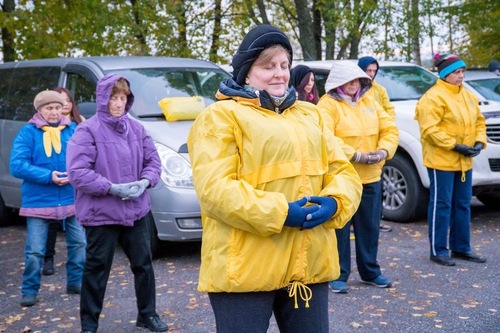 Group exercises
Harmony in the Family
Alla from Crimea talked about how she got rid of negative attitudes, such as complaining and hatred, towards her husband through looking inward. She realized that the conflicts between them offered chances for her to improve herself.
She said: "I believe that I am able to get rid of the bad stuff in my heart. I will keep trying until the only thing in my heart is Truthfulness-Compassion-Forbearance. I thank my husband for pointing out my shortcomings, which has made me more gentle and have more respect and forbearance towards him."
Alla's husband started to practice Falun Gong with her help.
"He has become more righteous and forgiving," she added. "We support and encourage each other in cultivation."
"I am learning how to turn sentimentality into compassion. When I am able to do it, my life becomes more harmonious, happy, and easy," she concluded.
Talking to Tourists about Falun Gong
Sergey and his wife from Angarsk spent six months at Lake Baikal, talking to tourists, especially those from China, every day about Falun Gong and the persecution.
"Master Li, the founder of Falun Gong, told us to find our own ways to save sentient beings. So we have put up Falun Gong calendars, paper lotus flowers, and posters at the train station, my workplace, and other public places, introducing Falun Gong to the public. Meanwhile, I often play slideshows about Falun Gong to tourists. This draws their attention," Sergey said.
At the beginning some people gave Sergey difficulties. He looked inward for his own problems.
"I found that I was arrogant. I often had grievances towards unsupportive tour guides. My heart was not broad. Luckily, Master taught us how to look inward," he said. "If we look inward, every problem would turn into good things. If we have a loophole in our cultivation, we would know it is the time to cultivate and get rid of it."
"Arrogance, hatred, and complaining come from one's evil nature. If we put ourselves above the Fa, we will fall," he said.
"When I run into difficulties, I often recall Master's words in the article The Closer to the End, the More Diligent You Should Be:
'A cultivator thus needs to cultivate by correct and upright truths. Going through hardship and suffering is an outstanding opportunity to remove karma, be cleansed of sin, purify the body, elevate your plane of thought, and rise in level—it's an extraordinarily good thing.'" (The Essentials of Diligent Progress Vol. III)
Breaking Free of the Influence of Communism
Michael, 63, from Moscow has practiced for 19 years. He talked about how he got rid of communist party culture and the influence of the atheism after reading the book Nine Commentaries on the Communist Party.
"We have been brainwashed by the communism and atheism since kindergarten," he said. "After reading The Nine Commentaries several times, I realized that I had taken the communism theory as my own thoughts. I told myself that I should separate myself from it, and destroy it in my mind."
"This is a process of cleaning my mind," he said. "One time, when I read the Nine Commentaries again, I saw an amazing scene: the portraits of the communist founders and heads and their banners shot out from my body. I realized that I was liberated from the communism, and have started to go back to the true myself. I found peace."
Introducing Falun Gong to Others
Catherine (In Russian: Екатерина) had practiced many forms of qigong. When she found Zhuan Falun (the main book of Falun Gong) in 2015, she could not put it down. To understand the book better, she taught herself Chinese. She is now able to read it in Chinese, English, and Russian.
She believes that it is her responsibility to introduce Falun Gong to others, because it is so beneficial.
"I work at several fitness centers and gyms where I talk to many people from different background and age groups. I believe that many people have predestined relationships with Falun Gong," she said.
"When they hear the exercise music, some people stop in their tracks to ask me what it is. They said they sensed a strong energy from the music."
"I believe that everybody has an enlightened side, and it is our responsibility to tell them about Falun Gong," she added.
Cultivating Oneself and Working Well with Others
Lyudmila from Moscow started working with fellow practitioners in 2015, in which she learned how to put down selfishness and listen to others.
"We don't get attached to our own opinions. Instead, we try our best to understand each other," she said in her speech.
"I feel honored to work with fellow practitioners. Yes, it is true that we are very different. But this is an advantage. We don't fight. Instead, we complement each other. Fellow practitioners' thoughts broaden my mind and make me wiser. This is a precious experience."
"The sharing of our understanding of the Fa makes us closer and makes it easier for us to understand each other. It is also encouraging."
Lyudmila said that positive working relationships always lead to good results in projects.