Melbourne, Australia: Falun Gong Practitioners Respectfully Wish Master Li a Happy New Year
(Minghui.org) Falun Gong practitioners in Melbourne, Australia gathered in Fitzroy Gardens on the morning of New Year's Day 2018. They respectfully wish Master a happy New Year and express their deep gratitude to Master.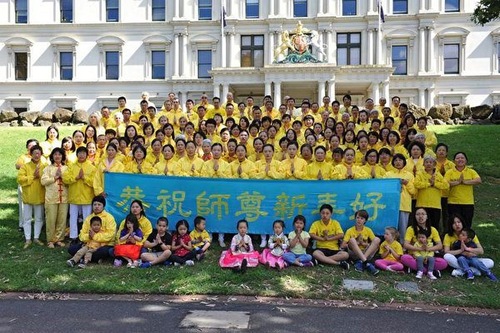 Practitioners in Melbourne wish Master Li a Happy New Year 2018!
Two practitioners shared how they improved in Dafa cultivation and their wonderful experiences in cultivation.
Dafa Brings Beauty to Human World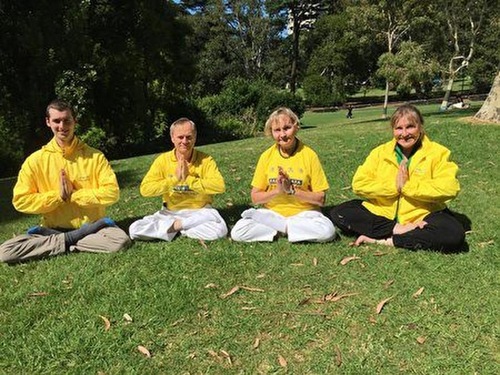 Barbara Shafer (2nd from the right) is grateful to Master Li Hongzhi's teachings.
Barbara Shafer is a famous artist/painter. She fell from a seven-meter tall shelf 14 years ago when she was repairing murals in a church. The fall almost killed her. She miraculously recovered after she began practicing Falun Gong through a friend. "I'm very grateful to Master for making Falun Gong public," said Ms. Shafer.
Ms. Shafer said that she has improved in all aspects after she began the practice. She has become more compassionate and more considerate of others. Her inner self has become more peaceful. No words can express her gratitude to Master.
"Today we wish Master a Happy New Year. My gratitude to Master cannot be expressed in words. Only by doing better can I express my gratitude. Falun Gong is a cultivation way that is wonderful and powerful. It can bring people wisdom and improvement," she said.
Ms. Shafer wants to tell the world's people who haven't gained a good understanding of Falun Gong that it can make society become better and revive human civilization. People's belief in Falun Gong will turn them around for the better and enable them to enter the future.
Practicing Truthfulness-Compassion-Forbearance in Everyday Life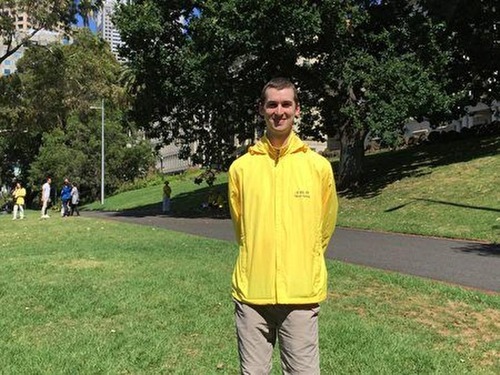 Daniel Cameron became happier after practicing Falun Gong
Daniel Cameron began practicing Falun Gong in 2005, when he was still a teenager. He turned into a positive person after he started practicing Falun Gong.
Mr. Cameron said that he has made Truthfulness-Compassion-Forbearance the guideline for his everyday life. It makes him feel light all over. He has become light-hearted, happier and more optimistic.
He said that the whole world needs such a guideline, no matter what one's cultural background or religious beliefs. Truthfulness-Compassion-Forbearance is a universal value.
Mr. Cameron is grateful to Master for blessing him with physical and mental well being. He said together with other practitioners that they wish Master a happy New Year.