Stockholm, Sweden: Braving the Cold to Help Stop the Persecution of Falun Gong
January 23, 2018 | By Minghui correspondent He Ping
(Minghui.org) In the past few weeks, Falun Dafa practitioners have held activities at Norrmalmstorg, a square in central Stockholm, to raise awareness about Falun Dafa (also known as Falun Gong) and the ongoing persecution in China.
Despite the cold winter weather, many people stopped to learn more about this ancient meditation practice and to sign petitions condemning the persecution.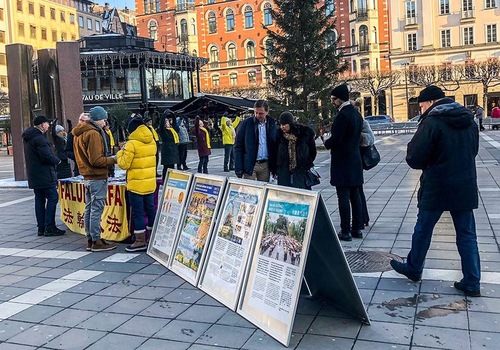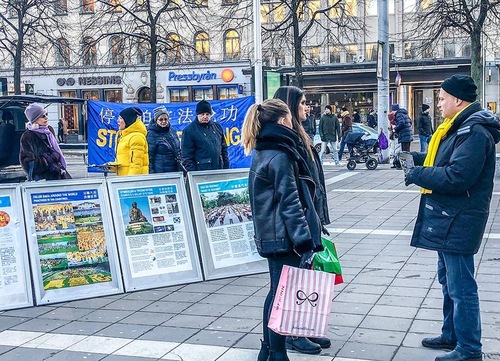 People stop to learn about Falun Dafa at Norrmalmstorg in Stockholm on January 20, 2018.
A middle-aged man said he had heard about Falun Dafa at a festival last year. He was glad to encounter the group again and was curious to know more. Svan, a practitioner, who had traveled four hours to participate in the activities, explained to him how the practice helped him improve his health and spiritual well-being. The man said he would read Falun Gong books and signed a petition condemning the persecution in China before he left.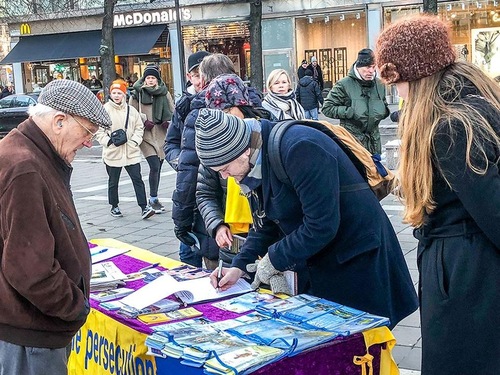 Appalled by the persecution in China, especially forced organ harvesting from living Falun Dafa practitioners, passersby sign petitions calling for an end to the atrocities.
A large group of young pedestrians listened attentively as a practitioner named Werner told them how Falun Dafa is practiced in over 100 countries. He talked about how the principles of Truthfulness-Compassion-Forbearance had improved his family relationships as well as his moral character.
"I used to think this world has no future because there is so much chaos," said one tall young man, "but what you said gives me hope! Thank you!"
Lena Adelsohn Liljeroth, former Minister for Culture and Sports, was among the many supporters who stopped to sign a petition calling for an end to the atrocities in China. She said she was glad to meet practitioners and wished them well.
One couple from Portugal said they had heard about the persecution of Falun Gong, including forced organ harvesting from these prisoners of conscience. They took some materials and signed a petition. "We must stop this brutality [forced organ harvesting]. We have to," said the husband.