Toronto, Canada: Introducing Falun Gong at Windfall Harvest Festival
September 29, 2017 | By Minghui correspondent Zhang Yun
(Minghui.org) Falun Gong practitioners in Toronto participated in the Windfall Harvest Festival on September 24, 2017 and introduced Falun Gong to the public.
The festival was held at the Windfall Ecology Center, Sheppard's Bush Conservation Area, Aurora, Ontario. There were various food vendors, family activities, pioneer life reenactments, arts and crafts exhibits, and folk dancing performances.
Falun Gong practitioners' booth drew a lot of attention. Many visitors came to learn about Falun Gong and register for the free introductory seminar. They also signed the petition to: "Help rescue Falun Gong practitioners being persecuted in China who have family members in Toronto".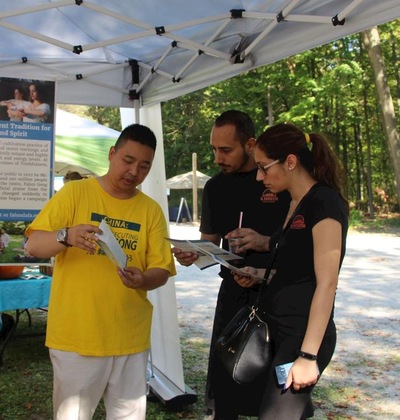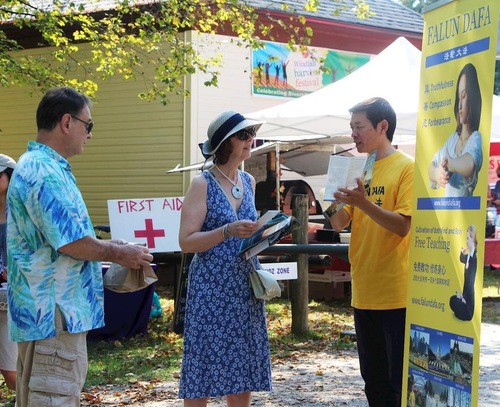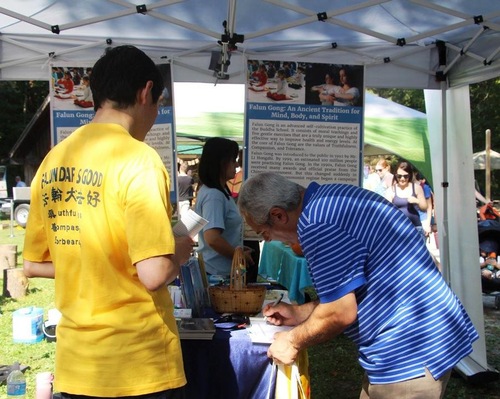 Visitors learn about Falun Gong and sign the petition.
Peru Immigrant: I Decided to Practice Falun Gong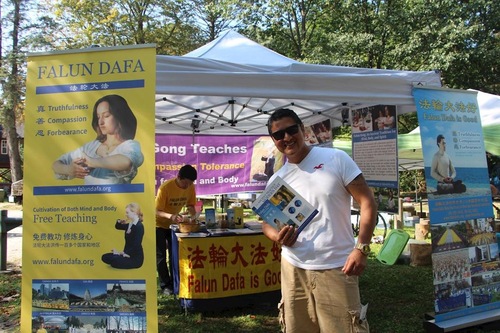 Alejandro decides to practice Falun Gong.
Alejandro from Peru, his wife and daughter attended the event. They have been in Canada for 15 years. The entire family signed the petition.
Alejandro said, "I asked many questions today and learned a lot. I have come across Falun Gong practitioners' events in Toronto several times. I think this is a great practice."
"I have filled in the form for the free introductory seminar, and I decide to learn Falun Gong and join a group practice site nearby. I fully agree with the principles of Truthfulness-Compassion-Forbearance. If everyone followed it, the world would be a better one."
He said at the end, "I know about the persecution of Falun Gong in China. It is horrible. I hope that one day Falun Gong practitioners will get their freedom."
Aurora Resident: I Will Participate in the Falun Dafa Introductory Seminar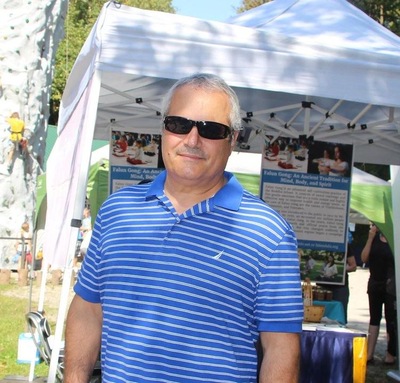 Aurora resident Frank.
Aurora resident Frank and his wife passed by the booth and were drawn by the Falun Gong exercise demonstration. He listened to the introduction and became interested in Falun Gong. Upon learning about the free seminar, he filled in the registration form.
He said, "I wish to learn Falun Gong which I know can be beneficial to your health. Thank you for sharing this information."
Graphic Designer: "I'll Help Stop the Persecution With My Best Effort"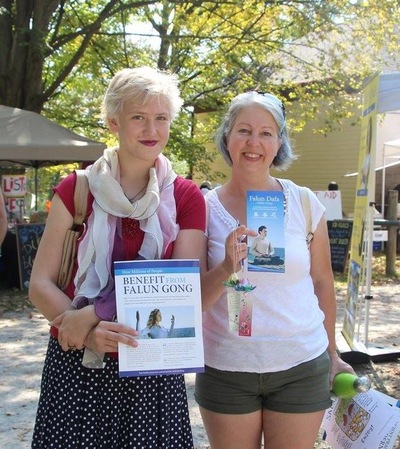 Graphic designer Julian and her daughter Katy.
Graphic designer Julian and her daughter Katy came to the booth and signed the petition. Julian said, "Falun Gong practitioners introduced the practice to me and told me about the persecution in China four or five years ago. I signed a petition against the persecution at that time."
She said she was sorry to hear that the persecution is still ongoing. She indicated that she would help stop the persecution with her best effort.
Katy said, "The Chinese government attempts to control people. The citizens do not have freedom of belief. Thus I think to stop the persecution it needs to be spread more so people are aware of it."