Falun Gong Practitioners at UN in New York Call to End Persecution by Chinese Regime
September 25, 2017 | By Minghui correspondent Cai Ju in New York
(Minghui.org) As members of the 72nd Regular Session of the United Nations General Assembly met at UN headquarters in Manhattan, New York on September 18 to 22, 2017, Falun Gong practitioners took the opportunity to inform world leaders and the public about Falun Gong and its persecution by the Chinese Communist Party (CCP).
The practitioners held banners and distributed flyers on Dag Hammarskjold Plaza Park and nearby streets.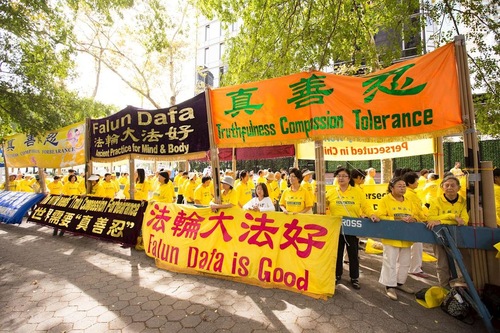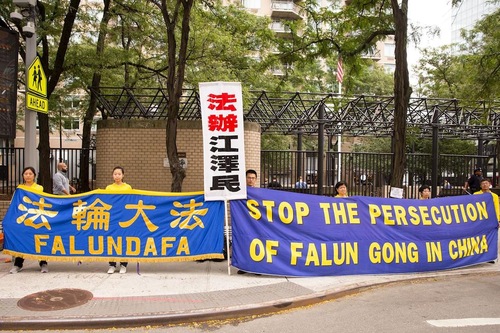 Falun Gong practitioners raise awareness of the persecution in China and call for its end during the UN General Assembly from September 18 to 22, 2017.
Urging the Chinese Delegation to Stop the Persecution
Falun Gong practitioners went to the Permanent Mission of the People's Republic of China to the UN on 1st Avenue between 34th and 35th Streets in Manhattan on the afternoon of September 20 through the evening of September 22, 2017. They held banners that read, "Falun Dafa Is Wonderful," "Stop the Persecution of Falun Gong," "Bring Jiang Zemin to Justice," and so on.
The police officers on duty did not understand what the protest was about, so practitioners told them about the benefits of Falun Gong and that the CCP has been persecuting the practice for 18 years. They also told them how Jiang Zemin, former head of the CCP, abused his power to initiate and perpetuate the persecution. The police did not intervene again.
When they saw Chinese Foreign Minister Wang Yi and his delegation, the practitioners shouted, "Falun Dafa is good," "Stop the persecution of Falun Gong," and "Bring Jiang Zemin to justice!"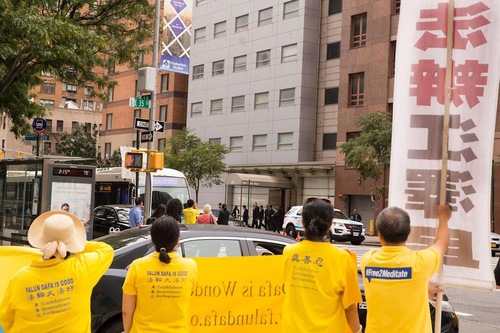 Chinese Foreign Minister Wang Yi exits the building as practitioners call out, "Falun Dafa is wonderful," "Stop the persecution of Falun Gong," and "Bring Jiang Zemin to justice."
More than 200,000 Falun Gong practitioners and their relatives have filed criminal complaints against Jiang since May 2015, for ordering the suppression of Falun Gong and the imprisonment and torture of its practitioners. Over two million people have signed petitions urging the Supreme People's Procuratorate and the Supreme People's Court to bring Jiang to justice for his abuse of power in orchestrating the persecution of Falun Gong in China.
President Trump Waves at Practitioners
U.S. President Donald Trump spoke to the UN Assembly for the first time on September 19 and commented on oppression under communist regimes.
Trump said, "From the Soviet Union to Cuba to Venezuela, wherever true socialism or communism has been adopted, it has delivered anguish, and devastation and failure. Those who preach the tenets of these discredited ideologies only contribute to the continued suffering of the people who live under these cruel systems."
Trump's motorcade passed the Falun Gong practitioners holding large banners at the intersection of 2nd Avenue and 50th Street on September 19 and 21. Some practitioners saw President Trump wave at them.
What Falun Gong Practitioners Hope for
One practitioner at the protest said, "In China, there is no chance for Falun Gong practitioners to have a dialog with high-level CCP officials. In America, we have the freedom of speech and of belief. We hope that the Chinese regime stops the persecution as soon as possible and releases all imprisoned practitioners."
Another practitioner said, "In China, it is impossible for practitioners to gather together to call for the government to stop the persecution. In America, we are happy to have the freedom to express our voice. I hope everyone helps to bring the persecution to an end. More people will then be able to practice Falun Gong and enjoy a happy life."